I've talked before about the difficulty I have in picking paint colours. It's not something that comes naturally to me. Flipping through a paint deck, I feel like I'm merely stabbing in the dark as I pick paint colours, and attempt to develop some sort of cohesive colour scheme from room to room to room. I have difficulty envisioning how a chosen colour will look on our walls, and the way they will look with the other colours in our home.
Because our attic renovation caused a number of scars in the drywall on the main floor, we decided it was time to repaint. Besides, the last time we painted our living room and kitchen, we had just finished the renovation projects we did when we first move in, three years ago. Some of our walls were dirty and scuffed, some scratched up significantly by the dogs. But, I really didn't want to get my colour choices wrong. This is the majority of our house, after all – I didn't want to spend a lot of time, money, and effort on a project I wasn't going to love when I was done.
We tried to go with painting test patches on the wall. We chose to bring the grey of the attic down the stairs and on the wall below the stairs. But, as soon as we put up the colours I had chosen from my paint deck up on the walls in actual paint form, it quickly became clear that the bluish colours I was interested in were wrong, wrong, wrong for the grey. In my frustration, we lived with those patches for months.
With a Benjamin Moore ben & Me kit in my possession, I knew it was time to finally settle on a colour and get painting. So, I turned to the only source I actually trust for a little inspiration: friends and family. I brought my best friend into the space and asked for her honest opinion. When my mother suggested the same thing, the Husband and I realized that their suggestions were the most natural option. All we had to do was actually look around our house to see it for ourselves.
Their suggestion was simple: a few shades lighter than the dark grey we already had on the wall. This makes sense in any setting, but in our home, it makes even more sense. The colour combination already exists.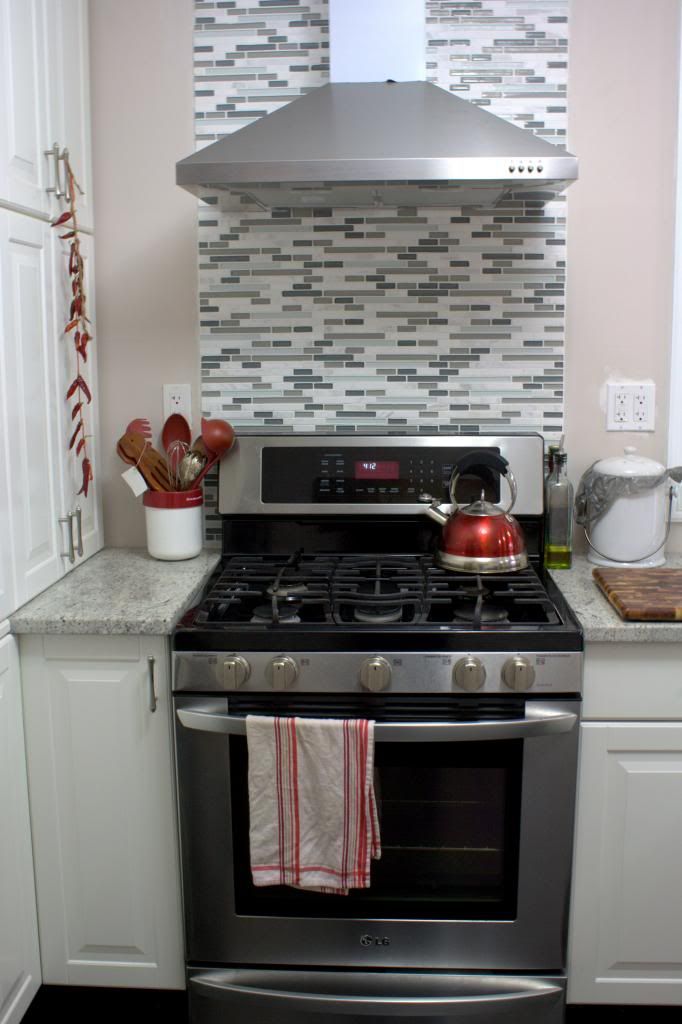 Our kitchen blacksplash is a mosaic, combining three different shades of grey/blue and white. The colours work really well with accents of any colour, giving me so much freedom in accessorizing. They're easy colours to work with, a crucial requirement for my somewhat bumbling decorating abilities.
So, inspiration has been found from within my own home, pointed out by those closest to me. If you're looking for paint inspiration, you may find your own the same way, but if that fails, Benjamin Moore has all sorts on their website.
Are you working on any painting projects these days? Any walls you need to paint?
Although this post has been generously sponsored by Benjamin Moore, the opinions and language are all my own, and in no way do they reflect Benjamin Moore.