Understandably, our attic renovation is moving about as fast as a tree grows. By that, I mean, yes! It's moving! Progress is happening! But, it's really really hard to see it and even harder to appreciate it.
We've been waylaid by our basement troubles. But, no big deal: the Husband has been slapping the last bit of mud on the walls and we're nearly ready to paint the whole space to be ready for our new tenants' end-of-August move-in date. We've even asked them what colours they would like and I'm kind of excited by their choices. (A deep rich blue. A soft green. A bright, cheerful fuchsia.)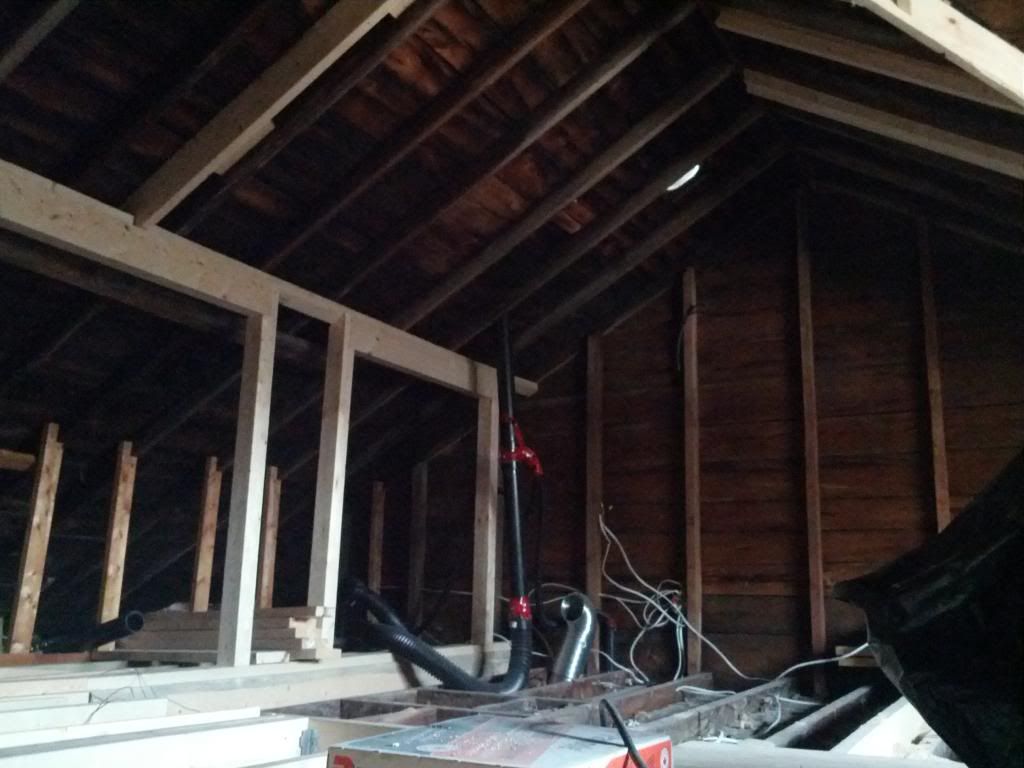 In the meantime, we booked our inspection. Once you have your building permit and you're ready for the first inspection – the structural inspection- you call up the city, and the inspector will return your call to book a time within the next day or two to get the inspection done. I was shocked how quickly the process went. I was not shocked that we did not pass our inspection the first time. This seems to be relatively common, so we were expecting to have to re-do or add things, despite following our plans exactly. Our inspector, at least, was looking for stuff to get us on. He wanted three more supporting posts. He wanted additional hangers. He wanted a letter from an engineer to confirm our posts were sufficient.
One weekend later and a few more holes in our walls, we called him back. A pass! We can officially move on, officially put down subfloor, officially move into our attic bedroom!
Ok, maybe not yet.
But, we are closer to having a beautiful attic suite. And, I'm starting to think I should maybe get prepared and start thinking again about how I want the space to look. Not that it will start looking that way right away… in fact, I wouldn't be surprised at all if we live with subfloor and un-drywalled walls for at least a short period of time up there. But still. Perhaps I still aught to start developing a vision for the room?
I know one thing at this point: I want to keep the colour scheme more or less on the cool side. I want the space to be bright and clean. I want it to feel large. I mean, it is large (approximately 300 square feet!), but a lot of that space is unusable due to the steep slope of the roof. The ceiling is not going to be a full 8 feet anywhere, either; but I don't want the space to feel closed in.
Over the weekend, a friend of mine and I were chatting about wallpaper. It was in a completely different context – her nursery! – but since the conversation, my mind has been mulling over the thought. I love the look of one wallpapered wall, a statement that draws the eye in. A quick glance around the Internet uncovered this one:
Would something of the like work well along our straight wall? Or, perhaps the wall that travels down the stairs? Or both? Or, would it be too busy? Too blue? And how would I decorate the rest of the space with this pattern and colour in mind?
I'm feeling clueless, and not seeing the space actually in existence is not helping. I know, though, there's no rush. Eventually, the floors will go down and the drywall will go up and I'll be able to stand in the middle of the room and think. If nothing comes to me, so be it. We'll throw some paint on the walls, hang our clothes in the closet, bring our bed up the stairs, put it under the little row of windows, and call it done.