This is a paid post, sponsored by Philadelphia Chocolate Cream Cheese, through my involvement with SheBlogs Media.

However, all opinions in this post remain my own.



---
I love cheesecake. So much so that, for our wedding, instead of your traditional fluffy wedding cake covered in fondant, we had three different flavours of cheesecake cupcakes, all made and lovingly decorated by my mom. Every special occasion, I go for the cheesecake – the New York style one, though a good no-bake cherry cheesecake is pretty delightful too. I've even made one or two, with decent success.
So, you would think I would be really excited when I started to see billboards of Philly chocolate cream cheese spread popping up around town, right? After all, cream cheese and chocolate make a pretty awesome cheesecake. But, there's something about it on toast that doesn't seem right. Toast is crunchy, wheaty. Not quite right for the decadence of chocolate cheesecake.
And then I bought a tub. I experienced first hand the stroke of genius someone at Kraft had. Take cheesecake. Whip it up. Put it in a little tub.
But I'm going to suggest that it doesn't belong on toast. True, I haven't yet tried it on toast (maybe I'll save that for tomorrow morning), but there are for more majestic things this delicious chocolaty creamy decadence could go with. Baked into the middle of a breakfast muffin perhaps. Icing a cupcake. Mixed in to pancake batter. Or, on crepes. With strawberries.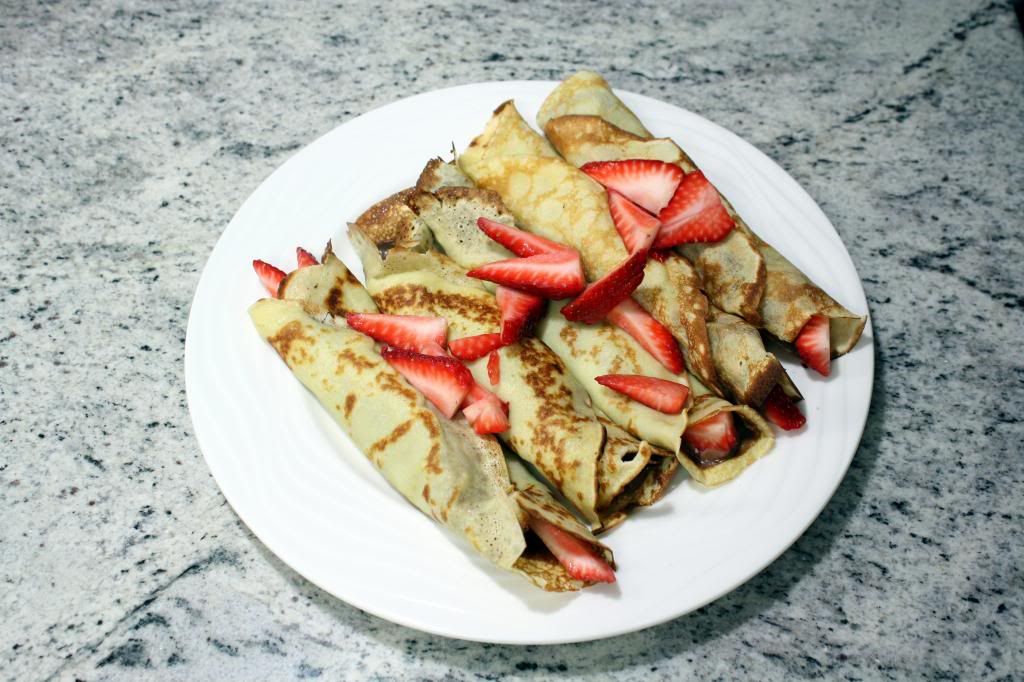 Oh, these were so tasty. I'd even go so far as to say they were perfection. Perfectly chocolatey and perfectly sweet stuffed with just the right amount of strawberries and Philadelphia chocolate cream cheese.
This was, admittedly, my first time making real, authentic crepes. The Husband likes his pancakes thin, so whenever we have pancakes, I water down the batter just for him. But these were better than those. I used a tried and true recipe: the basic sweet crepe from the Joy of Cooking. The result was crepe-like, not anywhere close to a pancake. They were, bonus, way simpler than I expected them to be.
So, make these! Smear them with Philly, add some strawberries, roll it up and consume!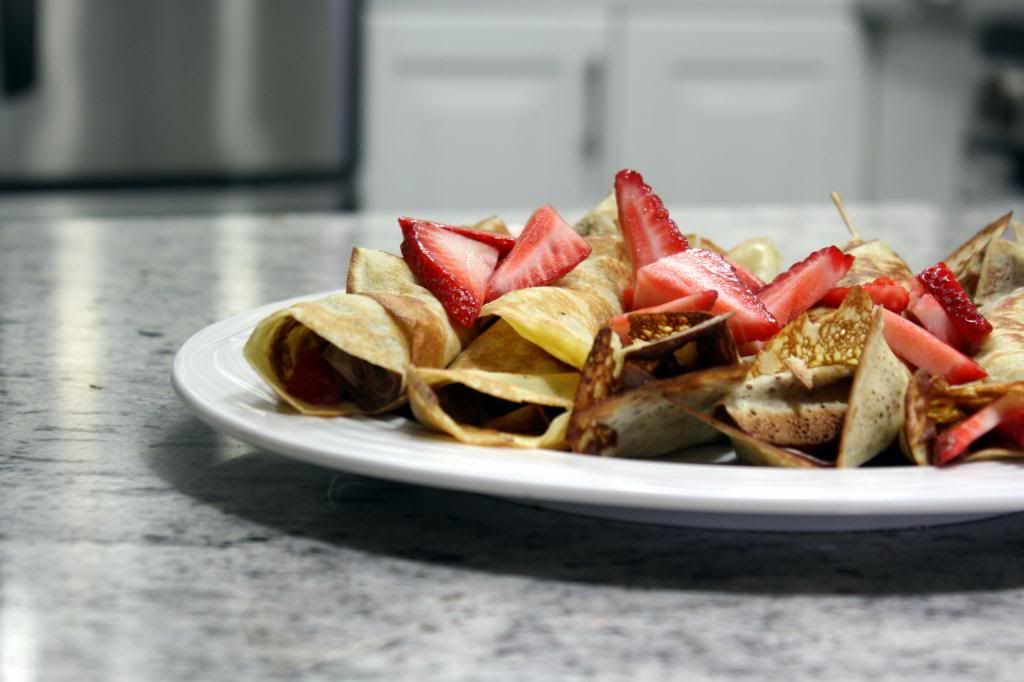 Sweet Crepes with Philadelphia Chocolate Cream Cheese and Strawberries
Adapted from The Joy of Cooking

1 cup flour
4 eggs
1 cup milk
1/2 cup water
1/4 cup butter, melted
1/8 tsp salt
3 tbsp sugar
Philadelphia Chocolate Cream Cheese
strawberries, sliced
Whisk all ingredients together until smooth. Cover with plastic wrap and set aside for half an hour. This is the perfect amount of time to prep your toppings and clean up your kitchen a bit.
Spray a non-stick skillet with Pam or melt approximately 1 tsp of butter. Cook the crepes using about 1/4 cup of batter per crepe. The crepe is ready to be flipped when the middle of the crepe bubbles and the edges begin to look a little crispy.
I used a spatula to flip. If you're fancy, you might be able to flip it by tossing it in the air. That is beyond my capabilities. A spatula is just fine.
Cook on the second side until speckled golden brown.
Smear a bunch of chocolate Philly all over one side of the crepe. Add the strawberries in a line, preferably off-centred in the crepe for easy rolling. Roll, sprinkle with more strawberries, eat!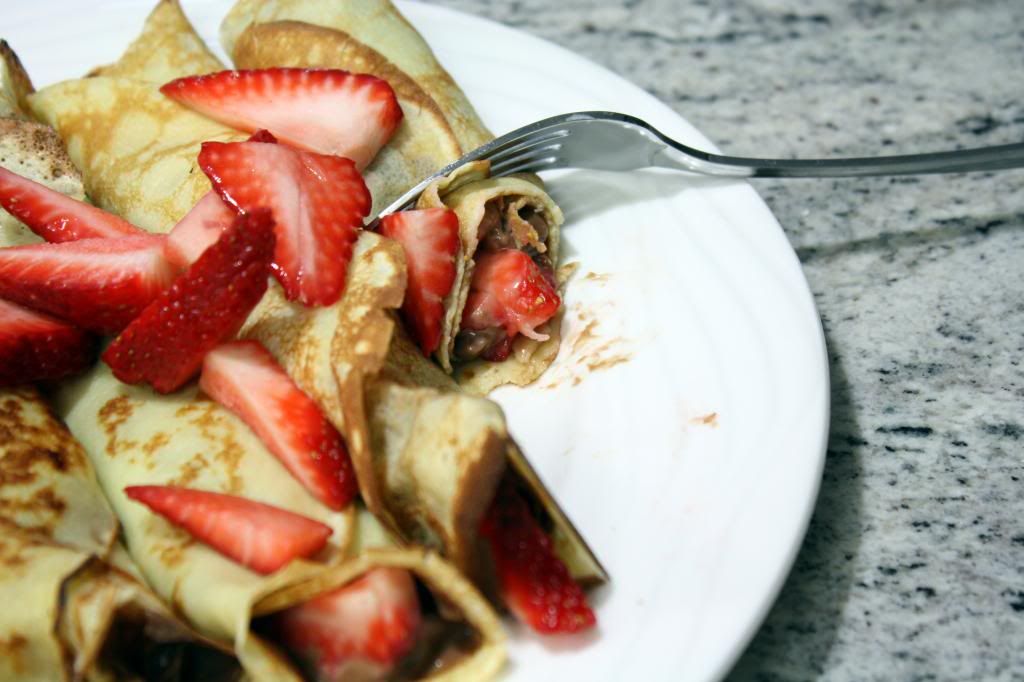 If you haven't tried it out yet, keep your eye out on
Philly's Facebook page
: I hear there's going to be a coupon on May 21st! On the facebook page, there are also details about a fun 'Breakfast in Bed' challenge you can participate in – a little social media arm-twisting to get someone special to serve you breakfast in bed!
Have you ever made crepes? Or are you more of a pancake person? Waffles, perhaps?
Have you tried the new Philly chocolate yet? Thoughts? Am I being unfair to the humble toast?