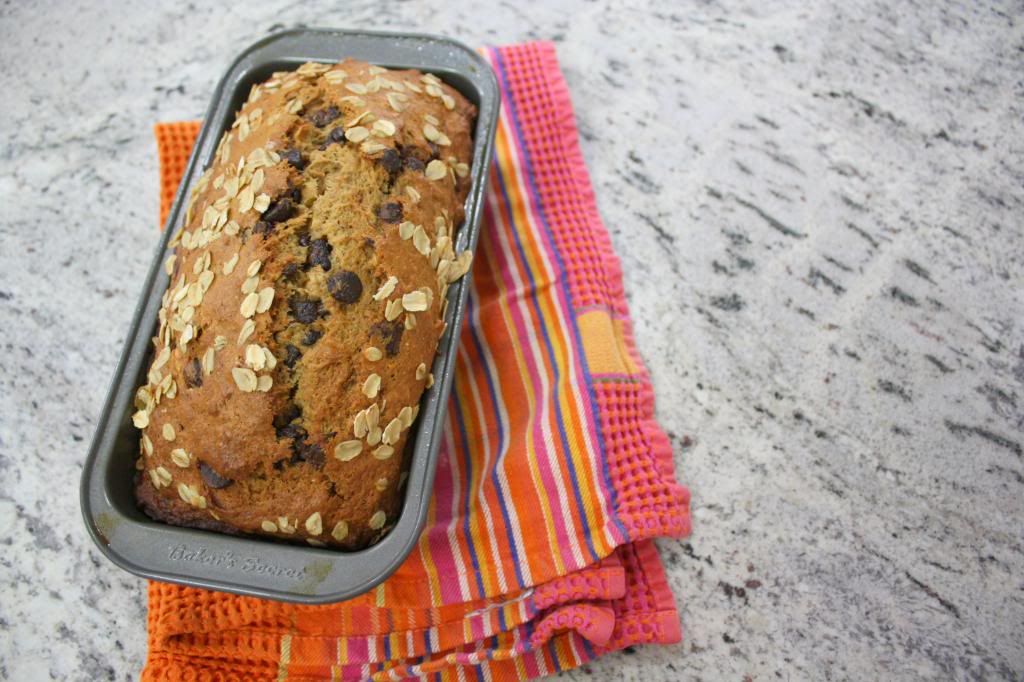 Since last week Wednesday, the Husband I have been doing the Insanity program together. It's high intensity interval training, which essentially means a lot of jumping around our living room and swearing at the television. Because we're trying to be healthy, but also enjoy as much of life – and food! – as possible, I made chocolate chip banana bread Sunday afternoon, but substituted out all the white flour for whole grains.
That totally neutralizes the sugar and the chocolate chips, right?
Except that, whenever I make banana bread, I always end up putting so many chocolate chips in it, that a) it's hard to tell when it's done because every toothpick inserted comes out coated in melted chocolate and b) the chips, being all melted and soft, make the bread fall apart in the messiest way possible when I attempt to still cut it while it's still warm.
It sounds just terrible, doesn't it? No wonder the loaf is nearly gone a mere half hour after I pull it out of the oven.
Chocolate Chip Banana Bread

This recipe is probably from somewhere, originally. This is a recipe I wrote down years ago in my recipe book and have made many times since, every single time adding far too many chocolate chips. This time, I played with the recipe a bit and it turned out just fine.
Preheat your oven to 350. Grease a bread pan and set aside.
Mix together these ingredients in a bowl:

1 1/2 cup whole wheat flour
1/2 cup oats of your preference (I used Quaker Large Flake Oats, which apparently, we have here in Canada, but do not exist in other countries.)
1 tsp baking soda
1/4 tsp salt
In another bowl, cream together until as smooth as possible:
1/2 cup butter
3/4 cup brown sugar

Add:
2 eggs
2 or 3 large mashed bananas (I did 2, but the Husband didn't think the result had quite enough banana flavour)
Make a well in the centre of the dry ingredients and pour the wet ingredients into it. Mix until just combined.
Add:
As many chocolate chips as desired

or
As many nuts such as walnuts, almonds, pecans, etc. as desired

or
Both, as desired
Pour the batter into the greased bread pan and smooth the top. Sprinkle a few oat flakes on the top if desired for a little visual pizzaz. Then, pop the pan into the oven for a full hour.
Test for doneness with a toothpick, the tip of a knife, a fork, whatever. The bread is finished when the toothpick comes away clean. Turn out onto a wire rack and, if you can resist, allow to cool for a good half hour.
I can never resist.