Last Thursday, I complained about our couch and dreamed about buying a new one.
Then, after I pressed Publish, we went to Ikea. It seems like once we decide on something, and we know it's only going to cost us a little time shopping, very little effort, and only a little bit of our hard earned money, we wait very little before jumping on it. But, the plan, it turned out, was not to replace the couch. Instead, we replaced these two chairs:
Yes, my upholstered chair and it's pair no longer have a place in our living room. Why? I was content with the shape of them and I knew I would get to reupholstering the coral one eventually. They fit in our living room and in our tiny house. But, there was a problem. The Husband and I are both couch people. We like to put our feet up and stretch out. We like to snuggle with Mocha deep under blankets and fall asleep halfway through a movie with Kingsley warming our feet.
It's kind of difficult to comfortably fall asleep in a tiny club chair*.
At the same time I was dreaming of replacing our worn out couch, I started dreaming about replacing the chairs with a little loveseat. I'm sure it comes as no surprise that the lack of function represented by these two chairs definitely rose in priority over replacing a couch because of a few nicks and scratches.
So, we went to Ikea. And we bought a couch! It's not as small as I was initially planning, but it's certainly cheap enough. A Klippan.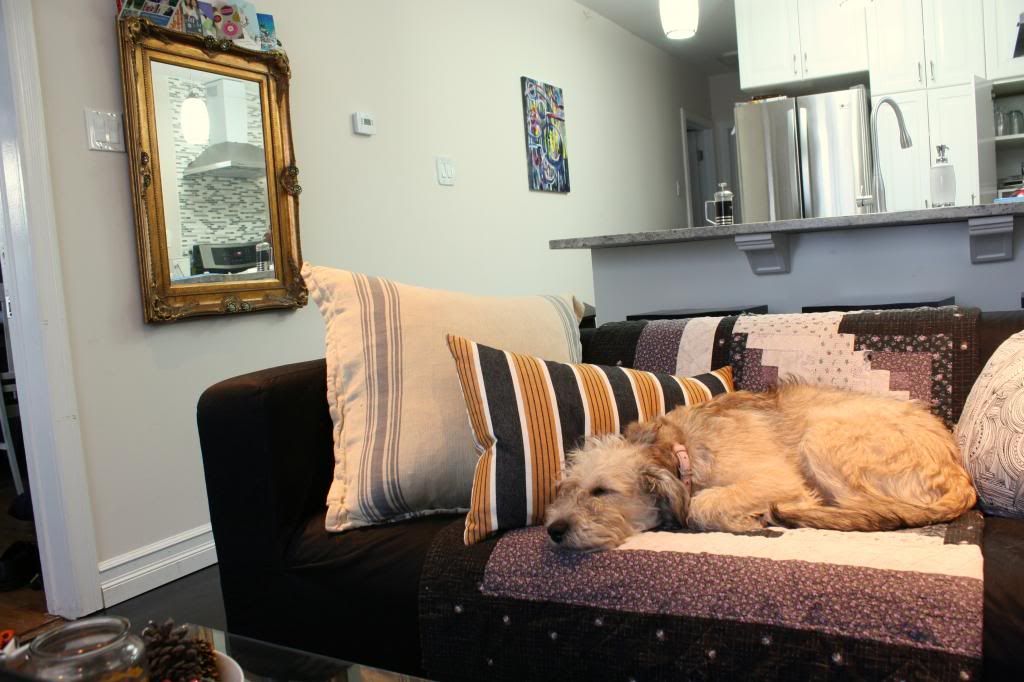 We brought it home, barely squeezed into the trunk of our tiny car, shuffled the chairs out of the living room and into the middle of the dining room and set about to building it. As soon as the last piece was fitted on and the slipcover* squeezed over its body, I started to regret it. It was so big, so blocky, so black. It narrowed the space down, made the house feel cramped and over-full in a way my two little chairs never did.
So, I started to clean up. 'Clean up' doesn't even really describe it. I turned my attention to our dressers. We had 5 dressers and 2 nightstands with drawers in our tiny space. They're great for hiding clutter of course. But, see the dresser in the first photo with the chairs? It was getting in the way. We had maybe two feet of space between the couch and the dresser which, in theory, one can easily maneuver around. But, it doesn't feel open and it is that feeling that I am always striving for in my house. So, solution? Get rid of the dresser.
In fact, I'm going to be able to get rid of two dressers, which will open up space to keep my two chairs in the dining room. As soon as I whisked the empty dresser out to the garage, I plumped my three new pillows and breathed a sigh of relief. It's still a little blocky, it still seems to shrink the space a bit, but at least the flow around the house is vastly improved.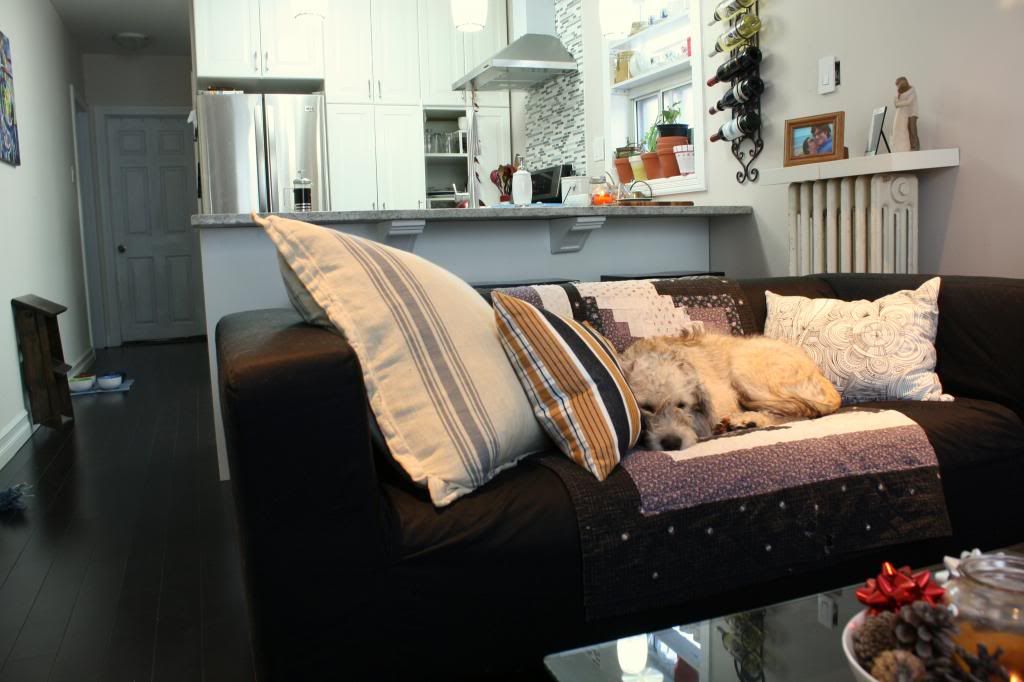 The second regret however, is that black cover. We thought it would be our best option for hiding the dog dirt that would, no doubt find its way all over it. Unfortunately, while it's hiding the dirt no problem, it's highlighting something that I might consider even worse: Kingsley's hair. Thankfully, you can't much tell in the photos, but there's a decent coating of fine grey hair all over it already. It seems to have no resistance to the clinging strands. We'll likely go back for the natural coloured one* – we'll need one for washing day anyway, right? – so we'll figure out what's worse: dirt or hair.
It's dog-approved, and it's totally grown on me, especially with all the pillows on it. One day, soon perhaps, we'll get a second one, or maybe a slightly different couch, and finally replace the scratched up faux leather one. For now, this is a start.
* Kingsley did like to snuggle with me in the club chairs. I would turn them together and put my feet up on the seat of one. And he would happily sleep on my feet.
* The slipcover had a hole on it when we pulled it out of the package. I was so disappointed. Fortunately, the hole was at a seam, so I pulled out my sewing machine and ran it through with a nice tight stitch and plenty of backstitch to reinforce, but seriously, Ikea? Quality control is important!
* I would also love the turquoise cover, in case anyone is looking for birthday gift ideas.