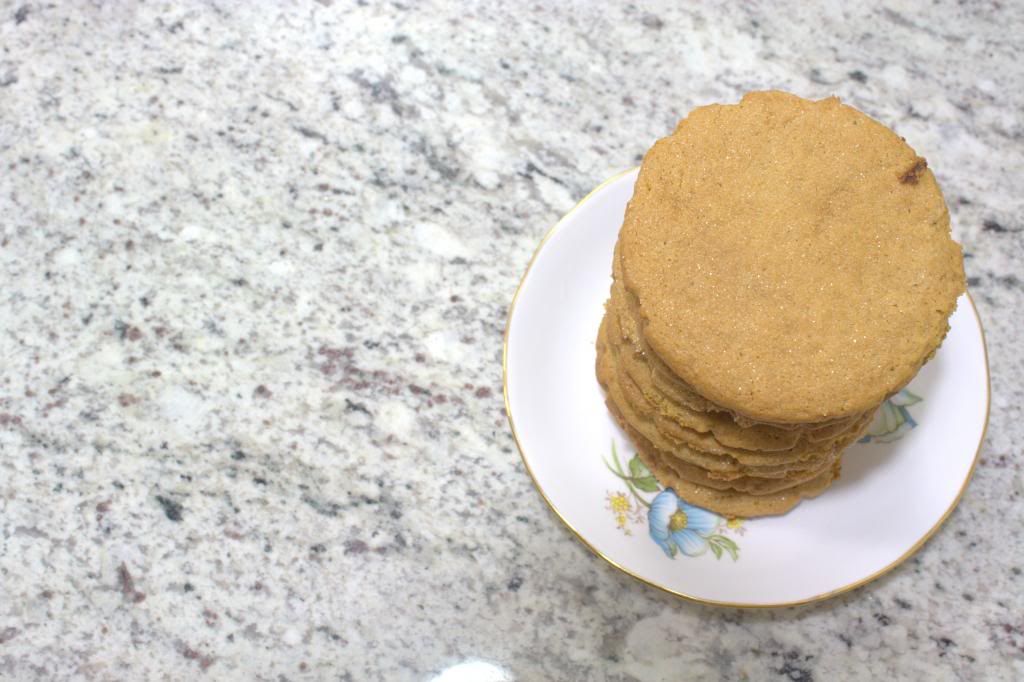 I am not a baker.
Well, wait a minute. That's not strictly true. I make bread. I love to make bread. And I'll throw together a quick biscuit to go with a soup for supper. Also, I have this brownie recipe from my mom that whips up easy in 20 minutes with one bowl, a spoon, some measuring cups and a nine by nine pan. But beyond that?
I'd rather buy my cookies.
As with lots of stuff surrounding the holidays, I had great intentions for Christmas baking. My mom always used to do lots, starting sometime at the beginning of December and freezing the cookies in old yogurt containers. She brought out a whole spread for us to munch on as we opened our gifts together on Christmas Eve. I wanted to do the same. Of course, we are two people rather than five, so those old yogurt containers would be crucial to the preservation of my waist line. But, as of last night, I hadn't touched my canister of flour in months. True, it's not Christmas yet, but I am steadily running out of time.
So, last night, I pulled out a couple bowls, stacked a huge list of ingredients on my counter and went to work.
The problem I have with baking? I don't know how to substitute. These Black-Bottom Coconut Bars would probably have been delicious if I had actually checked to make sure I have coconut before I set to work. By the time I realized it, the 'black-bottom' was already in the oven – there was no going back. No worries! I have oatmeal! Oatmeal replaces coconut perfectly in the chocolate macaroons I make.
No. Just. No.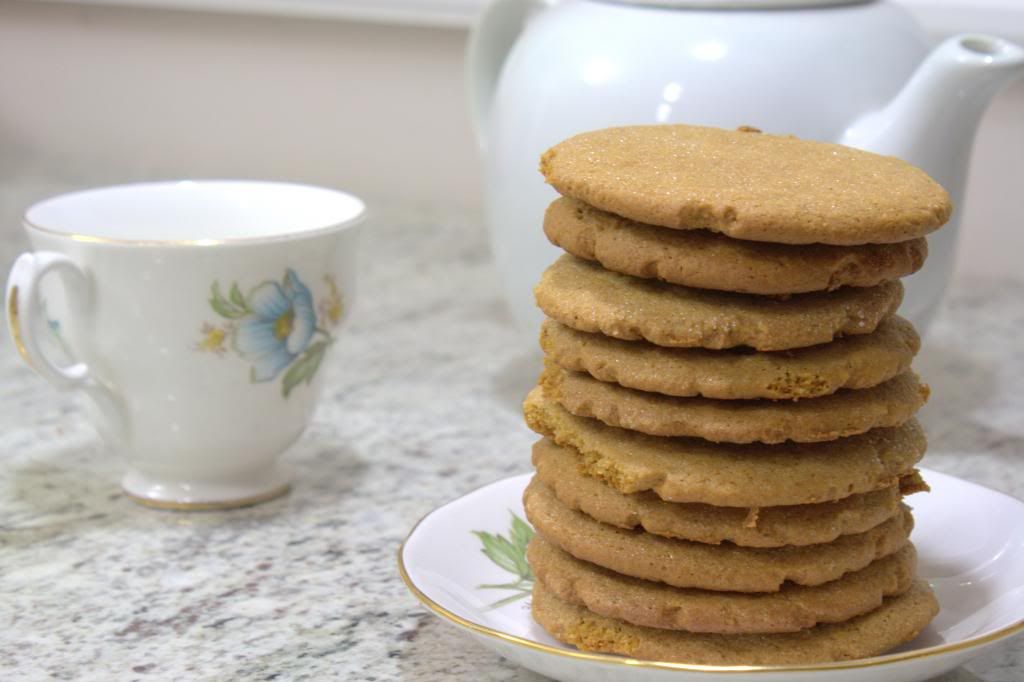 Frustrated with the flop I pulled out of the oven, I turned my attention to the ginger cookies. No substitutions there. Well. Almost no substitutions. I cooked these up in batches. The first batch, I rolled in icing sugar before pressing down with the bottom of a cup. The cookies that came out didn't taste bad – if slightly overcooked – but looked just slightly sickly. I switched over to the recommended granulated sugar for the second batch. Each cookie came out brown with the slightest shimmer of sugary stars on top.
I have one slight beef with this recipe: it's peppery. Which, isn't a terrible thing. Now that I've actually made ginger cookies, and then eaten the ginger cookies I made, I recognize that pepper is an important ingredient in them! I think this recipe though, may very well have a little too much pepper. They've got a bite. I would suggest cutting the pepper in half, down to a 1/4 of a teaspoon.
You can get two different kinds of ginger cookies out of this recipe: crunchy, perfect for dipping and getting crumbs all down your shirt; or chewy and soft. The difference is in just a minute or so in the oven. Bake for 9-10 minutes for a chewy cookie, just until their flattened and brown. Or, 11-12 minutes for a crunchy one. Be careful though; they'll burn fast!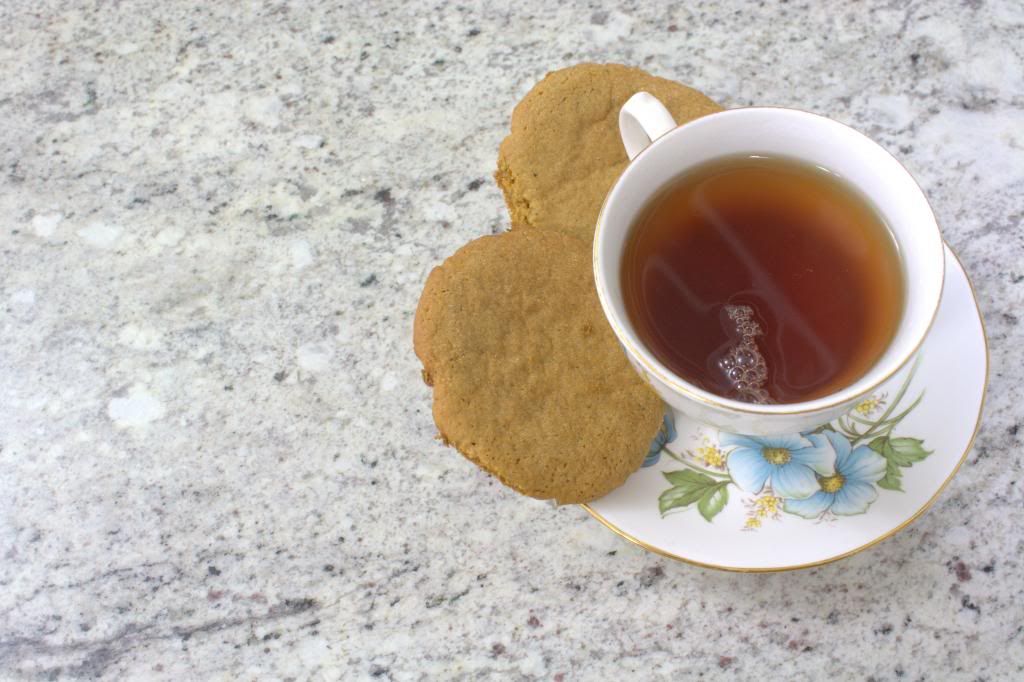 These cookies are delicious. But the whole baking extravaganza was overshadowed by the flop that sat on my stove taunting me – despite the Husband's insistence that they really weren't that bad – and the mess of bowls and flour spills and egg shells left behind to clean up.
Probably, I just need to bake more. But, you know… preserving my waist line and all that.
What are you guys baking for Christmas?
Martha's Ginger Cookies
From Martha Stewart
2 1/2 cups all-purpose flour
2 1/4 teaspoons baking soda
1/2 teaspoon salt
1 tablespoon ground ginger
1/2 teaspoon ground allspice
1/2 teaspoon ground pepper
3/4 cup (1 1/2 sticks) unsalted butter, room temperature
1/2 cup packed light-brown sugar
1/2 cup granulated sugar, plus some for coating
6 tablespoons molasses
1 large egg
1. Mix together the dry ingredients. That means the flour, baking soda, salt, ginger, allspice, and ground pepper. Remember, if you don't want it to be as peppery, adjust the amount of pepper as you feel appropriate. In fact, I would take a gander and say you could probably even leave it out entirely. But, the spice does add a nice bit of complexity to the cookie, so I wouldn't recommend that.
2. Cream together the butter and sugars. Martha says to use a mixer, but I don't have one (gasp!), so I used the Husband instead. Even if you don't have a husband or a mixer, you can do this yourself – just put some muscle and consistency into it and cream everything together until it's nice and smooth. Martha calls it 'fluffy', whatever that means. Perhaps if I had a mixer, I would know.
3. Into the creamed butter and sugar, mix the molasses and the egg.
4. Slowly add the dry ingredients and stir to combine. It will be a little stiff, but just work it in until all the dry ingredients are moist and you're left with a nice, solid lump of dough.
5. This step is probably optional, but definitely useful! Spread out some plastic wrap on your counter and turn the dough out onto it. Using your hands, mould it into a flattened disk and wrap the plastic wrap around it completely. Throw the disk into the freezer for approximately 20 minutes. This will make it far easier to work with. I can attest to this: because I was working in batches, my last batch was completely thawed by the time I got to it. It was still manageable, but far more pleasant to work with when it was stiff and cold.
6. Probably a good time to preheat your oven. Set it to 350!
7. Roll the dough into approximately 2 inch balls. Or smaller. Or larger. It all depends on how large you want your cookies to be. Space them out on a cookie sheet (ungreased!) and press them down with a sugar-coated glass bottom. Make sure they have enough space. They will spread out and flatten a little more. I didn't bother giving mine a lot of space (12 per cookie sheet) and they did end up touching slightly as you can see in my photos.
8. Bake for 10-12 minutes. Keep your eye on them. You want to take them out when they are nicely browned, but not burnt on the bottom. It may take you a few batches to figure out the ideal time for your oven, so I definitely recommend working in batches of 12 until you figure it out.