A few months back, when I posted some shots of my living room, one of you observant readers commented on the range hood that had magically appeared above our stove. I promised that reader a post on it, a post which I never got around to. In fact, my own home has been much neglected on the blog lately. It's been over a month since I showed you an updated shot of any one of my rooms. So, I thought I'd revisit the kitchen today. It's my favourite room, the prettiest room in our house. It's the room I'm most proud of, really.
When you first saw it, it looked like this:
And then we ripped out whole house apart and created a new one for less than $20,000. When you last saw it, it looked complete different, partially because we actually moved it from one part of the house to another.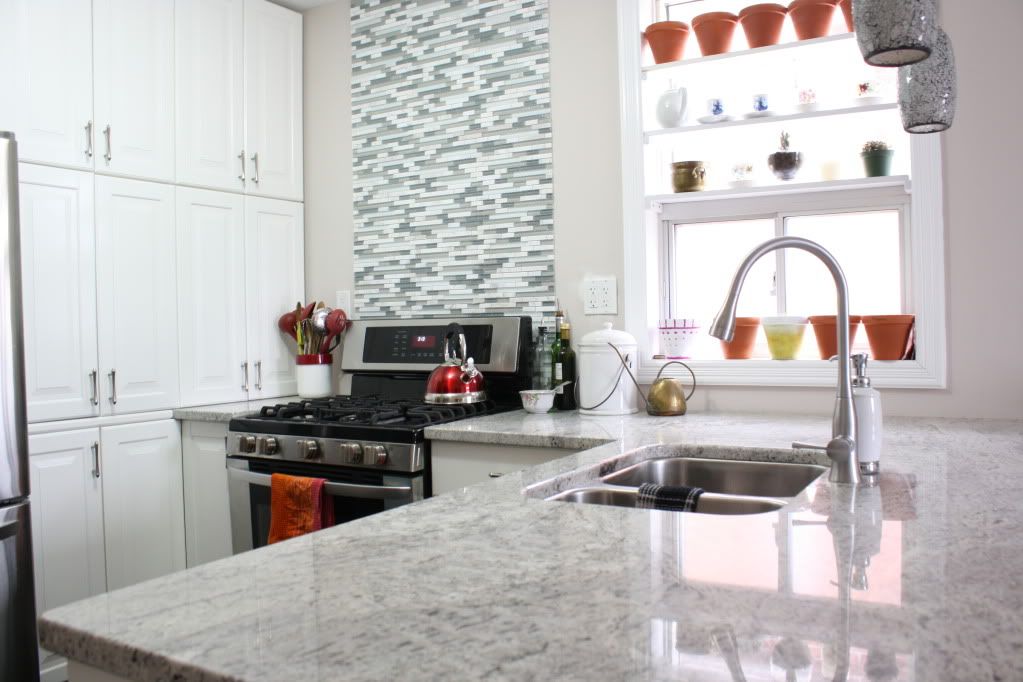 Now?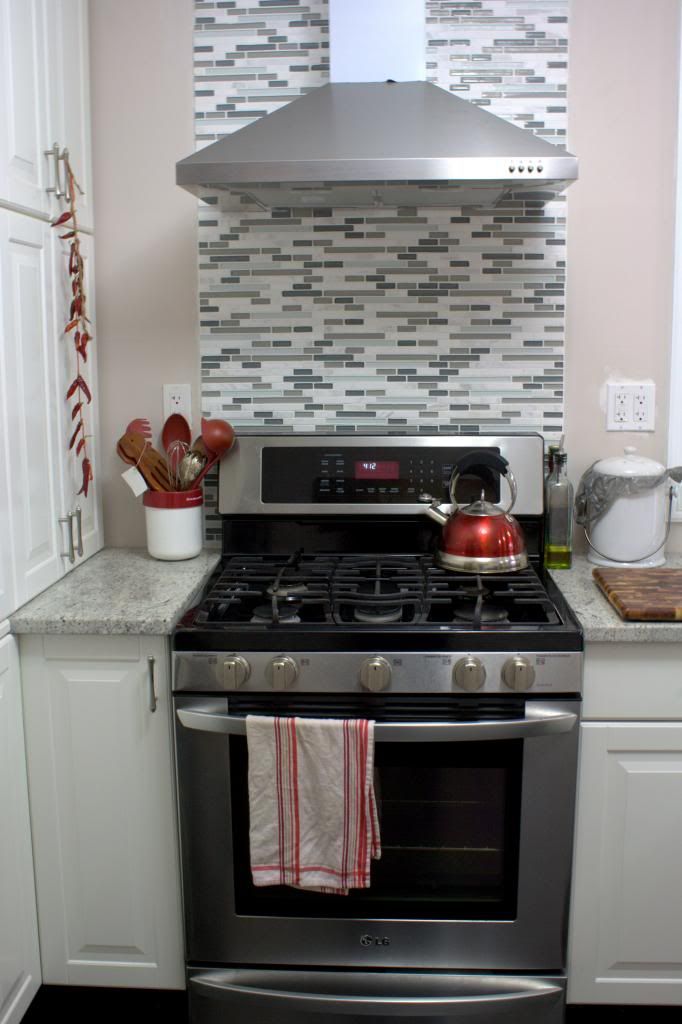 We have a range hood! I love the look. It's perfect for our little kitchen. The hood came from Ikea, the very affordable but stylish
Luftig
. And the way we chose to run the tile up just behind the stove and nowhere else? I love it. The blue is the perfect bit of almost neutral colour that sets off the stainless steel of both the stove and the range hood.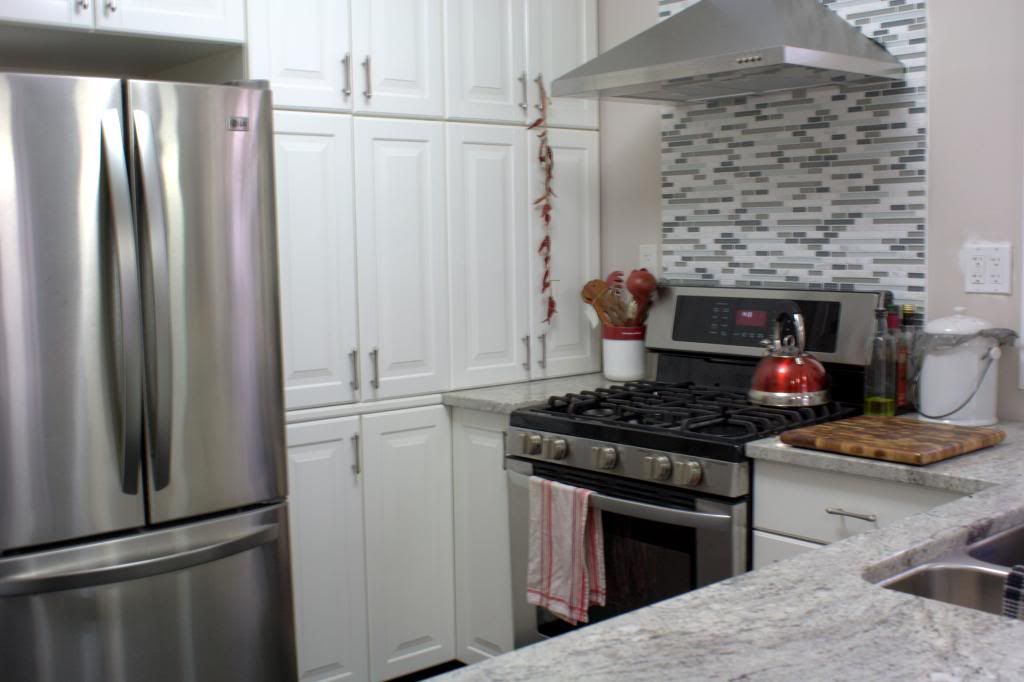 When we first put the range hood up, I was worried that it make the kitchen feel just a little smaller. It's already small, so the added loss of the space above the stove, for the first few days, made it feel just a little claustrophobic. Then, I got used to it and realized that if I hadn't known it without the hood, it would have felt as open and airy as it ever is.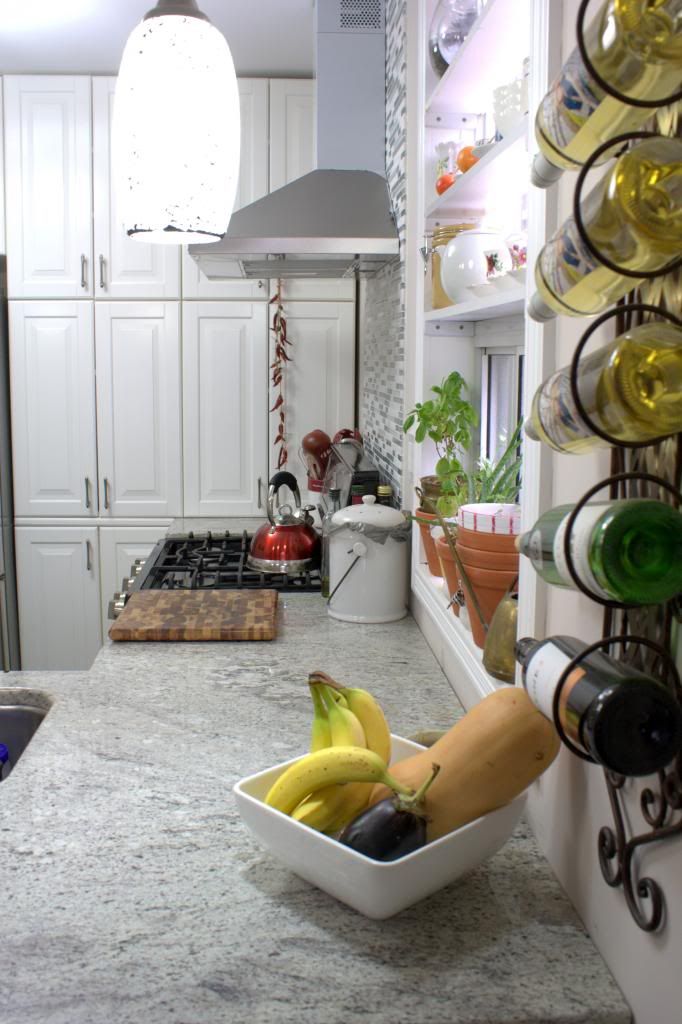 These shots are a pretty honest glimpse into our kitchen. Some days are significantly messier than others, of course, and our counters can go days without being cleared off. But, when we do clean up, this is exactly how it looks: ugly bag in the composter, my container of spoons and ladles a disorganized mess, the contents of the window shelves just a little crazy. I've kept a string of drying chilies tied to the cupboard handle since the end of September and our counters are never completely clear. Yes, we have a patch around the outlet that probably won't get painted until we repaint the whole entire room again. You'll never see this kitchen in a magazine. But it's my kitchen, a kitchen we built from scratch, and I love ever inch of it.
More of my kitchen: