Apparently, when I signed up for Goodreads in July, I decided I should read 20 books in 2012. I clearly remember making this decision, thinking it was a conservative goal for my first year of actually tracking what I'm reading. After all, I majored in English Literature in university! Do you know how much English majors read? (Approximately 8-10 books* per course, with at least 3 English courses a semester, but often more.)
20 books in a whole year? Pssh! I used to do that in 3 months!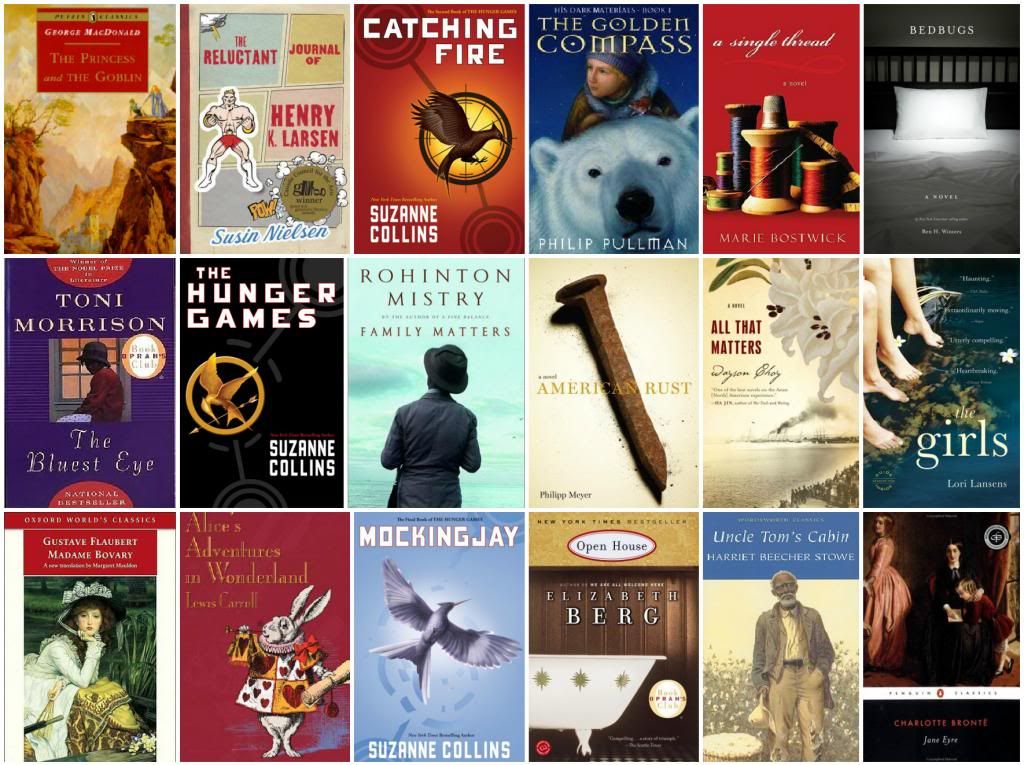 As of today, I'm at 18. And a half.
I try to tell myself that it's really not that bad. After all, one of those books was Madame Bovary, and another Jane Eyre. I read Uncle Tom's Cabin in February. Pretty much all of September, I was stuck on Wuthering Heights, slogging through, wishing it were done. I gave up at 51% complete. Putting a book down before it's finished and picking up another one is something I just. don't. do. In short, I haven't been focusing my energies on easy books.
So, I thought I was doomed when December hit and I was sitting at 16 books out of 20. 4 books in a month when I hadn't finished a single one in November? But. RandomHouse to the rescue!
While I was in the depths of novel writing in November, I entered a draw for a write-in at the RandomHouse offices here in Toronto and was fortunate enough to be among those who won a spot at their conference tables. It was an amazing experience, but even more amazing were the free books they brought out by the box full for each of us to take home. Advanced copies mostly, even a few for books not yet released. I packed as many as I could into my bag and came home with a nice selection of brand new reading material. If you haven't noticed, I don't actually end up with new, written-sometime-in-the-last-two-years reading material very often. So, suddenly, I had this stack of books all written within the last year. Dutifully, I finished my novel, devoured the rest of The Golden Compass, and was subsequently blown away by the first two books I chose to read from the stack.

Bedbugs by Ben H. Winters

Bedbugs freak me out. Pekoe has brought fleas into the house a couple times, which is creepy and itch-inducing in itself, but bedbugs? When I was a student, I got all freaked out about bedbugs once and went into a frenzy of research even though I didn't have any reason to believe that I had them. This book is that research. It's that feeling of a slow, ebbing terror that you tell yourself is utterly irrational, while at the same time completely succumbing to the terror.
Bedbugs is the story of a young family who moves into a new apartment in NYC with an eccentric landlady that lives downstairs and a suspicious, mysterious past. And then, Susan Wendt, protagonist, finds a drop of blood on her pillow and her world spirals out of control from there.
At times, the book did get just a little tedious, a little silly. There's an assumption that develops about halfway through that makes the characters seem underdeveloped airy. But then, I hit the last part of the book and everything fell into place in this neat, terrifying package. Such a terrifying package. So perfect.
Definitely. Read this one.
The Reluctant Journal of Henry K. Larsen by Susin Nielsen

After finishing Bedbugs, I kind of wanted something a little lighter. Something a little less dark.
I have a feeling anyone who has read this book is already laughing at me. 10 pages in I was absolutely hooked, but absolutely aware that the cover sets you up for a cruel awakening. This is not a light, humourous read. I mean, it's humourous. But it's not light. It's the kind of book that has you grinning and nostalgic one moment and sobbing quietly behind your scarf on the bus the next, unable to stop reading.
As described, it's written in a diary format, by one Henry Larsen who is starting a brand new school in a new city, his whole life shaken by the tragic death of his brother. It's his journey to come to terms with the life now in front of him, a journey to come to terms with what his brother did.
The ending was perfect for me. Not exactly happy, certainly not finished, but full of such hope, even in the midst of intense brokenness.
And now? I'm reading this:
Pigeon Pie Mystery by Julia Stuart
I have very few thoughts about this yet. I'm only on page 30 or so out of over 300. But I think I'll enjoy this one too. Maybe not as much as The Reluctant Journal of Henry K. Larsen. Maybe differently than Bedbugs.
This is book 19.
I think I might make it to 20 after all.
And you? What books have you read recently? How many have you read this year? Do you keep track? What were the best ones you've read in 2012?
* 3-5 of which you will actually read thoroughly. The rest will, no doubt, just get skimmed. I've even written essays on books I didn't actually read.
(PS. Want to be my Goodreads friend?)