To go along with last week's announcement, I have another: I'm bringing food back to This Dusty House. A few months back, I began This Dusty Kitchen as a place to share and keep a repository of recipes, a place to share adventures in food and health. I started it, and then I allowed it to become a source of guilt as I ordered yet another plastic container of pad Thai or scrounged in my freezer for chicken nuggets and frozen veggies for dinner. I started a food blog and then I stopped cooking. Ironic? No. Expected, maybe. I tried to get in over my head.
Now, as I give myself the permission I guess I needed for myself to expand my blog and explore more topics, it only makes sense to bring it back. If this blog is to be a cohesive glimpse into my life, there's no reason to fracture it as if food were not a part of the House, but a part of something else. When I make something delicious, I want to share it with all of you.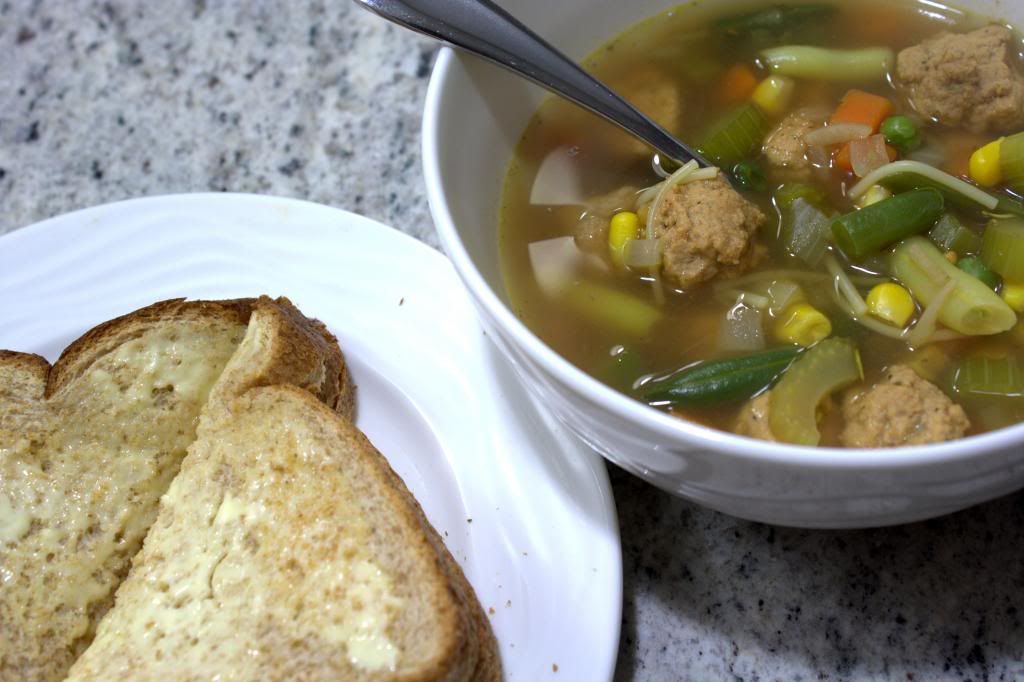 So, here I am, shutting it down by sharing a soup recipe. Classic. I began the food blog with soup. I bring it back here with soup.
Dutch Meatball Soup

For the meatballs:
1 lb group turkey
1 egg
2 tbsp milk
2 tbsp bread crumbs
2 tbsp tomato paste
1 tbsp fresh basil, chopped
1 tsp each salt and pepper
Mix everything together and form into small, bite-sized balls.
For the soup
1 tbsp oil
1 medium onion, chopped
2 cups celery, chopped
8 cups vegetable stock or chicken stock
1 cup frozen veggies
1/2 tbsp Montreal chicken spice
1/2 tbsp garlic powder
Meatballs
In a large Dutch oven, heat the oil over medium-high heat. Add the onion and celery and cook until the onion is translucent. Pour in the stock, add the frozen veggies, and bring to a boil. Add the spices.
Carefully drop the meatballs into the boiling water. Add the noodles. Continue to cook until the meatballs are cooked through and the noodles are softened.