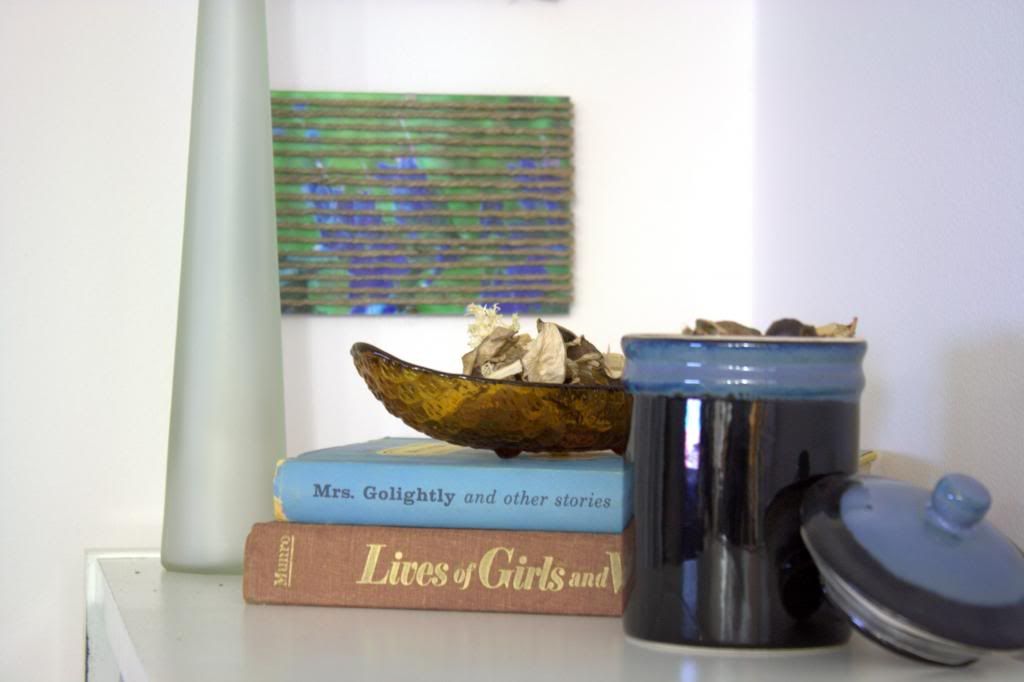 I think what I've created is a fall vignette. I'm not really sure what makes it intrinsically fall. Perhaps the twine. Perhaps the dried potpourri. Perhaps the bright oranges in the photograph I choose to use. Or, perhaps the blue, which reminds me of the autumn sky.
Either way, I created a vignette and it's kind of fall-like.
To remind you, I joined up with 7 other bloggers to take on a $15 fall decorating challenge. With no more than $15, we were to create something pretty for fall from scratch. I picked up these items from the dollar store and got to work:
I glue gunned and wrapped, twisted and tied. It kind of felt like it took me all weekend. And, as I arranged things at 8:30 last night, I realized how tough this challenge actually was. My chosen items didn't go very far, and, while I thought the corner I had created was pretty, with a few eye-catching touches, it's perhaps just a little too bare for my taste.
Because of the location I chose to decorate – this little bookcase that barely fits into the space between the wall and the couch – I faced the added challenge of creating something that looked good from two angles: from the side of the bookcase, and from the front.
Tolerable, but I think I have a lot to learn about vignettes.
The details?
There are three dishes incorporated into my vignette, three dishes of varying sizes. They're pretty and I think they work together, but arranging them in the space was surprisingly more difficult than I expected it to be. The heights just didn't seem to work together as I expected they would. A few books stolen from my bookshelf fixed that for the brown dish.
I filled the blue jar with pot pourri and, originally left the brown dish bare, but quickly realized it was missing something. And $2 buys you a surprising amount of pot pourri. I saw no harm in adding a little more vanilla scent to our house.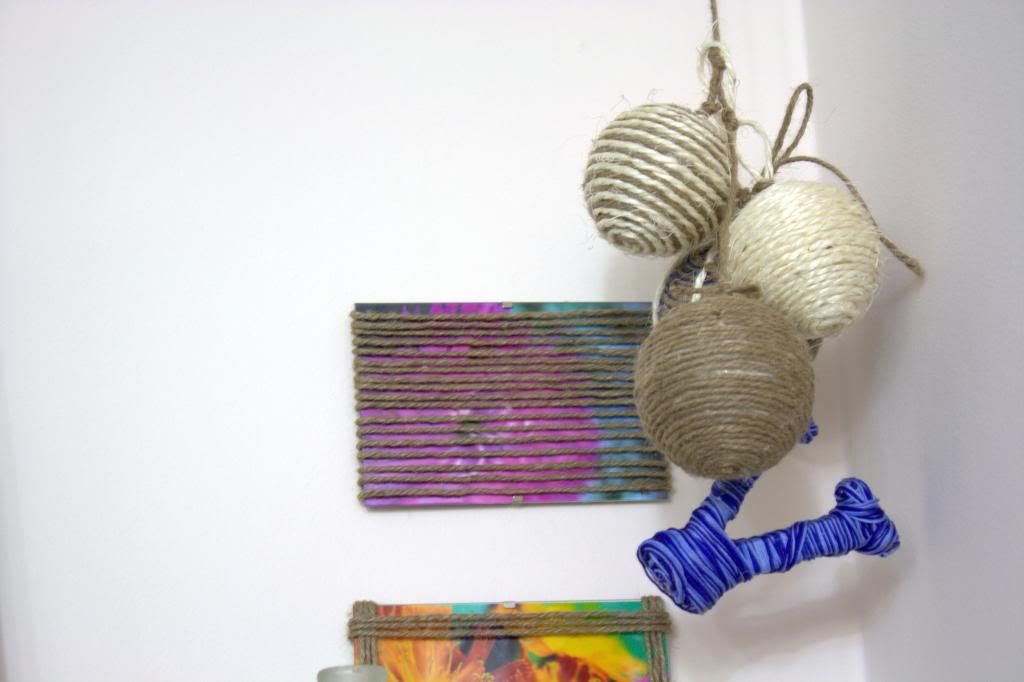 I have two favourite bits of the vignette. These balls turned out beautifully. As I started to wrap the twine around the styrofoam balls, I wasn't really sure how I was going to use them. I was envisioning a row of balls hanging from the ceiling, each with their own space. Perhaps that could have worked but, when I clustered them together, I loved the charm of the group of them, all dangling together. And the V? It wasn't working leaned up against anything on the bookshelf – just wasn't – so, I looped it up to the bottom of the cluster. I love the result, but now I wonder if a swag of balls may have been a better choice to fill the space.
My second favourite bit is the photographs.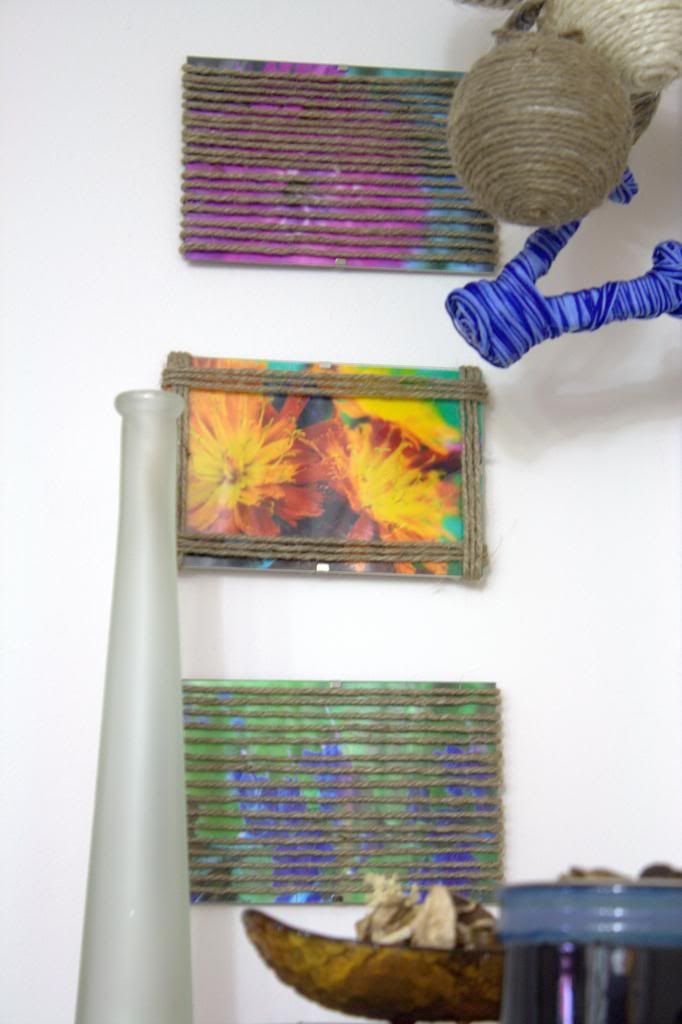 Photographs and books were two of the few exceptions to the "don't shop your house" rule (which, in all honesty, was a rule everyone was encouraged to break anyway – this was meant to be fun, not restrictive!). Who doesn't have books or a few favourite photos lying around? With a vision of four photos framed with twine as the middle one is, I scoured through my photo albums and realized I may have been kidding myself a little bit. I had far fewer photos printed up that I thought, and even fewer that would be appropriate for a fall challenge. These three, photos of flowers I took years ago, were the only ones to stand out and they reminded me far more of spring than fall.
But, that middle one had all the right colours. So, I improvised! The slightly abstract and more focused result is such a happy accident, I think. I absolutely love the result.
What do you think?
Now that you've seen mine, head on over to the other's blogs and check out their results!
-~*~-
I linked up: