I used to do a bunch of sewing. I would save any and every little bit of fabric with a plan to do something with it. I would search thrift stores for bits of ugly fabric people had donated. Walmart's $1.99/yard bin was my heaven. As I'm sure you can imagine, my fabric stash was pretty large. It was also pretty ugly. Weird fleecy fabrics that you could do anything with. Stretchy t-shirting in a blue-grey that looked like sweatpants (in fact, I made a pair with it!). Bright blue stretch satin, cheap and shimmery.
So, I got rid of it. All of it. Now, my fabric stash is down to this*:
Two bits.
The black and white gingham came from a closing sale of a Fabricland location. It was 60% off and I was disappointed that I wasn't finding any pretty cotton prints, so I went for the next best thing in this slightly shimmery satin. I have no idea what I'm going to make with it.
The blue on the bottom was a gift to me from my brother after he made a trip to India a couple years back. It's even more complicated than the gingham since, as a gift, and consider the trek it to the other side of the world, I'm nervous about letting my scissors anywhere near it.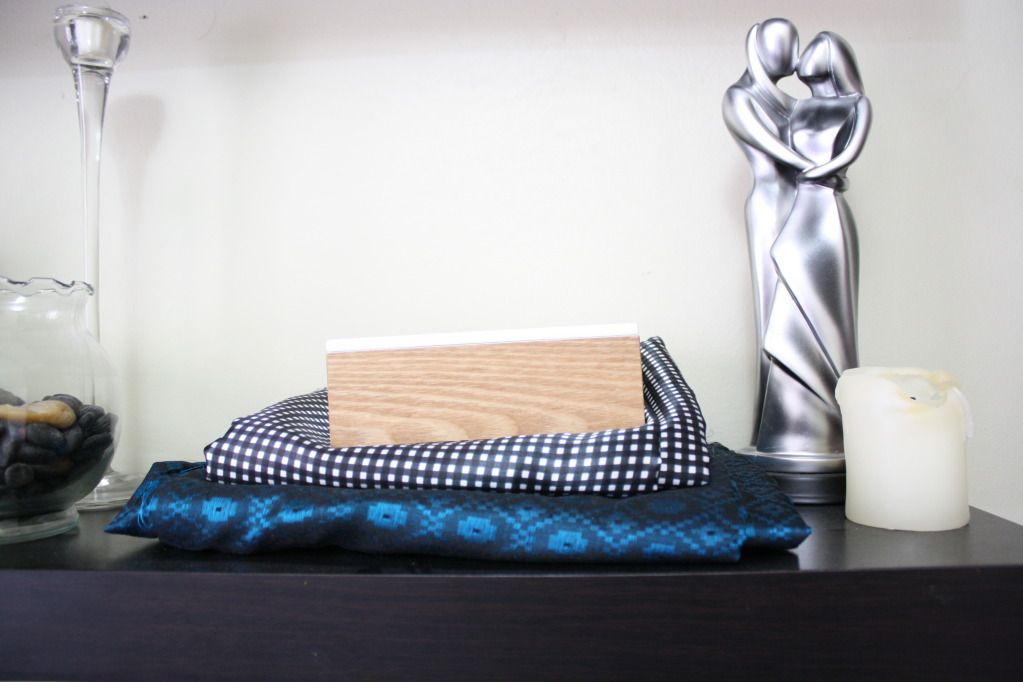 So, instead of being turned into beautiful things, both of these fabrics live in my dining room, on a set of shelves with a bunch of other tchotchkes. I think they're kind of pretty there, sitting underneath a little box from the Chapters Indigo Home collection, where I keep my crochet hooks and sewing needles. When I put them there, I was intent on simply tucking them away, but it wasn't long before I realized I appreciated the charm of the little vignette.
And you? Do you have a fabric stash? Big or small? And where do you keep it: on display, or tucked away?
What would you turn this fabric into?
* Full truth: there are also scraps of fabric left in my stash from my
dresser makeover
and my
chair makeover
. I still have a problem with hoarding fabric…