As I'm sure you can imagine, we didn't really get much done this weekend. There were far too many puppy kisses and snuggles to worry about. A good chunk of our weekend was spent redirecting attention away from our computer cords, away from the legs of our chairs, away from our fingers and feet, and onto more appropriate toys. There has been a good deal of running around in the backyard and a good deal of cooing over a tired, sleepy puppy.
There hasn't been a lot of painting, or re-organizing, or building. But, I did want to revisit last week's projects and share more fully the one I had the most fun with.
Before I made these, I had never painted stripes on anything. Turns out, it's remarkably easy, and remarkably rewarding, but ridiculously time consuming.
Also, addicting. I started with these hooks and, in the end, turned my stripe hungry eyes on our steps as well.
So, how?
Easy.


Step 1: Sanding
These were for our mudroom, so I didn't worry too much about this step, but if you're planning on putting your piece somewhere that requires a little more polish, make sure you start with a smooth board or you will see the texture.
Step 2: Prep your holes
I didn't want to have to mark out my holes after I had finished painting so, with the nice smooth board, I attached my hooks, then removed them. That way, I would know exactly where the hooks would be screwed in once I was done because the hole was already there.
Step 2: Painting the base colour
Obviously, I used white. I painted the boards in multiple coats of a basic white paint. (In fact, in all honesty, I used ceiling paint because all of our other white paint – 4 cans of varying fullness – had gone funny in the time they had been stored.) Once I was happy with the level of coverage – there were some knots to make disappear – I allowed them to dry for a good long time.
Step 3: Taping

This is the most time consuming step. Using painters tape, tape down the area that will remain white. I made each of my yellow stripes 2 inches so, after I had the first one down at an angle I liked, I used the ruler to mark out 2 inches in two spots and ran the next piece of tape along those two marks. It's time consuming, but definitely worth it to get perfectly spaced stripes.
Originally, I had wanted to a chevron on the hooks, but decided that, ultimately, it was just too much for me. I didn't want to give up quite so easily though, so I had another stab at it with the back of the steps. To tape out the chevron, find the centre of the board and draw a line. Now, measure out equal distances from both sides of that line along the edge of your board and put a little pencil mark. Measure down the line the same distance and add a pencil mark. Line up your tape with the mark on the outside of the board and the mark on the centre line. Do the same with the other side. Trim your tape to form a nice crisp corner.
Measure as you did with the stripes from there, always making sure that your corners are nice crisp 90 degree squares.
Step 4: Paint the stripes
Easy peasy. Paint the visible white!
Step 5: Remove the tape
The most rewarding step of this project. As soon as you have finished painting remove the tape. You want the paint to still be wet when you pull it off. Otherwise, you may end up with the tape pulling your carefully painted stripes off with it.
You will end up with a messy pile of tape. Embrace it.
Step 5.5: Touch-up your stripes
When you pull up your tape, there's a good chance there will be a few spots that will have leaked through. I've heard mixed reports that this is diminished with higher quality painter's tape. Mixed. If you're like me and don't think the possibility is worth the extra moolah, these smudgy spots are easily topped off with a little paint brush and some extra white paint.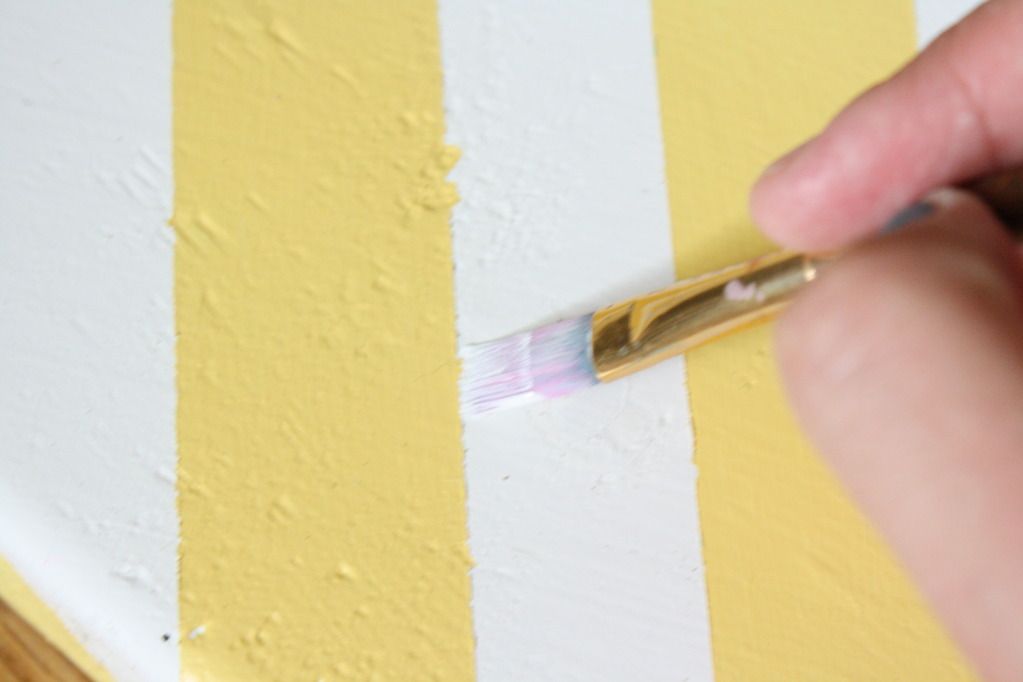 Step 6: Allow to dry
Watch a movie. Or back-to-back episodes of My Name is Earl.
Step 7: Varnish
For durability and prettiness, this is an important step. I wanted a high shine on my hooks, so I was excited for this step. Just slap it on there. When it comes to lacquer, the more the better. The thicker coat you do, the more the brush strokes will settle out and the more awesome it will look.
Step 8: Allow to dry
Again. Watch another movie. Or more episodes of My Name is Earl. Or, better yet, take your dog for a nice long walk.
Step 9: Screw on your hooks and hang
If that is indeed what you're painting your stripes for. After you hang, you may need to attack a couple holes with some wood filler, light sanding and touch-ups with a paint brush. It will still look amazing when you're all done and it's up on the wall.