As you have already been able to gather, we did not put down the tile I posted about last week in the mudroom. I still think it's gorgeous tile. I still love it. I do wish we could have worked it in. But, one of our readers, one of our very wise readers, pointed out a few things I did not know:
A few comments on these tiles from someone who's gotten more experience putting in and tearing out tile than I wanted … first, I can't tell who made that tile […] but they look like Emser Strands. Many cheaper 12×24 tiles are difficult to impossible to lay flat because they are bowed in the middle. That may be one of the reasons you can get them so cheaply — experienced tilesetters skipped them on purpose because your tile will end up with more lippage than Mick Jagger. Second, it's difficult to find a tile saw that will rip a 24″ long tile if you don't already have one or have access to one. Third, you didn't say how you were going to prep the surface. I can't tell what the surface material is, but it looks to be painted concrete. Is it level? Are the landings square? Is it indeed concrete, or is it wood? If it's concrete but it's not level, you're going to have problems because of the large format of the tiles. (Plus, they look best with a 1/16′ grout line, which is difficult in the first place and extremely difficult if not square…) If it's concrete, make sure you strip it thoroughly, then was with trisodium phosphate, then precut everything, then use a modified rapid-set modified thinset because you're on stairs that you likely want to use and large tiles like this have a problem with the thinset not curing underneath them quickly enough. If it's wood … well, good luck, but there's a good chance you're going to see these large tiles crack horribly within weeks. Either way, if you do choose to use this large of a tile, make sure you have something like the LASH system (available at HD cheap, but hard on the thumbs) or the Tuscan Leveling System (good for pros or large jobs) to help you keep these tiles close to one another and flat.
By the time I had finished reading Karl's comment, my head was spinning and there was a sinking feeling in my stomach. I read the comment out loud to the Husband from my phone and the sinking feeling intensified as I saw him nod all the way through.
Karl is right.
It was good to get his thoughts on the larger size of tile. After all, we had no experience with them, so would have discovered the bowing only when we started to lay them. But, more importantly, I hadn't even thought about the problem of laying tile on wood.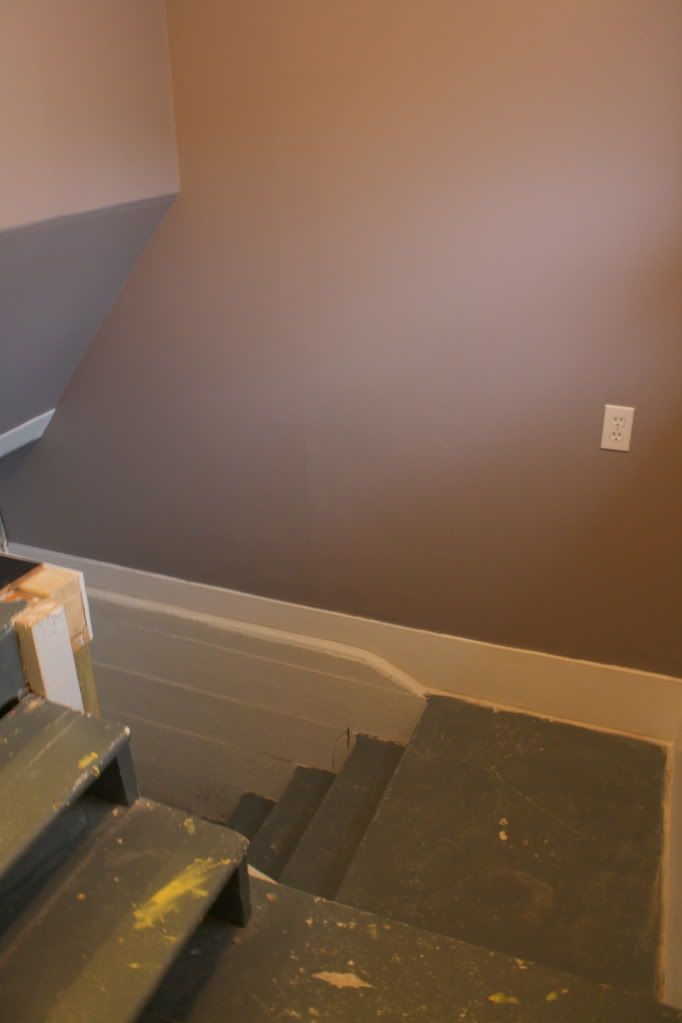 These are the landings onto which tile was going. One is a wood platform. The lower landing is poured concrete. While the concrete wouldn't have been a problem, the wood is a different story. Wood moves. It contracts and expands with humidity and cold. It gives with the weight of bodies and shifts under the pressure of heavy objects.
Tiles don't give. Tiles crack.
So, what did we do?
It looks like tile. It's even been grouted. But it's not ceramic. Or slate. Or marble.
It's vinyl.
I say vinyl and I have images of the layers of old linoleum we pulled up from the kitchen floor or the yellowed kitchen floor in my grandmother's house. Cheap and peeling. Not the feel I want for my mudroom. But, I'm happy with these. They mimic ceramic tile and were groutable to make the illusion complete. But the don't crack, won't crack. I can step on them and feel the wood beneath them move without worrying that those flexible tiles will crack and break.
And, I love the way they look, the way they immediately make the space feel that much closer to finished. I know we've taken a bit of a risk. After all, they may peel. They may shift and begin to look worn and old well before their time. But I think I'm will to accept that risk. We'll see how long they last.
Have you ever used groutable peel and stick vinyl tiles for anything? Have you been happy with them or ultimately disappointed?