When I was 12 or so, my sister, five years older than me, was getting ready to move off the farm and into a dorm room. Part of her growing up process involved creating her own full twin-sized quilt. This wasn't so unusual. Our mother was crafty, a nature she willingly passed on to her children. (Even my brother learned to knit and crochet, though I'm sure it's not a skill he's kept or developed.) I watched my sister cut triangles and squares from old, wear-softened jeans and stitch them together into quilt blocks. I remember there was a sparkly fabric she used that my 12 year old self fell in love with.
Five years later, there seemed to be no other option for me than to move into my dorm room with my own, carefully hand stitched quilt. True, I hadn't had the same interest in quilting my sister had displayed before she began her creation. I hadn't created the wall samplers she had or developed the basic knowledge of what went into a quilt. None-the-less, if she could do it, I could too.
My mother took me to Lens Mill Store. She walked me through the shelves and shelves of bolts, pulled me away from the sparkling fashion fabrics and into the section with broadcloth and prints. The first few fabrics went smoothly. And then, I started to yawn. Drag my feet. I knew nothing about bringing a collection of fabrics together into a combination that works. I was resistant to my mother's strong guidance, to learning from her knowledge. It was with this mindset, that we settled on the sixth fabric and started hunting for the seventh and last, the fabric of which we needed the most.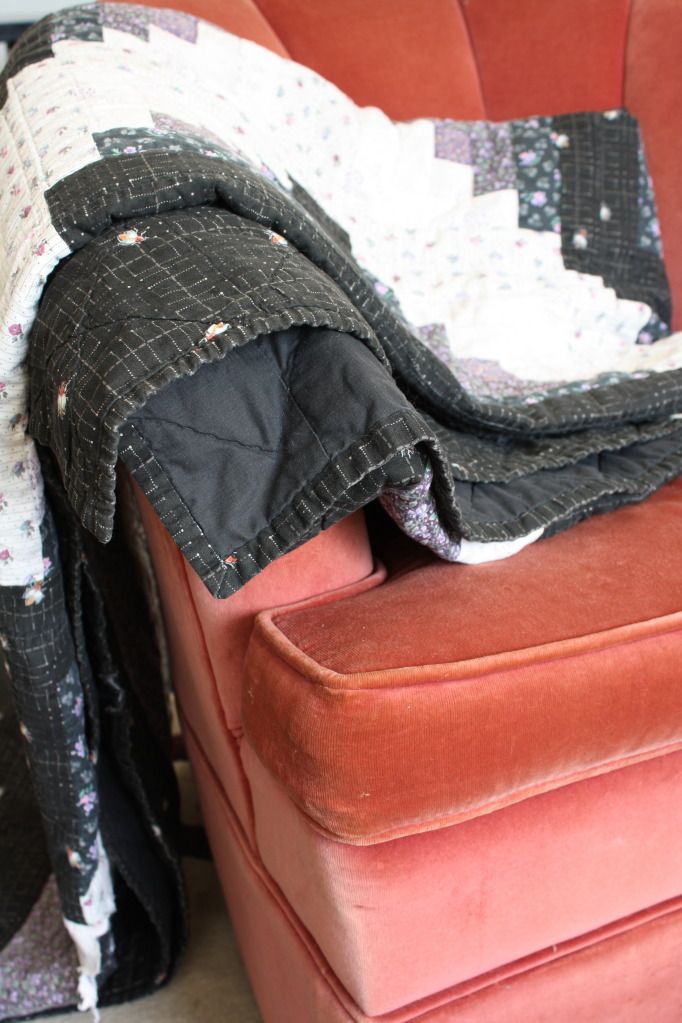 It was to be the darkest fabric, but not completely black. There was not a lot of selection and we had already dismissed most of it. My mother pulled out a lightly printed fabric and my frustration twisted my voice into a whine as I looked at it. Bugs. The fabric was black, with light grey dots and, every six inches or so, the image of a fly. A fly.
I hated it. And yet, with no other options, despite my searching, and with our rising mutual frustration, this buggy fabric came home with us.


I don't remember beginning to cut, but I do remember asking my mom for help. I don't remember the rest of the cutting process because I didn't do any of it.


I don't remember beginning to sew, but once again, I remember asking my mom for help. And, once again, I didn't do any of the rest of it.


I do remember the quilting. I remember how hard it was and how quickly my interest waned. I remember how perfect my mom's stitches were next to my awkward, crooked, large stitches.


There is one square that was done by my hand.






In the end, I did not make this quilt. My mother stitched each square, finished the binding, did the final wash and iron, and helped me fold it into my boxes to take to school with me. Even though it was not my hand that stitched those squares together, I was proud of it, proud of the place from which I had come, proud of my mother.


This quilt went through hell when Mocha came into our family. Now, it's full of holes, her puppy teeth having chewed through the layers of fabric and batting. I love it still and will always love it for what it represents, but I think it's time to make another. I think it's time to finish what I started.