Happy Monday! I worked from home Thursday and Friday last week so, even though most of the time I work harder and better from the comfort of my dining room table, I feel like I've had an extra extra long weekend. Which made coming in today all the more difficult.
But! I have something kind of delightful to share with you today. It's another DIY, another project that has been forever on the go, and finally, beautifully finished. This one, however, is not my DIY. This one is all the Husband.
Our unconventional kitchen design combined with every single inch of my 5'3″ height means we have a lot of cupboard space, half of which is completely unused because I simply can't reach. Oh, there's stuff in those cupboards. Stuff that never gets moved. Stuff like lightbulbs that don't get pulled out except when the last bulb in the light fixture goes. And dozens of vases, left over from the centerpieces from our wedding, that should really be boxed up and dropped off at our local thrift store.
In reality, I use the centre cupboard almost solely. It's been properly outfitted with a couple wire pull-outs from Ikea and holds my spices, my baking supplies, the peanut butter and bread, the things we use every day. The rest of the shelves? I would like to use them. There's lots of space! I just need to be able to get up there.
Queue handsome Husband to the rescue.
I can make you a stool, he said. One that folds away, and looks pretty while it's doing it.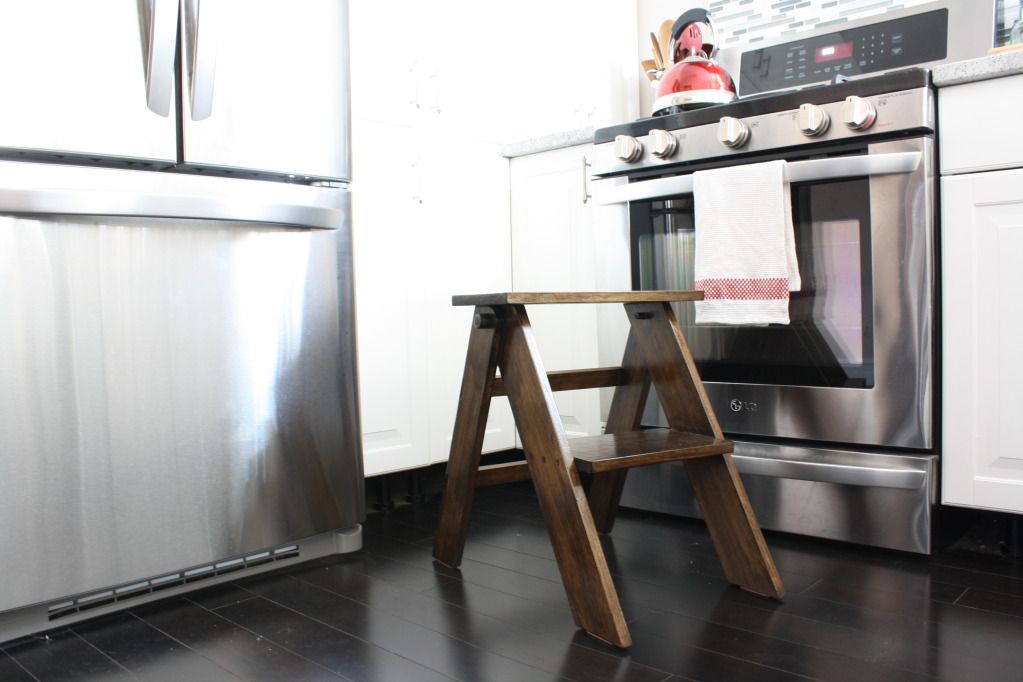 He scoured the Internet for weeks until he found a stool he liked. He tried to interpret the original designer's instructions, instructions that were missing some important information. Regardless, and with great confidence, he bought some beautiful pieces of poplar, made some cuts, screwed some things together and then fell into the black hole of problem solving.
Then, one day last month, I came home to a front porch spotted and smeared with a little dark stain and a beautifully finished stool, drying on the ugly tiles. No matter how long we let a project lie, we always power through in the end, the Husband and I.
Isn't she beautiful?
I wish we could provide some plan details, a proper how-to. Unfortunately, when I asked the Husband if he could remember, he looked at me blankly and sadly shook his head. There was too much struggling through, too much un-doing and re-doing on this one.
Have you ever tackled a project that stumped you? It's a victorious feeling – isn't it? – that coming out on the other side.
-~*~-