Today, I'm guest posting for Brittany of My. Daily. Randomness. while she's out of the country for business. Be sure to pop over there to check it out!


Last fall, I bought this chair and excitedly shared my plans to reupholster it with you.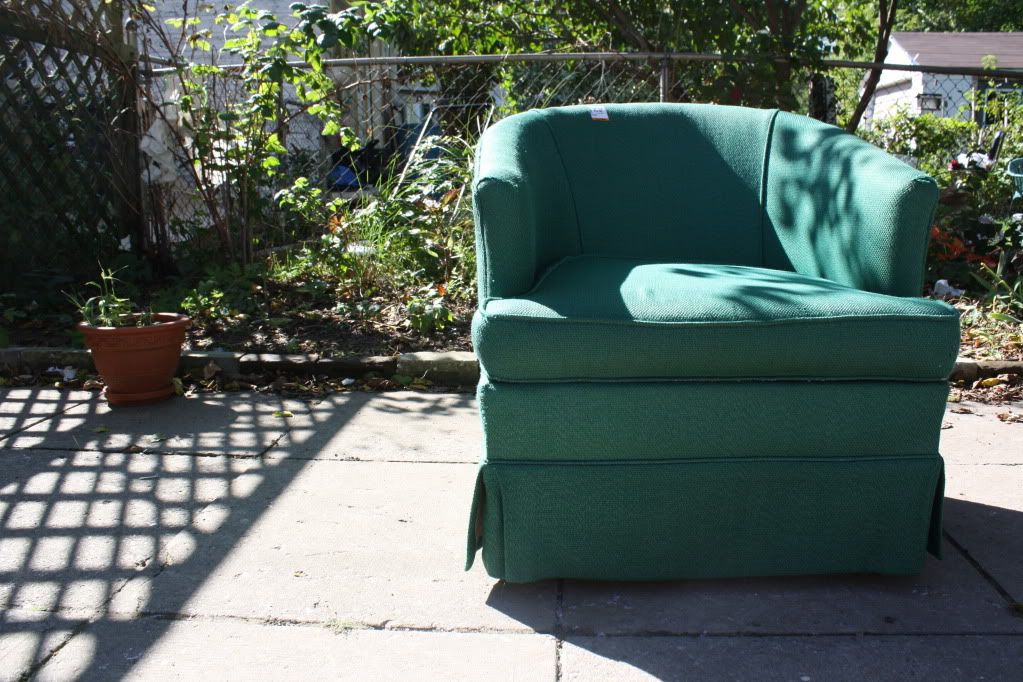 What followed was a long drawn out saga in which I teased you all with the possibility of a finished product.
For 10 months.
So, can you imagine how excited I am to show you this?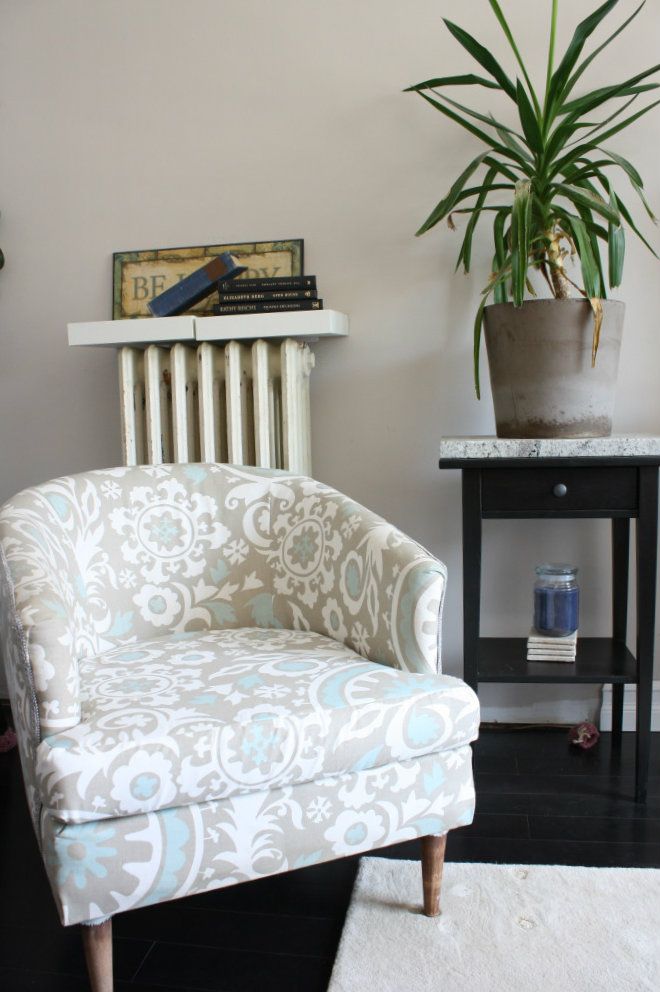 It's finished!
As I mentioned in
this post
, I was stuck on two things: the cushion and the trim, the covering-the-staples bit. I had picked up three boxes of decorative nails, but looking at them, I had no idea how I was going to get them close enough to actually hide the nail and the ugly seam along the top line of the chair. I was setting myself up for disappointment.
Last week, I stopped in at Fabricland in North York (which is closing, sadly, so everything is on sale for ridiculous prices) and found myself staring at their slim collection of trim. I pulled up my blog on my phone, found the fabric swatch post and examined my
Varenna Stone fabric from Tonic Living
as best I could on the tiny screen. I took a deep breath, closed my eyes, and snatched a trim off the shelf.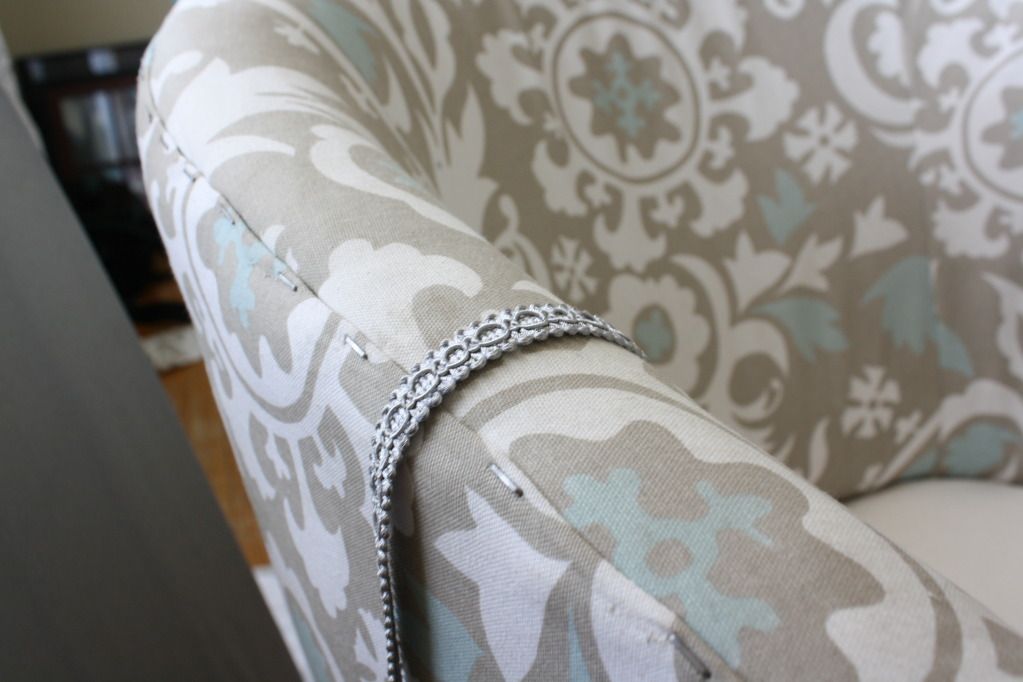 I chose a simple silver, a cool trim to match the blue.
Thank goodness – it worked.
And the cushion? Well, I just went for it. I had been a little uncertain about doing the cushion in the same colour; after all, it seemed like a lot of pattern in our little living room. But, I didn't have any other upholstery fabric and I really wanted to get this off my mind, out of the way, and all the ugly green fabric – which I kept to use as a template – in the garbage.
Seeing it all together, I'm content.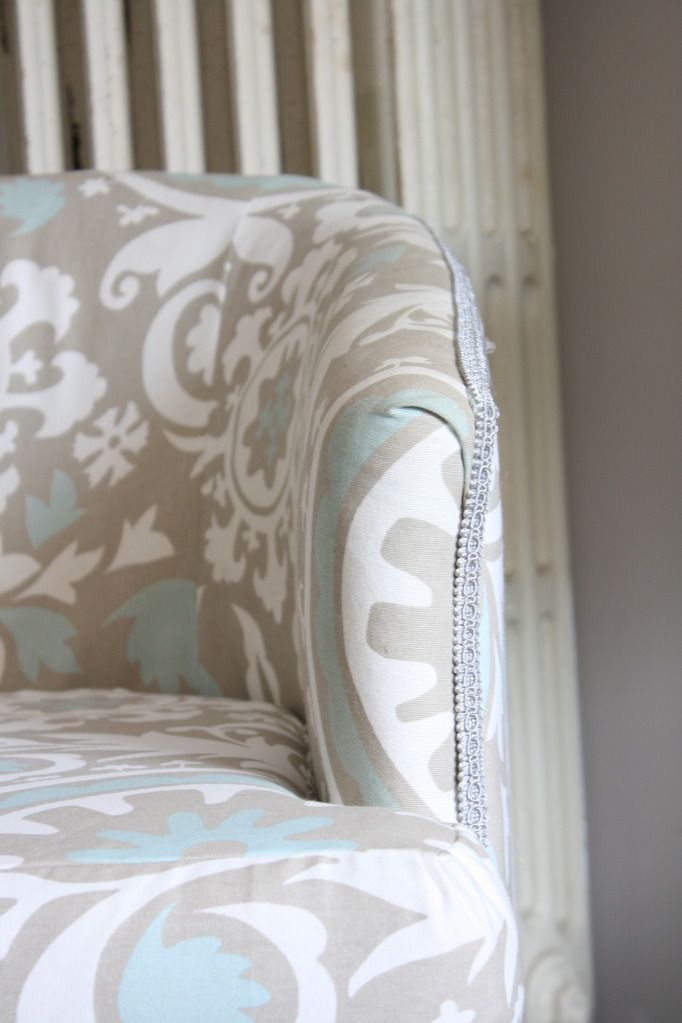 It may not be as polished as what a professional upholsterer could do. There may be a few extra wrinkles and the seams may not last long. The cushion may fit slightly awkwardly in its cover. But this whole thing was an incredible learning experience.
Will I do it again? Um…
do I have much choice?
Of course, I'll be doing this again, probably sooner rather than later, and armed with a whole lot more information and experience. But I think I might take a break for a while. Just a while.
-~*~-