I have had the most productive weekend I've had in a long time. Friday evening, I made a list. By Sunday evening, I was marking each one done. The secret? Don't have too many items on the list.
(I had three.)
Now, my house is clean, my nails are painted, and I've successfully completed an ongoing house project that really needed to get done. I puttered around here and there too, wandered the garden, moved things around, read a book, walked the dog. It was a weekend spent in delight.
-~*~-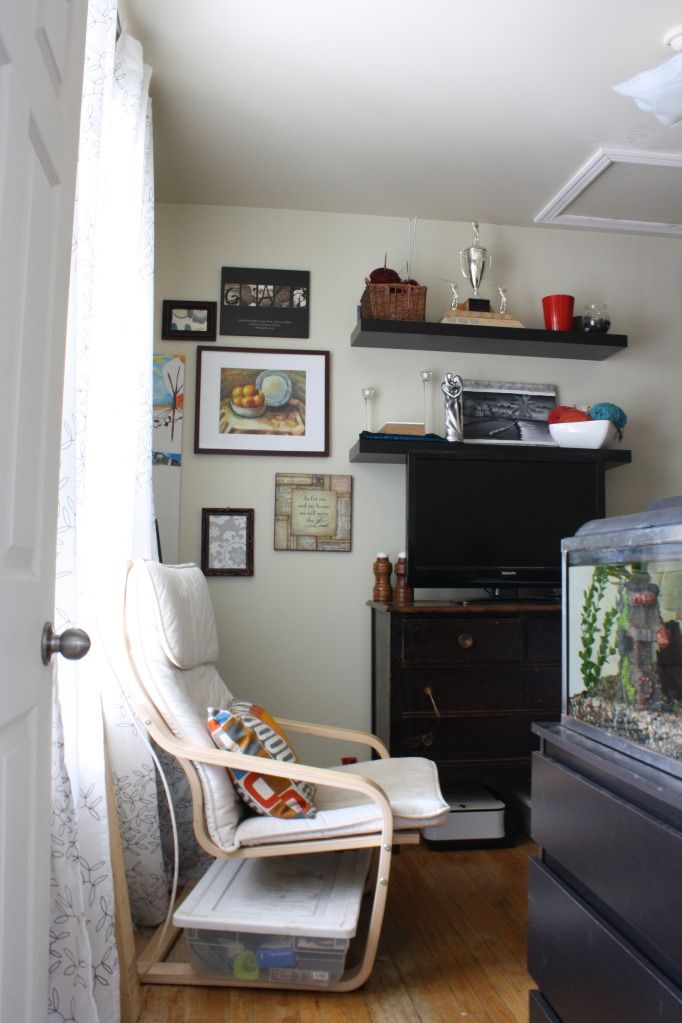 Last week, when I shared the new arrangement of our living room –
which we moved into what had been our dining room
– it was a little unfair of me, perhaps, to leave you hanging for so long on, waiting for a reveal of the newly arranged dining room. Largely, this is because the dining room was a
mess
. Because it's a closed room, separate from our open concept kitchen, it's always been so easy to pile all the things we don't want to see in the corners and on the table and all over the room. This was no different when it existed as our living room. It's not always pleasant, but a 'junk room' is certainly useful.
It's a beautiful room though, and I was pleased with the general arrangement of it's new identity. Before, it was cramped, filled with too much awkwardly placed furniture. Besides that, that's the room my gallery wall is in. It seemed a shame to hide our remade table, our shelves of knick-knacks and tchotchkes, our little bits of artwork, and our fish behind closed doors.
So, I cleaned up!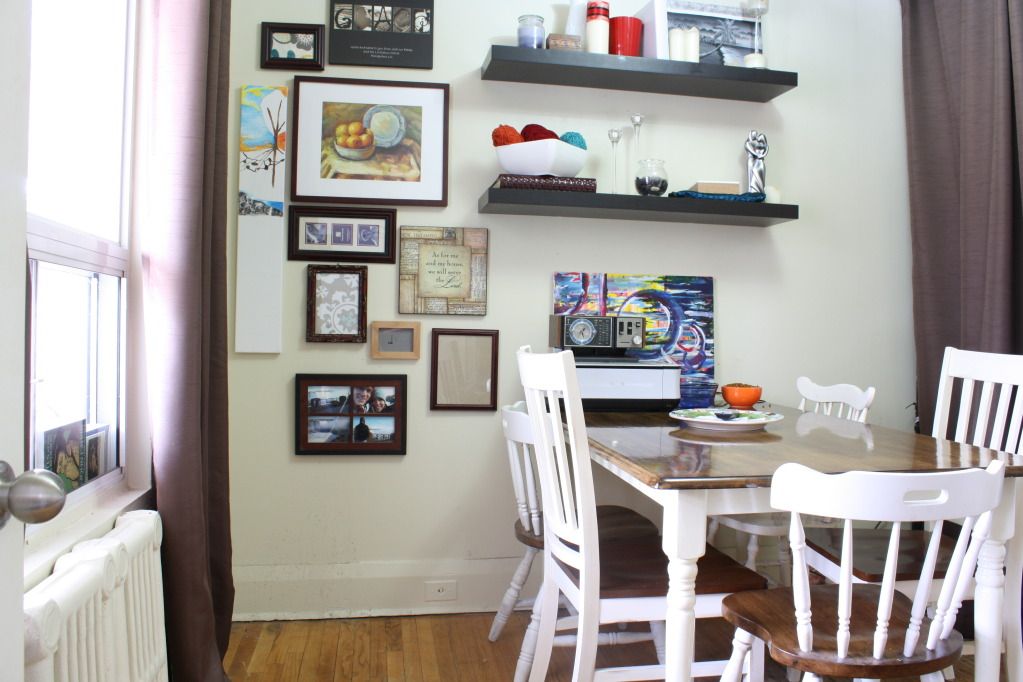 I added a few more frames to the gallery wall – unfilled as they may be – edited and rearranged the shelves, switched out the light curtains to match the brown ones that hang around our washing machine, and corralled our mess into a single corner.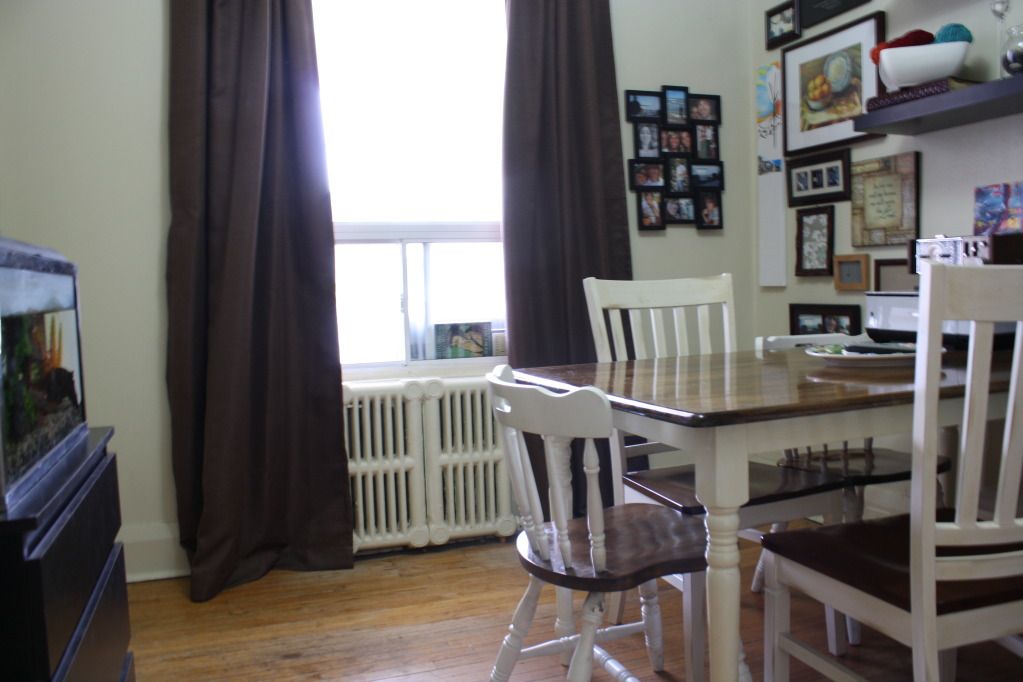 I wish I could say we eat here every night and throw lavish dinner parties with up to four friends (since that's the number of people we could fit around the table). But, we don't. In fact, more often than not, this room is used as an office, a craft room, and, yes, a hide-our-junk-away room.
And I'm ok with that.
There's still a few things to change. Looking at the pictures, I wonder if the gallery wall should be continued on the other side of the shelves to give the room a little balance and symmetry. Eventually, I'd like to add a proper desk to the corner, with a closed in armoir for storage of the few boxes of craft supplies and university text books that remain in the corner.
Ultimately, though, will that happen? If all goes well,
Project Lift-the-Roof
will mean a staircase where the shelves and the gallery wall are, boxing the washing machine and dryer in, properly giving them a closet in which to hide. My office will find a home in one of the spare rooms upstairs.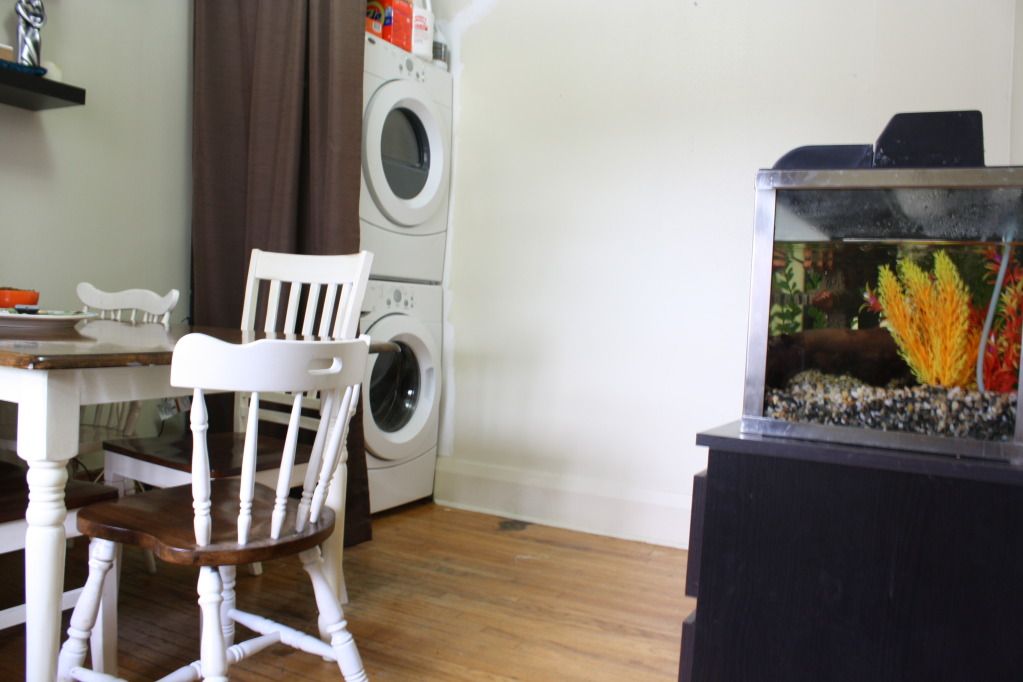 How much should we really put into this space when, by this time next year, it likely won't even exist?