When we went to San Francisco, we had one goal* in terms of sight-seeing: we wanted to visit The Alden Shop of San Francisco.
A little background.
A couple years ago, the Husband bought a pair of $80 shoes from Aldo. Whenever he buys shoes, he gets frustrated with the prices when, just looking on the other side of the store, there are a dozen lower-priced options for me. When these shoes only lasted 8 months, he was even more frustrated.
Then, somehow, he learned that if he spent significantly more on a pair of shoes, he'd be able to keep them for years. Like, 10 years, 20 years, kind of thing, with a few re-solings. He did some research, identified some good quality companies making good quality shoes, priced out how much he would have to spend, then broke down and bought a $22 pair of shoes.
How often can men find $22 shoes?
We know they would only be a temporary fix to the issue of his shoe situation, so when his research lead him to a shoe store in San Francisco that sold shoes in the mid-range of the type he was looking for, we penciled a stop into our itinerary.
We spent around an hour in the small store. In that hour, the store made about 5 sales; each person or group that stepped through the door walked out with an Alden bag, having spent about 15 minutes in deliberations. It was an amazing demonstration of the different styles of consumers, the Husband being the contrast, as he tried on a few different styles and fits – made different by the 'last' the shoe was made with – and pondered over the decision.
Perhaps, for us, dropping $500 on a pair of shoe means more than their general clientele.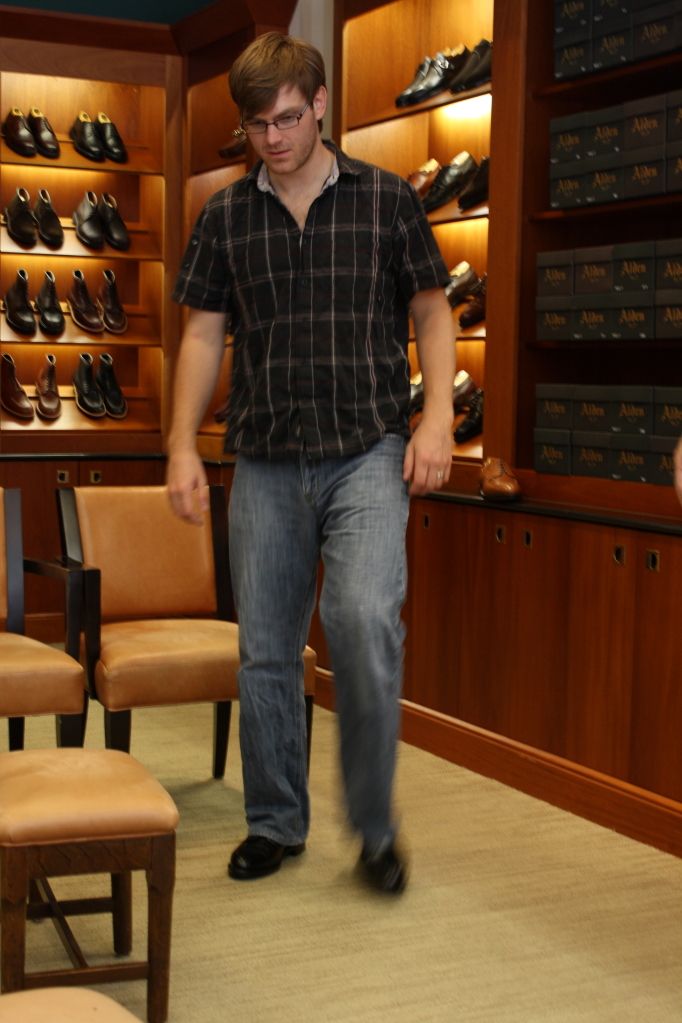 We left, the husband pleased with his purchase, happy that he'll never have to search through selections of shoes that would fall apart in under a year; me, content that I'll never have to endure through his cheap shoe shopping frustration again.
Are these shoes worth the money? I guess we'll find out.
* We also visited Alcatraz and got ice cream in Haight-Ashbury. But when I say this was the primary goal, it actually really was.