Thank you, thank you, thank you!


The Husband and I have been blown away by the number of opinions, suggestions, and thoughts we received on our floor plans. Each and every one of your suggestions has been carefully considered and we're working on revamping the floor plan a little based on your ideas. We'll be posting our revamped version on Friday, so be sure to check it out!


And, of course, I'll be sharing all the details of the project as they progress.


~*~
On Friday, I learned about the
15th Annual Golden Triangle Garage Sale
from
Susan's blog
. It was happening just far enough away that, if I hadn't known about it, I would have missed out entirely. I love neighbourhood garage sales. Sure, they draw the crowds and all the good stuff disappears pretty quickly, but with so many garage sales together, you're bound to find something to take home with you.
The Husband and I took the dogs, one large and one small. I was on a mission. They just tagged along. I've been looking for a dresser to replace our Ikea Lack TV stand for a while. It suffered a fatal wound when my beautiful mantel clock took a tumble, smashed a hole into the top of the TV stand, and landed on my toe, inflicting a wound that has left a permanent scar.
Amazingly, that clock still ticks on without a scratch on it.
So, I was on the hunt for the perfect dresser, something not too high but with plenty of drawer space that could fit nicely into the footprint of the Lack TV stand. To be fair, I already had one in mind. I had spied it at the thrift store last Wednesday, a beautifully aged dresser with decorative legs and detailing on the drawers. It was in rough shape and more money than I really wanted to pay, so surely, surely I could find something better at a garage sale.
We found one. A beautiful dresser, well marked with its manufacturer (Drexel) and the year it was made (Auguest -49). $75. The problem? It was big, probably longer than our current TV stand. As I tried to envision it in our tiny little living room, all I saw was precious floor space disappearing beneath the intimidation of this monster. We walked away.
Instead, I found a new collection of wooden spoons, three new picture frames, and some stuffed toys for Mocha*.
(Unfortunately, I also walked away from a beautiful marble table lamp for $10. Kicking myself for that one. Will I never learn?)
At home, we dropped off our things, unhooked the dogs, and immediately went back out, this time headed for the thrift store. I was lucky the dresser was still there and, with a well-timed 25% off sale, I contentedly slapped down my VISA. The Husband and I lugged it home, threw the old stand in the garage and slid it into place.
It's perfect.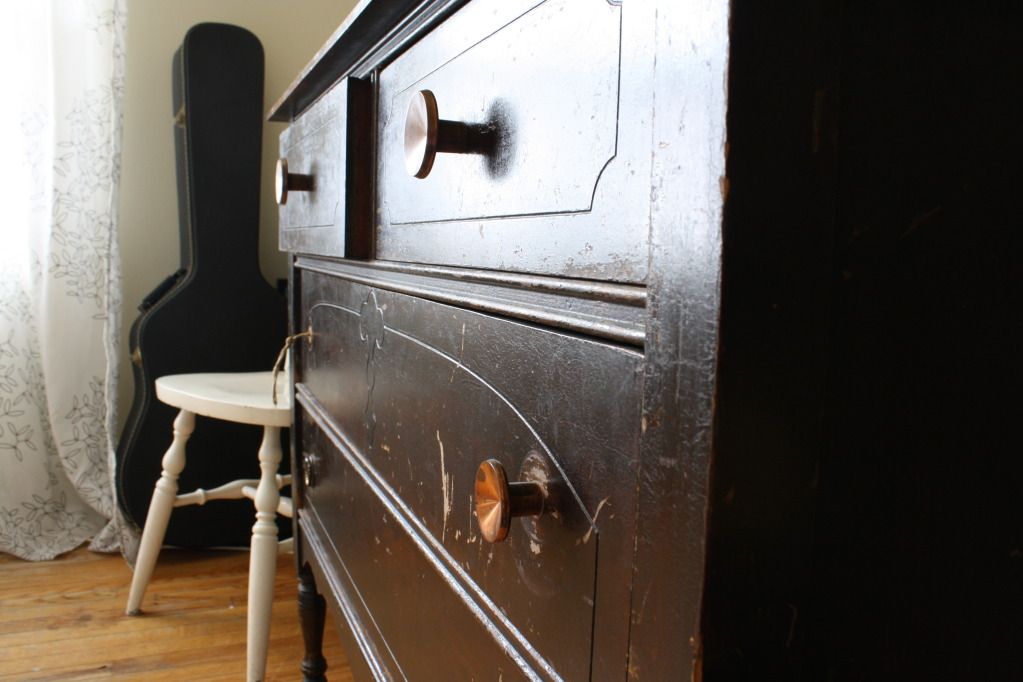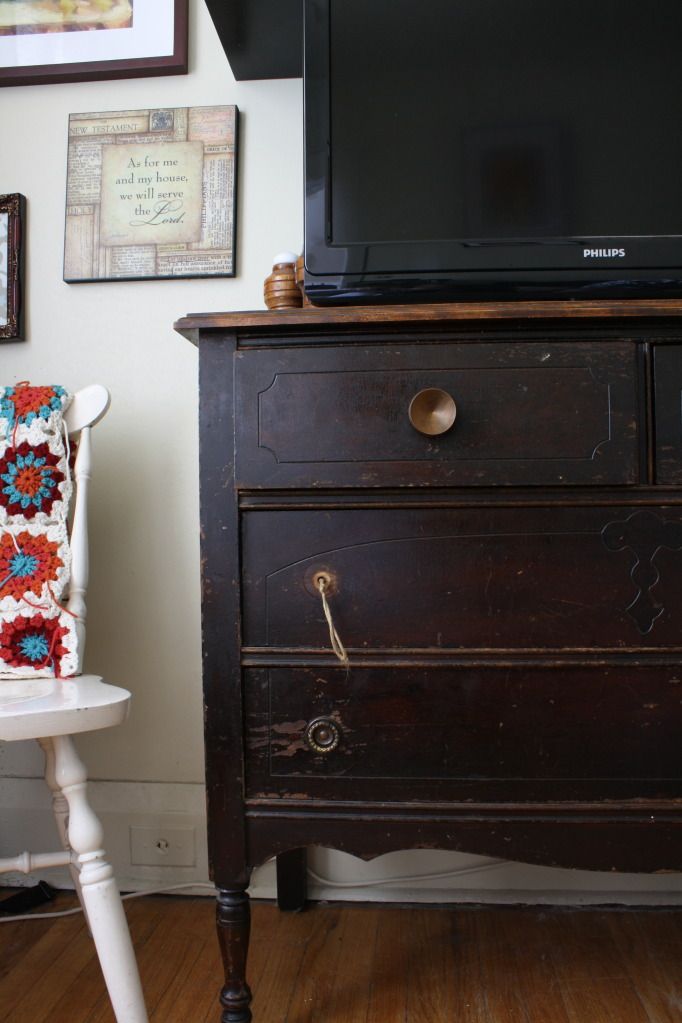 * Which she is allowed to play with only under supervision. All stuffing is immediately scooped up and thrown away.