Did you know the subway was closed from Bloor to Union Stations on Saturday? Yeah, I did too.
But I forgot.
So, when I got off the subway at Bloor and discovered the platform closed off, I cursed my footwear choice, and then chose the
wrong
alternate route. I arrived at
BlogPodium
five minutes late with no less than five blisters. Despite the mess of my commute south to the beautiful Arcadian Lofts, and thanks to
Michelle from The 236
watching out for me on Twitter, I ended up in one of the best seats in the house: right at the front, with a prime view of everything.
I was blown away by the venue. So beautiful, so tastefully and simply decorated. The topic – The Business of Blogging – is one I've been interested in for a long time. If I'm quite honest, it's a topic I've been interested in since before I started This Dusty House. That is not to say that I started this blog with the intent of making money on it. I'm pretty sure most bloggers know by now that, if that's the only goal, you'll be facing burnout and frustration before the end of your first week. But I've long known about the potential and enviously watched bloggers who have found success, endlessly analyzing their blogs, gobbling up every little tidbit of information I can come across.
All the while, reminding myself that I'm a blogger whether I ever hit it big or not.
Saturday was an opportunity to hear first hand from a few of those successful bloggers and absorb even more knowledge about blog monetization and turning the whole blogging operation into a business. I'm not sure I can say that I learned a lot that I didn't already know. In general, bloggers are open people, willing and ready to share vasts amount information. I've read about much of what the speaker – Nicole Balch from Making It Lovely – and the panelists talked about. It was good to hear again from new perspectives, with new spins, and new little tidbits, and hearing from the brands themselves was even more valuable. I won't go into details since so many others are doing a better job with that than I could ever do.
I mean, can you get any more detailed than Brittany did?
So, if I didn't learn much new, what did I take away? About six bags full of encouragement, reassurance, confidence, reminders, inspiration, and support. Six bags full of new approaches, practical suggestions, and sound bites to turn into mantras. Six bags full of business cards and new connections.
(The swag was pretty awesome too.)
I left full. Renewed. Energized. Inspired. Hopeful. If nothing else, being in a room full of like-minded people, a quarter of which I already consider friends despite having never met, served to remind me that this little blog is worth all the work I've put into it, all the hours spent writing, all the effort put into projects, all the frustrations I've struggled through with photography, blog design, and on and on. A little money would be nice, but ultimately, those women (and a few men) make every moment valuable.
I'd love this whole post to be a huge thank you. Thank you to the organizers,
Jennifer of Rambling Renovators
and
Lindsay of Little House Blog
for all your dedication and passion for all things blogging. Your support for us 'little guys' blows me away. Thank you to
We Create Hoopla
, who made the beautiful centerpieces, one of which I snagged on my way out. Thank you to everyone who came, for being open to new friendships and new connections. I had an amazing time and was so glad to see and meet each and every one of you.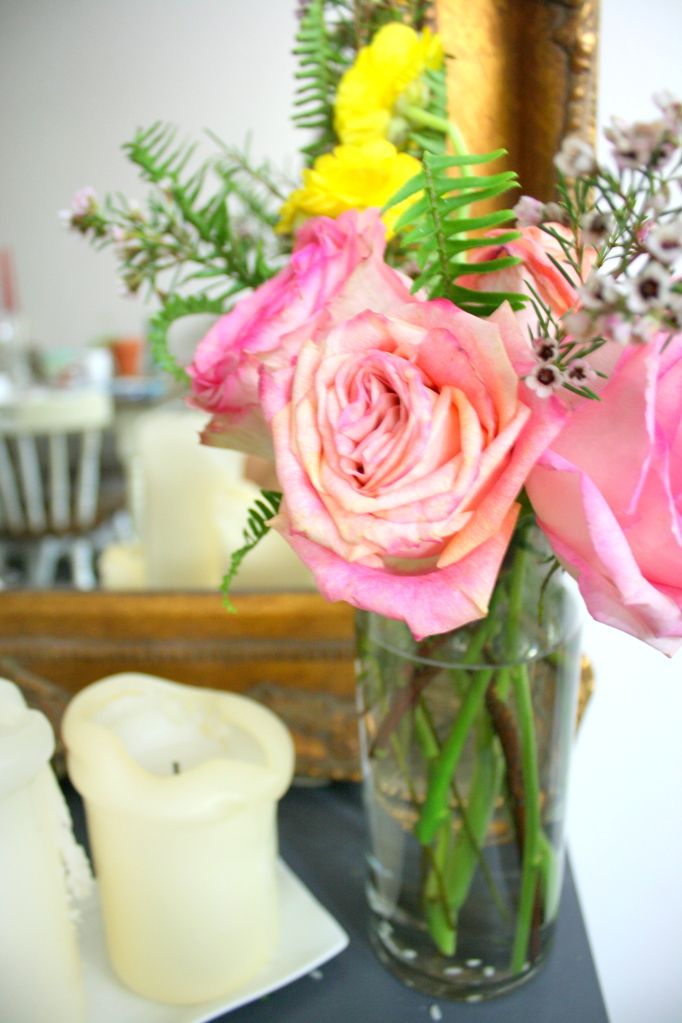 (All photos – except for the last of my flowers – were taken by Mango Studios. You can see more here and here and here.)