Our second year anniversary is fast approaching (next week, w00t w00t!). For a brief moment, we thought about booking ourselves into a hotel downtown – the Royal York, perhaps – and spending a romantic evening inside the buzz of the city. We thought about it, and the idea appealed to us, but in the end, a different anniversary gift won out. Instead, we bought a bed!
Our old bed is the 15-20 year old cheap mattress the Husband lugged around with him from home to home during university. There's a dip in the middle that we both end up falling into. The springs are prominent enough to be lumpy. It's still a relief to fall into, but it's teetering very close to its last legs.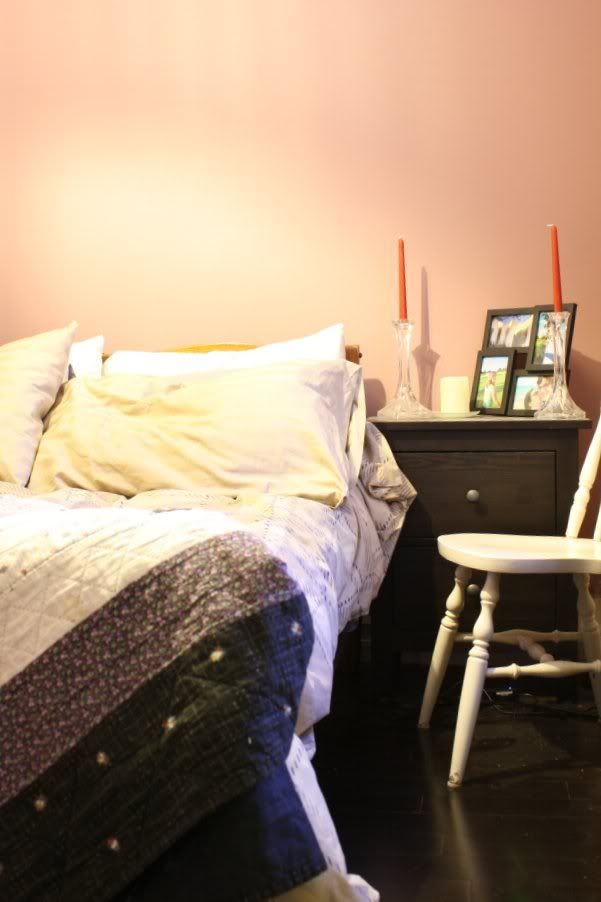 In hindsight, we should have made the investment during the traditional time, a week or so after our wedding, but the purchase hardly felt necessary at the time. Not that it really does now. But now, now it would just be nice.
So, on Saturday, we went mattress shopping.
Friends. I hate mattress shopping.
In the afternoon spent running around to mattress and furniture stores, I also developed a strong dislike of mattress salespeople. Not that I assume these people are terrible, unlikable people. But, as they stood over me in their sellsellsell role, they just rubbed me the wrong way. We came as educated, well-researched consumers and they treated us like we knew nothing, like we didn't know what we were looking for, like we didn't know what's best for us.
Of the four salespeople we dealt with in our shopping around, only one actually listened to what we were looking for, sincerely answered our questions, gave us honest opinions, and treated us like we were more than a commission. So, we bought a bed from her!
What did we get? This one:
The Simmons Beautyrest Napa Valley II, on special for more than 50% off. Pillow top, 1080 coils. This thing is going to change the whole feel of our bedroom. We ordered a low-profile boxspring, but even with it, this bed is going to sit way higher than our current bed. I'm going to have to learn how to climb, hop, leap into bed. And, we're slightly concerned how the height will affect the already tiny room. Will it make it feel even smaller? Will we suddenly feel crowded?
Also, now I really have to buy a nice new duvet cover, and perhaps even a new duvet. How can we have a beautiful comfy bed covered with a ratty, dog-chewed duvet? First things first, right?