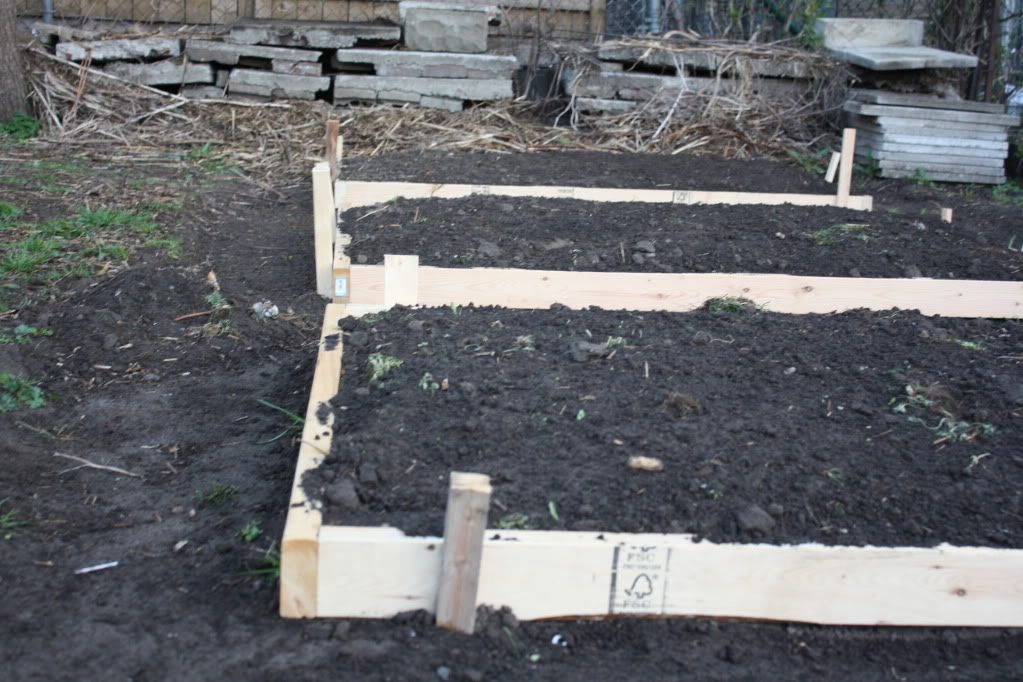 This garden is a joint effort between us and our downstairs friends, the sweetest tenants we could ever have hoped to end up with. While it's a collaborative effort, we did decide to separate our beds. I think this decision has freed us both up to look at our little beds as 'ours' to do with what we will, to create our own plans, to lean on each other for support, suggestions, and knowledge, but to take our learning experience into our own hands. We'll still share the labour, the costs, and some of the produce, of course, and it's my hope that the garden gives us a chance to spend plenty of time together and get to know them even better.
So, this is our plan! I tried to follow
the rules of companion planting
as much as possible, so fingers crossed that my onions and carrots will help each other. Of course, it may need to change a bit and get shuffled around and coordinated as we figure out light patterns and tall plants versus short plants, but for now, this is the plan:
Bed One
This is my tomato and pepper bed! There are three different types of tomatoes (beefsteak, cherry, and roma) and three different types of peppers (rainbow, green, and jalepeno). I put all these together hoping that, since they grow relatively tall, neither will block the sun from the other. Also, apparently peppers require nice high humidity for the vegetable to grow, and tomatoes around them will help to provide that within the leafy foliage of it all.
Bed Two
Spinach, cucumbers, lettuce, and green beans. The greens bed! When I asked the Husband what he wanted us to grow he had only two requests: cucumbers and green beans. So, plenty of cucumbers, plenty of green beans!
Bed Three
This bed is a bit of a hodgepodge of things. Originally, it was going to be a simple bed: onions, carrots, parsnips, and leaks. But really. Do you realized how many onions you can plant in one square foot? I may yet decide to devote two square feet to them yet, but here, you only see one, rather than the six I had original planned. There's also chives, two types of squash, dill, carrots (lots!), parsnips (lots!), leeks (just a few – I don't even know if I like leeks!), watermelon, and two types of potatoes, regular and sweet. These I plan to grow in a potato box to make the most of my single square foot.
I know some of you are experienced gardeners and have already been giving me plenty of advice. So, tell me: how have I done with this garden plan? Is there anything I should know that I haven't yet learned about any of these plants?