We have a garden!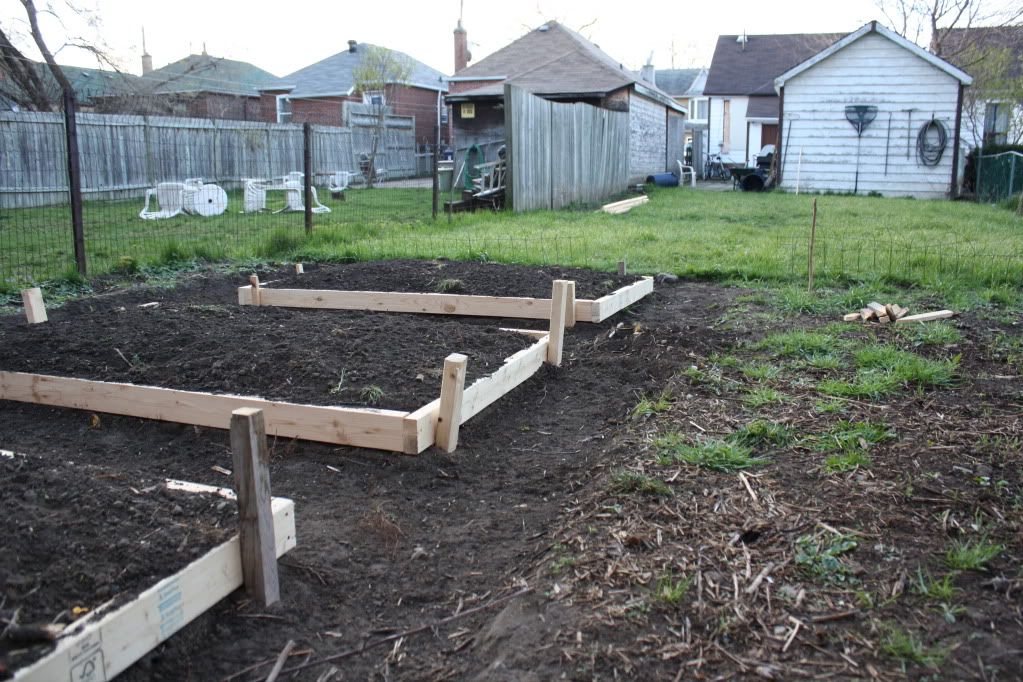 When we started planning our garden with our Downstairs Friends, J suggested that we build raised beds. At first, I was very cool to the idea. After all, raised beds meant the kind of work that, around here, seems like a great idea, but never actually gets done. Besides that, I was seeing dollar signs. Raised beds need to be filled, right? So… pay? For dirt? When we have perfectly good, rich, Toronto soil, and lots of it, in our backyard?
And then, my BFF gifted me a gardening magazine for my birthday and I learned all sorts of things. Most specifically, I learned that you don't actually have to bring any new dirt into your garden, unless, of course, the dirt you do have is more like sand anyway. Rather, you build up your beds by turning the dirt, working dirt out of your pathways and, if necessary, supplementing a little with a bag or two of soil or compost. So, I did a complete 180* on the idea. They would be prettier. Weeding would be more comfortable, what with not having to bend quite so far. Square foot gardening will be easier to plan out and plant. And, with any luck, the dog will stick to the paths instead of tromping all over our parsnips. Lesson learned: I have a lot to learn about gardening.
On Saturday, instead of running around and visiting all sorts of far-away family for Easter, (Sorry Mom…) The Husband and I took a trip to our favourite orange box and sifted through our wood choices.
Guys. Wood is expensive!
In the end, for the sake of our bank account, we settled on simple 2x4s. They wouldn't make very deep raised beds, but at least they'd be squared out. We got home with the boards around 10, threw together a quick brunch, and set to planning our space.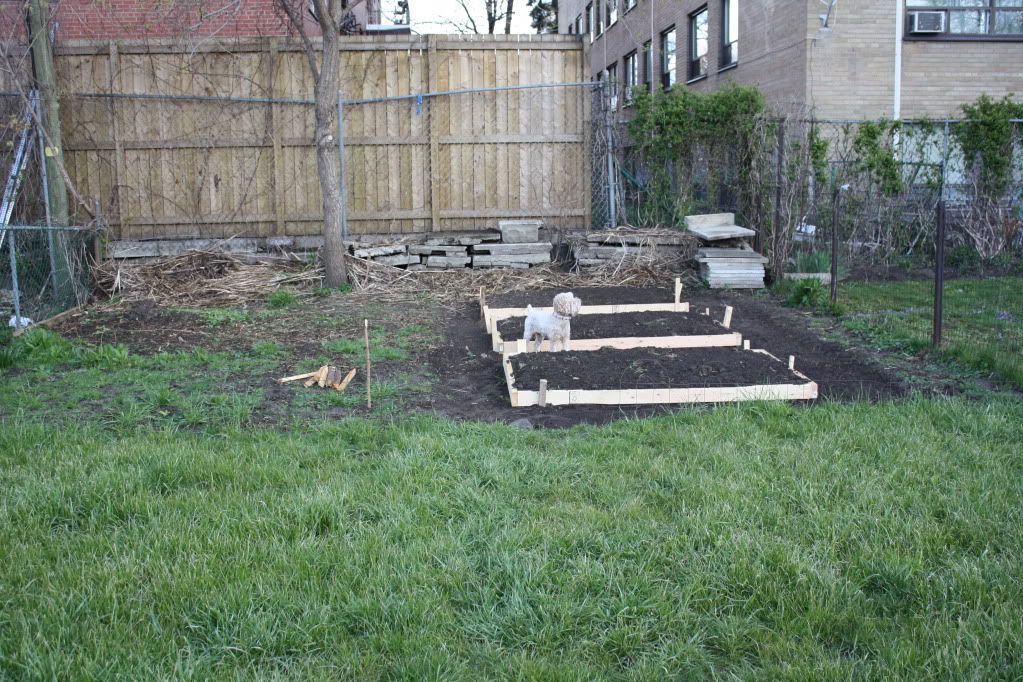 (Mocha's favourite blogging task is modeling the garden.)


Four hours later, after one hour of mulling, designing, and redesigning, one hour of back-strengthening exercise with a hoe and a shovel, and two hours of building, placing, adjusting, and staking, we had three beautiful raised beds. These shots make them look especially good I think. I took on an early morning, (determined to be able to share them with you, but always missing out on the sunlight at the end of the day). The freshly turned dirt is wet, looking especially rich against the sides of the bed.
We managed to churn out three on Saturday. Another three will follow soon. I also want to raise the long beds along the fence, but the jury is still out on that one. These will be perfected with a few screws through the stakes to hold them and, perhaps, a finished pathway of patio stones between each bed to help prevent the spread of weeds. (Also, simply because we have them.)
And then, we will fill them with plants!
A simple tutorial on how to build these and prep your garden will follow tomorrow. And then, maybe I'll share my planting plans too! It's definitely garden week here…
If you haven't already, pop over to yesterday's post and share your gardening posts in my link party! There are no requirements for playing along… I just want to get in touch with as many gardening bloggers as possible!