This spring has been kind of hard. The weather is gorgeous, warm, sunny. Our grass is growing and everything, everywhere seems to be budding. And I'm getting antsy. The longer I wait, the more green things turn, the less it looks like winter and the more it looks like summer, the less I'm able to resist the call of our garden.
Quick refresher: last year, we threw a few seeds in the ground and I was shocked when they grew and provided us with carrots and cauliflower consistently for three months. This year, I want to be a Serious Gardener, so I started my own seeds.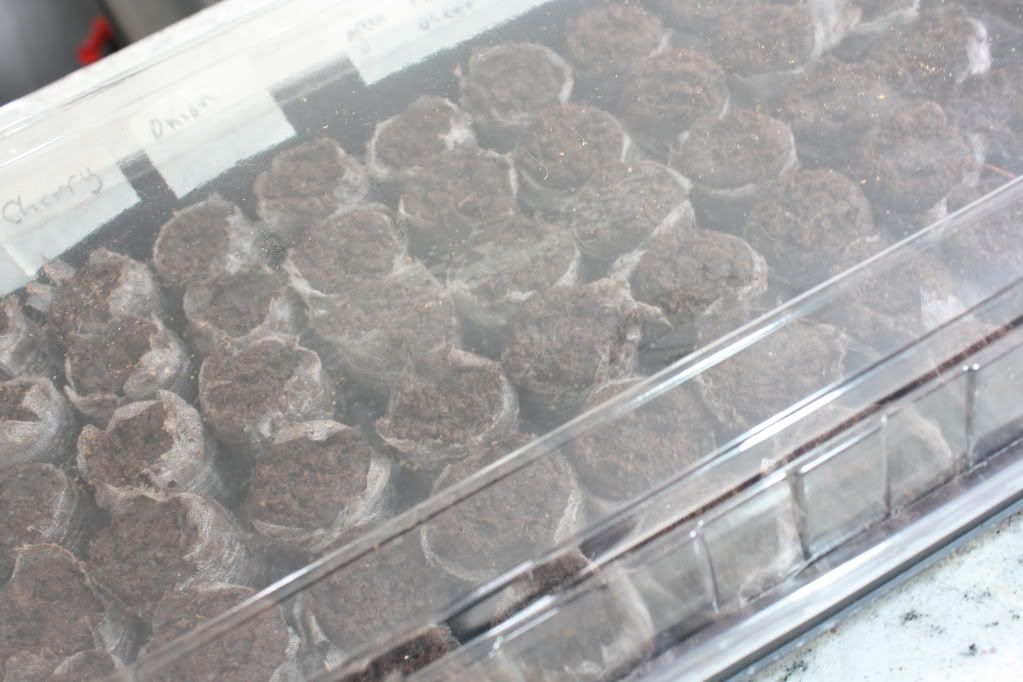 And they grew.
Because I was over eager and already having trouble with the waiting thing, I started these seeds at the end of February. Even the little seed packets said I shouldn't try to start them until – at the very earliest – the beginning of March. I'm such a rebel.
What my overzealous seed planting means is that my tomato plants are begging – begging – to be put in the ground. And I was gonna do it too! This past weekend, probably. And then, as we settled in beside a friend at church for the Good Friday service, his mom – an experienced gardener – leaned over and said quietly, "No matter what the weather is doing, it's not spring yet. You can't plant your garden until May."
However, she said, those poor tomato plants certainly need some help. They've fallen over and started growing sideways with the weight of their heads. I'm sure I've done something wrong to cause them to do this, but their green and smell delightfully of tomato plants, so I'm happy and certain they'll bear fruit. But yes. Yes, they need help.
So, following J's advice, on Saturday, I stopped by the gardening section of our local Home Depot and picked up a couple sets of peat pots, big enough that I could place the little grow-pellet directly in the pot to avoid hurting the little root balls as much as possible. I sprinkled a little dirt in the bottom of each peat pot, lifted the tomato plant into the pot and sprinkled more dirt over it.
And then, the important step. I – wait for it – staked them! I know, right? Genius. No one in the world has ever thought of staking their tomato plants before. Ha.
Now, my 12 tomato plants are looking far happier in their bigger pots with little twigs holding them up straighter. The stakes and the bigger pots will give them a few more weeks of solid growth and then, I'll pop them in the ground, and rig an even larger stake to help them grow taller and taller and bear much fruit.
Since I've seriously got gardening on the brain, I need friends who can join me in the fun. So, please tell me! Which of you are growing gardens this year, big or small, veggie or flower? In fact, let's try something new… link up your gardening posts, either from this year or last so that everyone can follow along!
Even if you don't have a blog, leave a comment and let me know about your own gardening experience! I really, truly can't get enough right now.