Early followers of This Dusty House will know I talked quite a bit about the floor plan changes we've done. I know it's hard to visualize these through pictures and before and afters become deceptive when the kitchen we have is not even in the same place as the kitchen that once existed. So, before I present our before and afters all lined up nicely together, showing off the extreme changes, I want to show you exactly what we did with our floor plan.
It started out like this: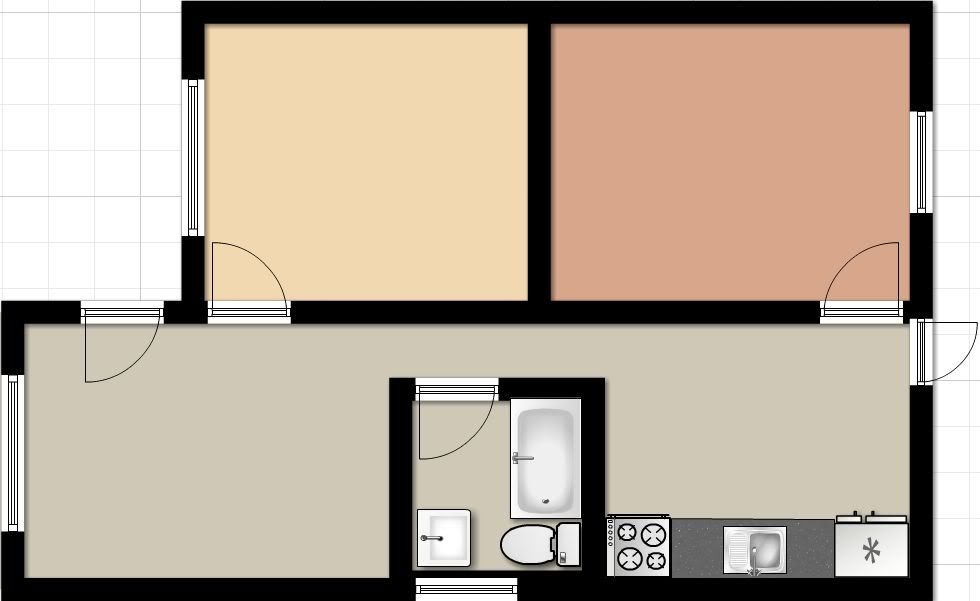 This house was build sometime in the 1920s according to our tax assessment papers. I can only assume this was a pretty typical floor plan for the time. The rooms show clear separation, though there was, believe it or not, a very circular flow to the house. I notice now that I forgot to add in a door, a door I've nearly forgotten existed myself, along the wall between the two bedrooms.
I know a lot of people still appreciate the separation of the kitchen from the living room. I am not one of those people. I enjoy cooking and, when I'm spending time on a delicious dish, I don't want to feel so separated from the action of the living room/dining room. The Husband and I enjoy the time spent together, despite his lack of interest in the cooking process.
The very first day we spent in the house, we grabbed some hammers, a saws-all, a crow bar or two and went to town on some walls. Today, half of the floor plan remains recognizable. The other half? Not so much.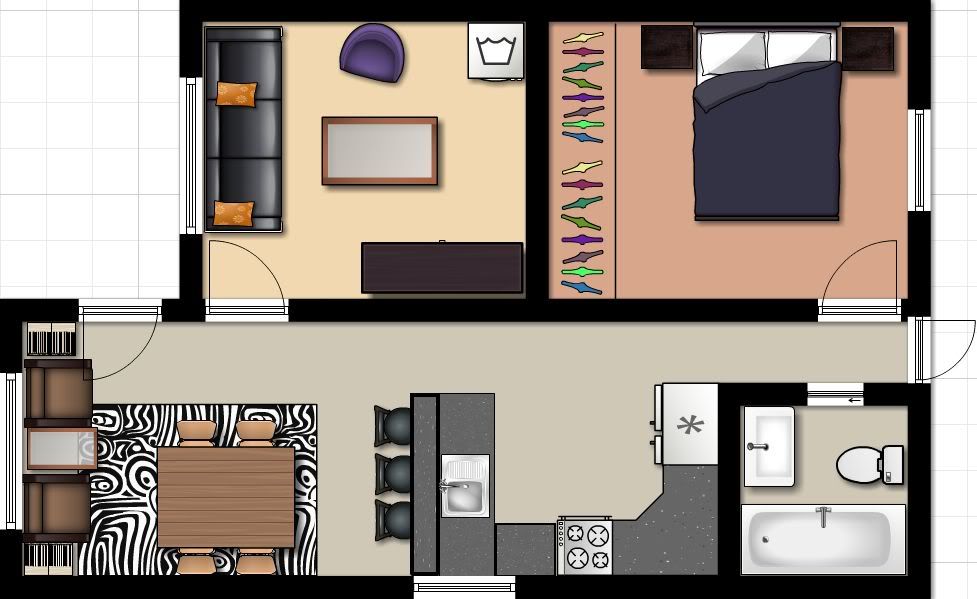 Furnishings aside, this is what we did:
Knocked out all three bathroom walls and ripped everything out. For a while, the main living space of our house was wide open, front to back.
Reconstructed two walls for the bathroom in the back corner of the house. We kept it nearly the some size – which definitely means tiny – but through some creative arrangements have made it a far more pleasant room in terms of space and flow.
Reconstructed the kitchen unto a U shape that lends to cooking creativity a little more than the L shape that existed. The peninsula, which is open to the dining room allows for good conversation over the cutting board.
Built a closet in the bedroom.
Installed a washer and dryer in the corner of one of the bedrooms, which we use as a living room.
The list seems so small, but really, it feels like we did a lot to change the floor plan, a lot to improve the floor plan. To be completely honest though? If there's a next house, I hope it's already perfect. I would love to never have to go through the stress of moving plumping, rewiring electrical, rebuilding everything from scratch.
The Husband on the other hand… He would likely love to do it all over again.