Our back entrance – which we call a mudroom even though it's hardly a room at all – is a bit of a sight. It's a shared back entrance that simply goes up to our half of the house and down into our downstairs friends' half of the house. During our renovations, it's been mostly untouched except for the spot where we rammed the corner base cabinet into the wall and the back closet, which we played around with a bit in an attempt to make more useful.
All in all, it's not a particularly pretty space.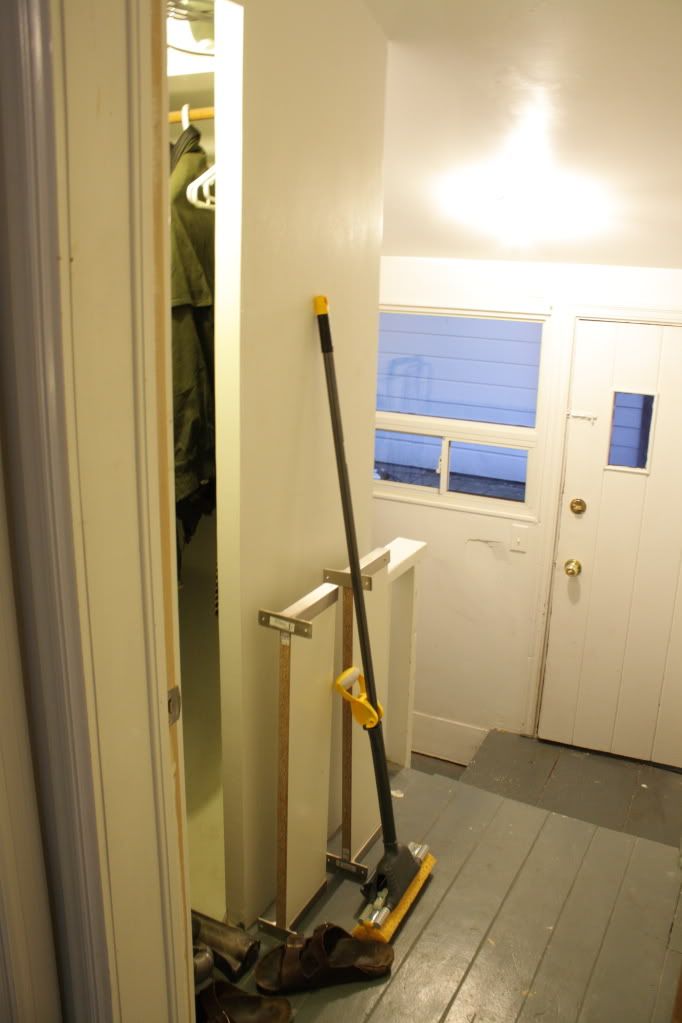 (Ooh, it's an old picture!)
It doesn't help that our landing ends up full of tools, cans of paint, recycling on its way out the back door, shoes, bags, etc. etc. It also doesn't help that this space is, in fact, one of the most useful spaces in our house and could be even more useful if executed properly.
See, this space is also our pantry.
It's not in the picture but, right beside the back door, there's an almost floor-to-ceiling cabinet. Inside, there are four shelves, two filled with my own staples, two filled with the VL's staples. For both of us, that little cabinet relieves so many space issues in our own kitchens. But I want it to do more. There's plenty of space going up the steps to continue the cabinets and at least double our pantry space.
So, here's the plan:
Repaint. We have an awesome orange for the floors and, to keep it simple and crisp, I'm thinking a bright white on the walls. And, to add a bit of punch, perhaps a different colour for the door?
Trim around the window, our back closet, wherever else a little trim would help.
Rip out the existing cabinet and put in new ones (perhaps sourced at our local Restore) that aren't made of plywood. Continue these cabinets up the stairs. Perhaps paint them. Fill with cans and pasta and other goodies.
Store our paint cans under the stairs and out of the way.
Add in two new light fixtures (A wall one for our closet, a ceiling one for the main light).
Hang a pretty curtain on the window.
Incorporate some welcoming artwork somewhere.
And now, I turn to you. What would you do with this cramped little space, as little as you may be able to imagine it?
We start tomorrow, completely ignoring the fact that my birthday is on Sunday.
25, I do not want to be you.