My early followers will know that the Husband and I come up with lots of great ideas for our little house on a daily basis that, two weeks later, will be completely out of our heads and never spoken of again. I like to think that this is how everyone works. Is that true?
One such idea that I posted about early on was a solution for both a storage dilemma that all small-home owners face and the struggle I was fighting of bringing character and personality into a slightly unconventional, all-white kitchen. Remember this idea?
Believe it or not, this is not an idea that ended up dismissed and forgotten. In fact, it has, more or less, been accomplished!
I know. Shocking!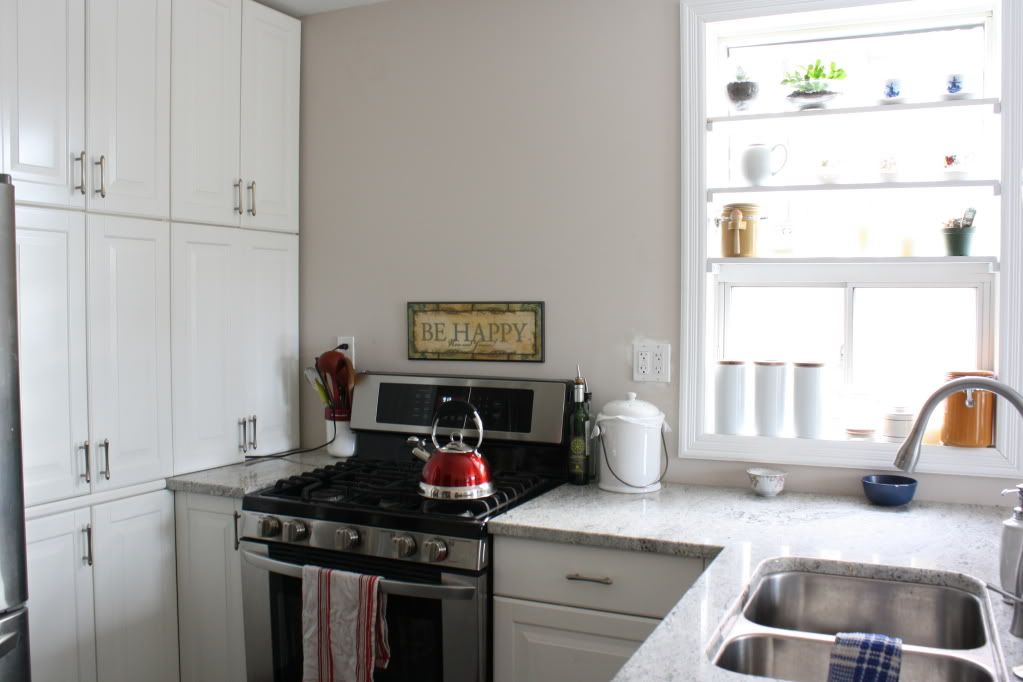 (I know, it's hard to see. Do you know how difficult it is to take shots of a window in the daytime?)
Originally, we had planned to use glass for the shelves. That would have ensured that no light was blocked by the shelves themselves. It also would have ensured that this project would never have gotten done. It would have been nearly impossible to find pre-cut pieces of glass to fit just perfectly in our window. We would likely have had to special order the pieces of glass or learned how to cut it ourselves and we're just not that complicated of DIYers.
So, we went with wood.
After I decided that I wanted to paint the shelves rather than stain them – stain would have be beautiful, but, I worried, too heavy for a window – we picked up some 4" by 1" pre-primed maple.
The Husband cut them down to 31" to fit the door and added a little notch to fit around part of the window frame. With the leftovers, he cut six 1" blocks. These are the supports on each end.
I painted each part (just white – and, I'll admit, I may not have finished… but, you could never tell from the pictures!), drilled the support into place on the window frame, made sure they were level, swore a few times, undrilled and redrilled, and dropped the plank on top. Three times. Easy peasy.
And then I decorated.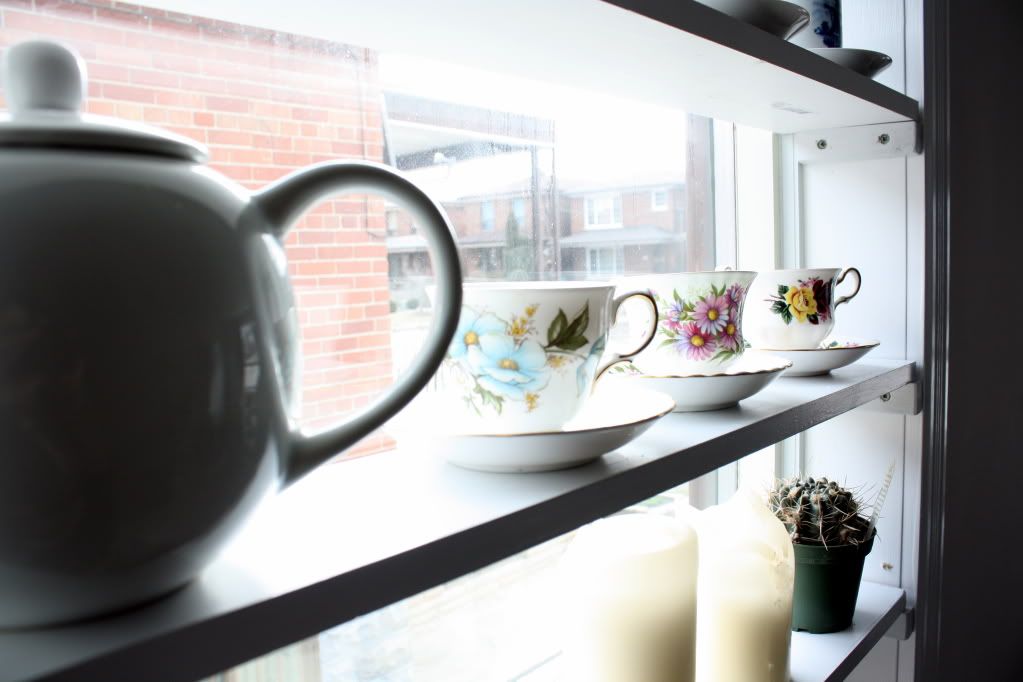 Kind of.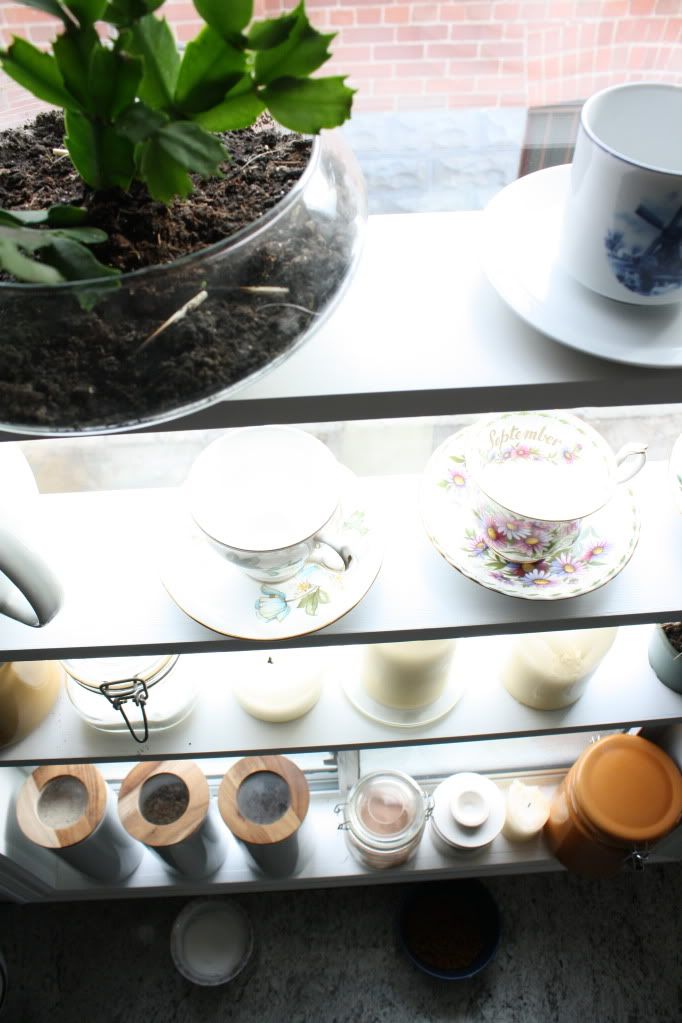 Eventually, instead of candles and canisters, I hope to fill this window with herbs and cacti (though I promise to move my Christmas cactus out of the window – they don't like direct light, I hear!) all in pretty, colourful pots. The teacups will stay, I think, because I like having them on display, but the rest will find homes in my cupboards and the pantry, hidden and out of sight.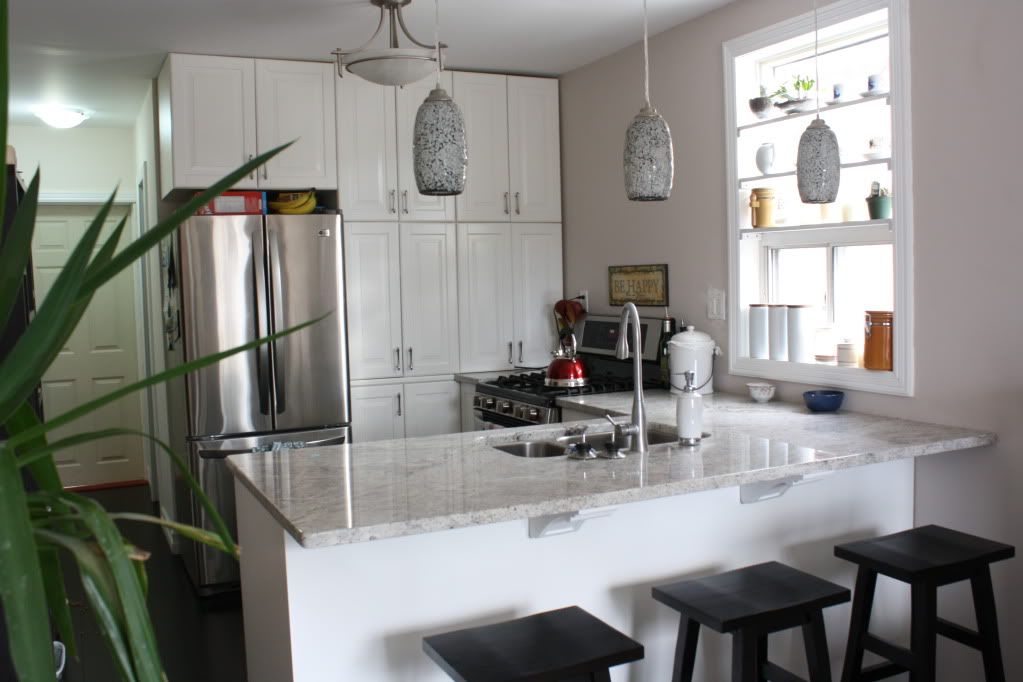 More and more, my kitchen is feeling finished. Like home. Like the room I want to spend time in.
At least, it does when it's not piled high with dishes.
–~*~–