True to my word from a couple weeks ago, I've been making a lot of soup.
False to my word, I have yet to make another soup from the Joy of Cooking. Part of the problem with following a recipe is that a recipe assumes a specific set of ingredients. When I haven't been grocery shopping for nearly 3 weeks, assuming that those ingredients will be found in my cupboard is a recipe for take-out. I flipped through the soup section more than once, trying to find one that fit my pantry.
I psyched myself out.
So, on Sunday, I made my go-to soup instead!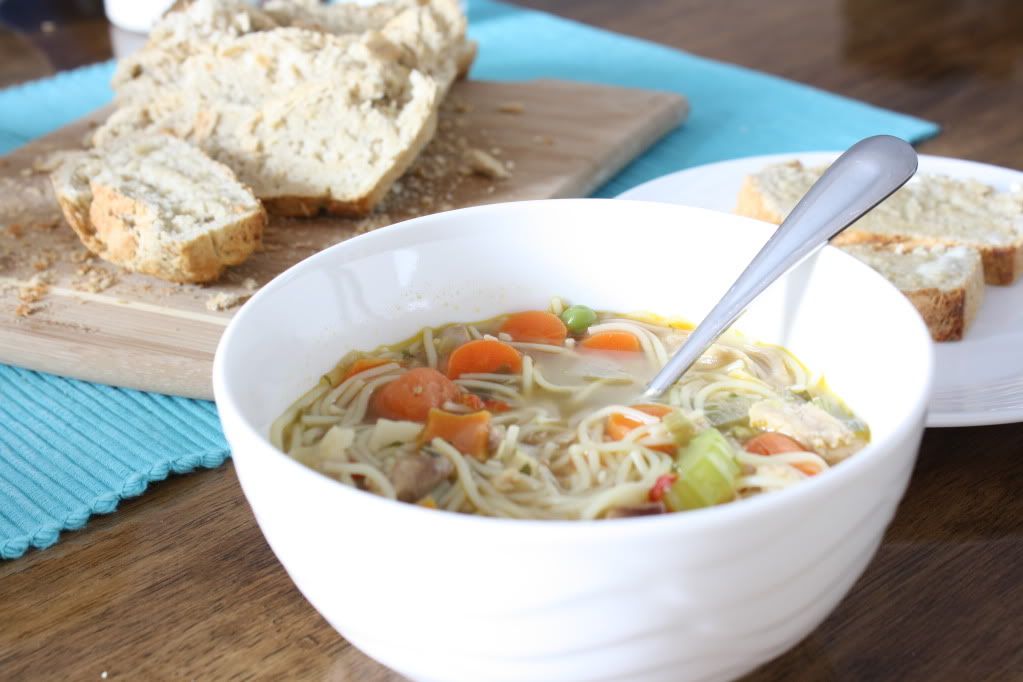 Soup is a huge part of my heritage. All four of my grandparents moved here from the Netherlands after World War II. My parents, 1st generation Dutch immigrants, found each other in a profession of faith class when they went off to university. My husband and I, both 2nd generation Dutch immigrants found each other at a still-predominantly-Dutch church in the city in which we went to university.
Guess what the Dutch like?
Soup and sandwiches!
Especially op Sondag – on Sunday.
And this soup? Sure, it's close to the chicken noodle soup found in the Joy of Cooking. But it's also close to the soup you'll find at any church potluck or simmering on the wood stove in the old farmhouse.
Chicken Noodle Soup
From my head.
1 tbsp olive oil
1 onion, chopped
1 or 2 cloves garlic
2 ribs celery, chopped into bite sized pieces
2 or 3 carrots, chopped into bite sized pieces
Whatever chicken you have, cooked and chopped into bite sized pieces. I used 3 thighs. You could use 2 breasts. *
Approximately 4 cups water
1 package Knorr vegetable soup mix, or other instant stock mix/bouillon
Whatever spices you wish. I generally use some combination of basil, oregano, parsley, bay, rosemary, and/or thyme.
A handful of dry spaghetti, spaghettini, vermicelli, or other noodle of your choice, broken in pieces if long.
* When my mom made these soups, she would use whatever meat she had on hand, more often ground beef or stewing meat than chicken. She would cook her meat in the Dutch oven or soup pot with half an inch or so of water in the bottom of the pot, and then build the soup over top. It's easy, and cuts down on dishes.
In a Dutch oven, combine your olive oil and veggies. Allow to cook until the onion is soft. Add the chicken (though, of course, if you've used my method in the parathesis above, you've already done this.) and pour the water over the whole thing. Mix in the soup mix or bouillon and all the spices. Allow to simmer for at least 20 minutes to half an hour, or longer for even better flavour. Add more water as necessary – it will steam away – and taste on a regular basis to ensure there's enough flavour. If not, add a little more stock mix or salt and pepper.
About 10 minutes before serving, add the broken up spaghetti. When it's cooked, the soup is done!
Eat with plenty of bread or, if you're trying to be really Dutch, a bun with egg salad or tuna or a bit of butter and roast beef (and call it a sandwich).
Mmm… bread.
I'm sure soup is part of most traditions. What's your go-to soup? Have you had any foods handed down to you through generations?