The other day, in a brief hour-long visit to the house to let Mocha and the cat out for a bit before I joined the Husband and some friends for a movie night, I grabbed a fork from the drawer and popped the lid off the Husband's birthday cake. I opened up my Kobo on the counter and settled in comfortably… leaning against the bar.
I only got down two bites of the tasty cake before I gave up and moved into the living room. And not just because there were cookies in there.
(Yes, I have a sweet tooth and a lack of self-control. There's a reason we don't buy sweet things often.)
It's not the first time we've noticed the clear lack of bar stools.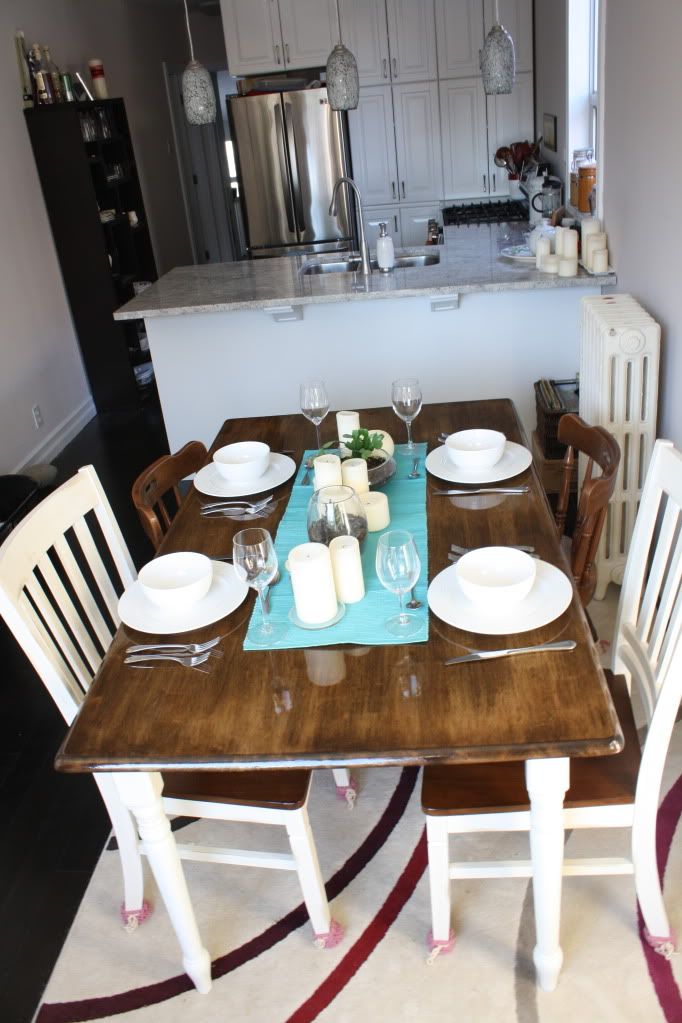 Sure, we've got a beautiful table. But sometimes, you don't want to go through the formality of pulling out a chair, moving your food or your flyer or your book or your laptop to the table, and sitting down. Sometimes, you just want to slide effortlessly onto a stool.
One like this:
(I know, it's a beautiful kitchen. But look at the stools!)
The problem? This is a popular style, but it's surprisingly difficult to find. Kijiji and Craigslist have failed me. (Doesn't anyone actually in the city ever sell their bar stools?) We found a tolerable version at Home Sense, but they were bar height and their legs seemed a little thin to the Husband. We found another on sale at Canadian Tire, but the leather top threw us off. We don't want a leather seat. We tried Sears. We tried the Brick. American Walmarts carry them. Canadian ones? Not according to their website. We can get them from Home Depot… online. Which is fine, I suppose. But I'm an immediate gratification kind of person – if I think I can get them in stores, I will.
So, help? Where can we find this style of bar stool for a reasonable amount, say $50 a stool?
And if we spend $150 on 3 stools, is it crazy to then paint them?