One of our tasks last week involved an oil change and a tire switch on our 2001 Ford Focus. We don't have a preferred mechanic and no time or desire to research and find one, so guess where we go?
Good old Canadian Tire.
We dropped our car off and were informed of the 3-4 hour wait. No problem. Ikea is just down the street. We had planned this strategically: live in an Ikea living room for a little while, pick up a few necessary things, order a couple things for our kitchen, wait in the pick-up line from the warehouse, eat a couple cheap hot dogs, wander back to the big CT and pick up our car. All that should easily have killed 3 hours.
When the car wasn't ready after 3 hours, we shrugged and figured we could kill another hour yet. We dropped in at the next door Mark Work Warehouse, failed at finding affordable yoga pants or business casual pants that didn't look like they belonged on a 75 year old woman, and bought the husband some socks. Half an hour later, no phone call. We start wandering the aisles of Canadian Tire.
And stumbled into the lighting section.
For some reason, we forgot that Canadian Tire even has a lighting section. We've had no luck finding anything we like at Home Depot, Lowes, or Rona. We'd essentially given up and come to terms with the wires hanging out of our living room and the single bulb hanging over our bed. But, there we stood beneath the lights of Canadian Tire and spotted three in quick succession that would more than do the job. The prices, unfortunately, weren't quite so pleasant. Our cheapness caught up to us.
That is, until the husband spotted the perfect chandelier tucked on a back wall, not on sale, but perfectly within our price range. It had just the right amount of glamour with a touch of sophistication. We couldn't have found a better option for our bedroom.
2 more hours later, after I nearly gave the guys at the autodesk a proper tongue-lashing for keeping us there 2 hours after their outside estimation, we took the chandelier and a few other things home. Hanging it… another nightmare, though much less frustrating than hanging out in a garage waiting room for two hours. Up and down, up and down it went as the husband's chandelier-hanging learning curve made it's slow and steady climb. And now, here it is, hanging beautifully in our bedroom, with only half the lightbulbs in (and dim ones, at that…) but looking oh so pretty.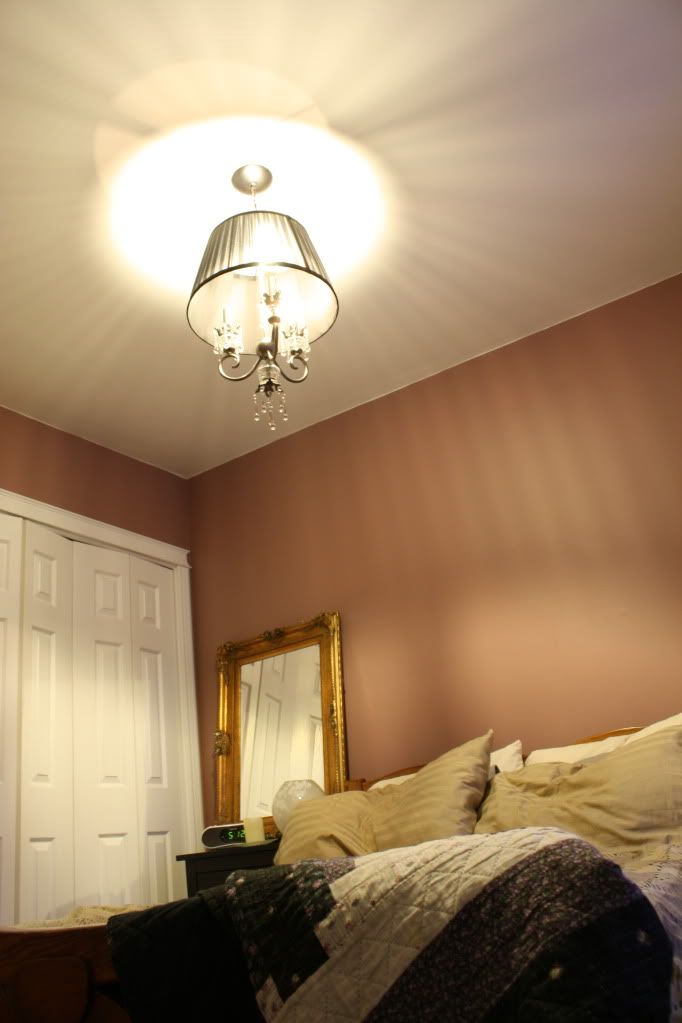 This room is clearly in transition as it shifts and defines itself, as our purchases come to terms with our gifted items and our previous possessions, as I find a direction in which to push it. The wood tone of the bed isn't quite right, the brass of the mirror blends into the wall too much and our old duvet cover and beige pillows work better than our dark red ones, but do nothing to stand out against the simple white trim, white curtains, black radiator, mauve walls and silver, black and glass chandelier.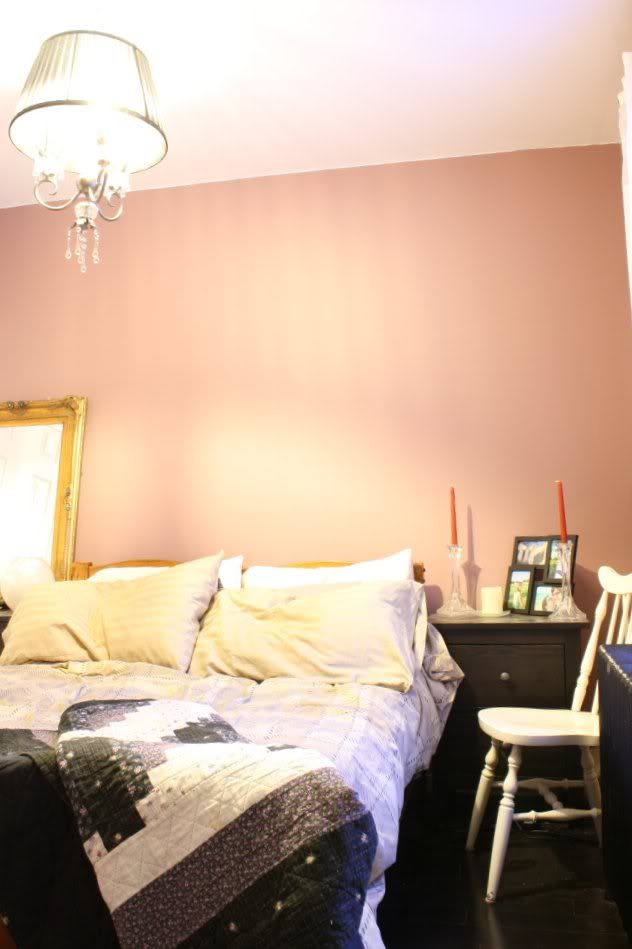 There's plenty to tweak and play with here, art work to find, throw pillows to decorate. Looking at this room, I truly appreciate the time and effort it takes to develop a style and bring it all together. One day, perhaps, I'll feel like I have finished with it.
And then, I'll probably start all over.