Before I jump into this post, just a quick Pekoe update: he hates his cone, he loves all the wet cat food he's getting, doesn't even notice the antibiotics, and hasn't been so snuggly in years. My kitty is a-ok, and I still think all that money and stress was worth it to make sure he sticks around a little longer.
This weekend, we spent some time with the Husband's family, enjoying good food, conversation, and plenty of laughter with my five nephews. We don't get together as a whole family often, but when we do, I always enjoy it. Not only do I get to enjoy the company, I get to peek around my sister-in-law's house. As an interior decorator for their family business – a home building company – she actually knows what she's doing. I am always both inspired and reminded about my own lack of talent and knowledge when we visit.
Both of my sister-in-laws read this blog. (Hi guys!) (Whenever I hang out with people I know in real life, I am reminded of the importance of sharing our blog on Facebook.) That means my interior-decorating sister-in-law read at least a few of my posts about curtains and even saw the afghan we'd hung in the window of our living room when I shared my Ikea hack a couple weeks ago. Yup, this one:
For some reason, she didn't think hanging an afghan in the window instead of a curtain was a particularly smart design choice.
Can't imagine why not.
(In case you missed it… that was sarcasm.)
Fortunately, I don't mind providing people with a little chuckle. Especially when the chuckle leads to the question:
"Do you still need curtains?"
Out of her closet came four panels of beautiful heavy curtains, curtains she has recently replaced. After reassuring me that they'd just be sitting in their closet, we packed them up in bags and added them to our pile of Christmas gifts from my mother-in-law. I was thrilled!
So thrilled, I couldn't wait to put them up when we got home last night, despite being tired from the activities of the weekend. And then, the new curtains inspired me even further to make a few changes to our sitting area at the front of the house.
I love the curtains. They're the perfect weight and the perfect contrast to the walls. With the white curtains we had here before, there was just too much white and the whole space was just a little washed out. With the contrast, I find the colours we've added elsewhere – the pillow, the afghan, my crochet project – actually pop a little more. Is that possible?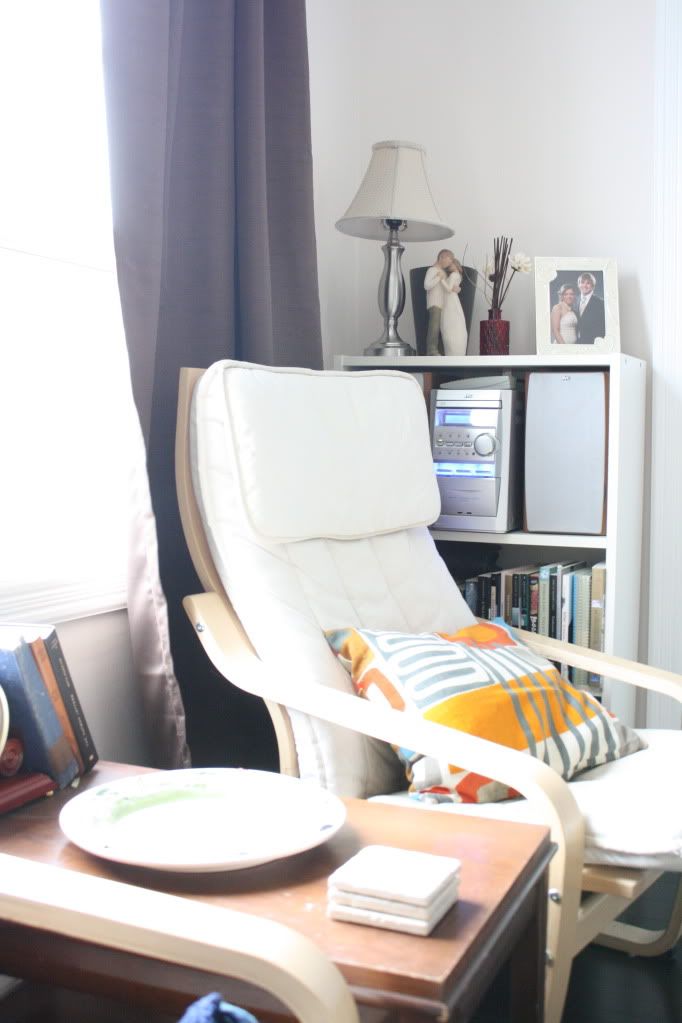 The stereo got tucked away, which freed up the top of the bookshelf for a little display. Eventually we'll get a plant or two or a painting, perhaps, for right above the bookshelf. For now, this is all much better.
Thanks S! We love the curtains.