As promised, today, I bring you step by step instructions for taking a dresser from meh-functional:
To oooh-cute!
What you need


A dresser. This could be any old dresser as long as the drawers have flat faces. Mine is an Ikea Kullen dresser.
Pretty fabric of your choice.
Thin trim
Miter saw
Sandpaper
Paint for the dresser body.
Paint for the trim.
A foam roller
A paint brush
A staple gun and staples – the smaller the better
Tiny nails – I used brads, which were the perfect size
Hammer
Nail punch
Wood filler
What you do


Take the drawers out of the dresser and, if possible, remove the drawer face. Sand all surfaces that you plan to paint. For my dresser, this was everything that was on the outside of the dresser. I didn't bother painting the inside.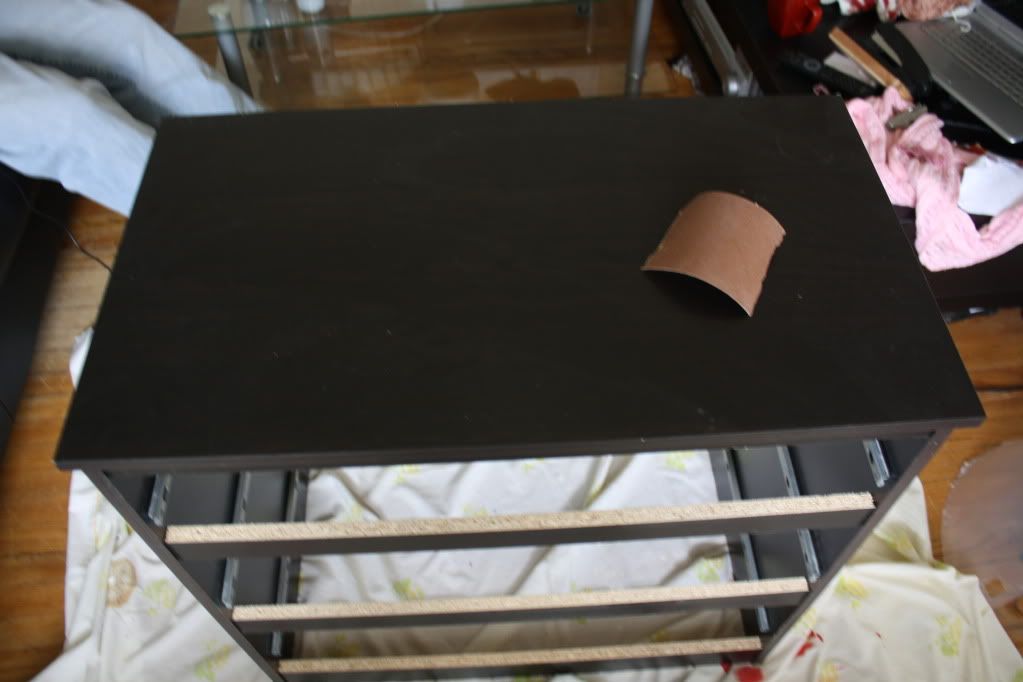 When your done, it should look properly scuffed up. Like this: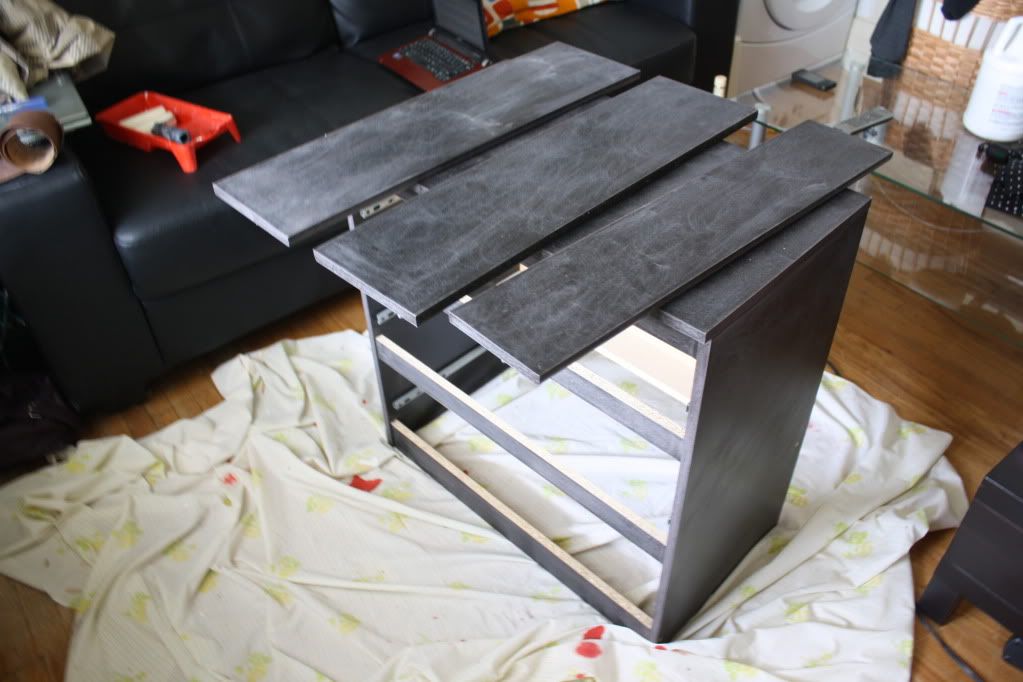 This would be a good point to figure out the size of your trim. Of course, I learned this later, after I nearly mucked up my newly painted and slightly tacky drawer front by measuring trim on it. I cut my trim using a miter saw so it was approximately 1.5 inches away from the edge on all sides.
With your foam roller and your paint brush, slap the first coat of paint on the body and drawer fronts of the dresser.
While you're waiting for it to dry, carefully make your cuts of trim, making sure you cut it on a 45 in such a way that all the pieces line up to create a rectangle. Don't cut off any fingers and move the saw fluidly, and not too fast or you'll make your trim snap and splinter slightly.
(It may or may not have been my first time using a miter saw. It may or may not have freaked me out a little bit. I may or may not be awesome at it now.)
Slap on the second coat of paint on the body and drawer fronts of the dresser.
While you're waiting for it to dry, paint your trim pieces white. They'll need at least two coats.
Put one more coat of paint on the body and drawer fronts of the dresser if you deem it necessary. I decided to skip this step, mostly because I was sick of painting.
Now, another fun part. Take your fabric and cut rectangles just slightly smaller than the dimensions you've set with your trim pieces. Take that piece of fabric and iron it. (I kinda missed this step. And you can see the fact that I missed this step in the pictures. I should probably steam the fabric…) Lay it in place on your door face and pull out your staple gun. Staple as close to the edges of the fabric as you can without causing it to fray.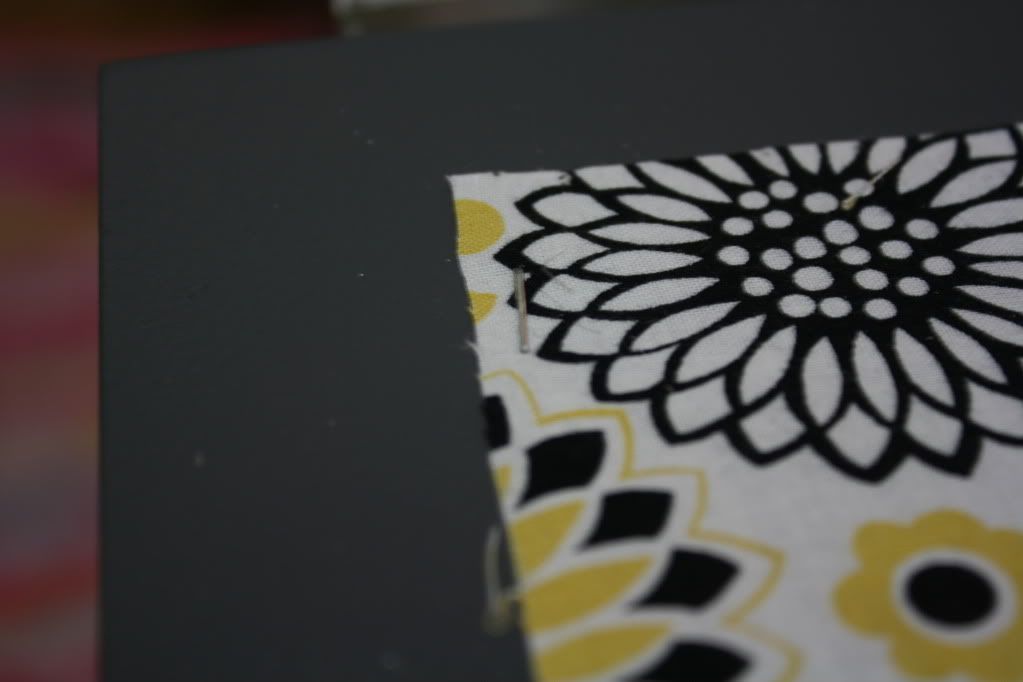 Et, voila. Fabric on the door face.
This next part takes a little fandangling. (Yup. It's a word.)
Take your trim pieces and arrange them along the edge of the fabric. If your fabric ends up sticking out a touch, you may be able to trim it slightly. Do so before you nail the trim down. If you're like me, measure and remeasure, and then measure again about 5 times before you're satisfied with the positioning of the trim.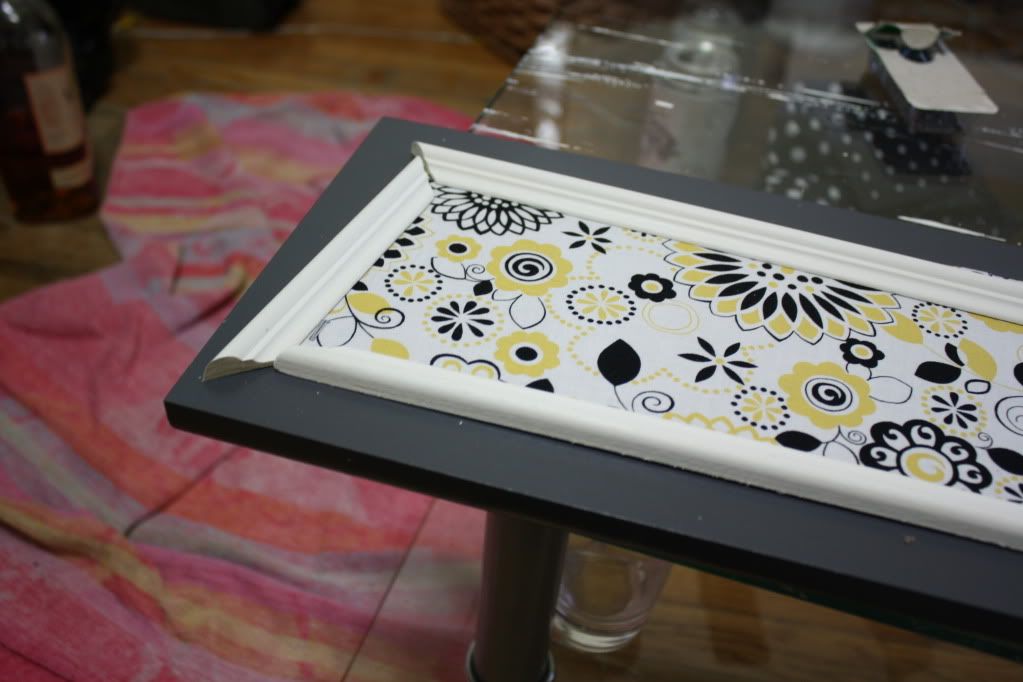 Take a brad or a small nail, hold your first trim piece down tightly and hammer the nail in lightly to secure. Hard part, over!
I put 3 nails in the long pieces of trim and 2 in the short. They're purely decorative, so they don't need alot: just enough to hold them there.
Since there's no way your hammer could (or should) get the brads in far enough, take your nail punch and use it to punch the nail heads well into the trim. You don't want to be able to see them on the finished product!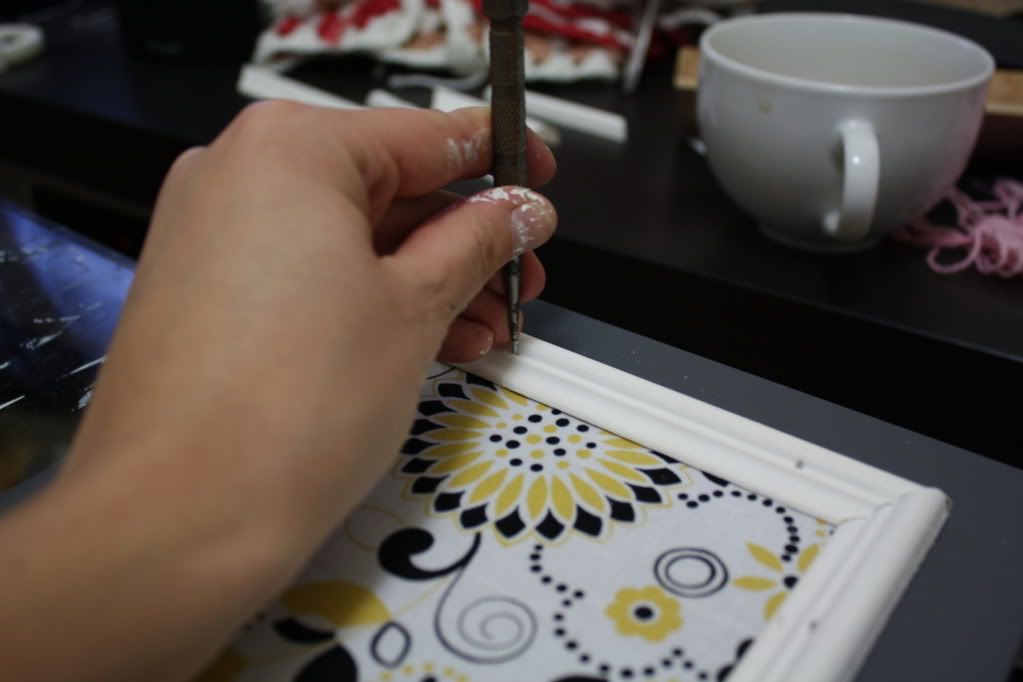 Almost done!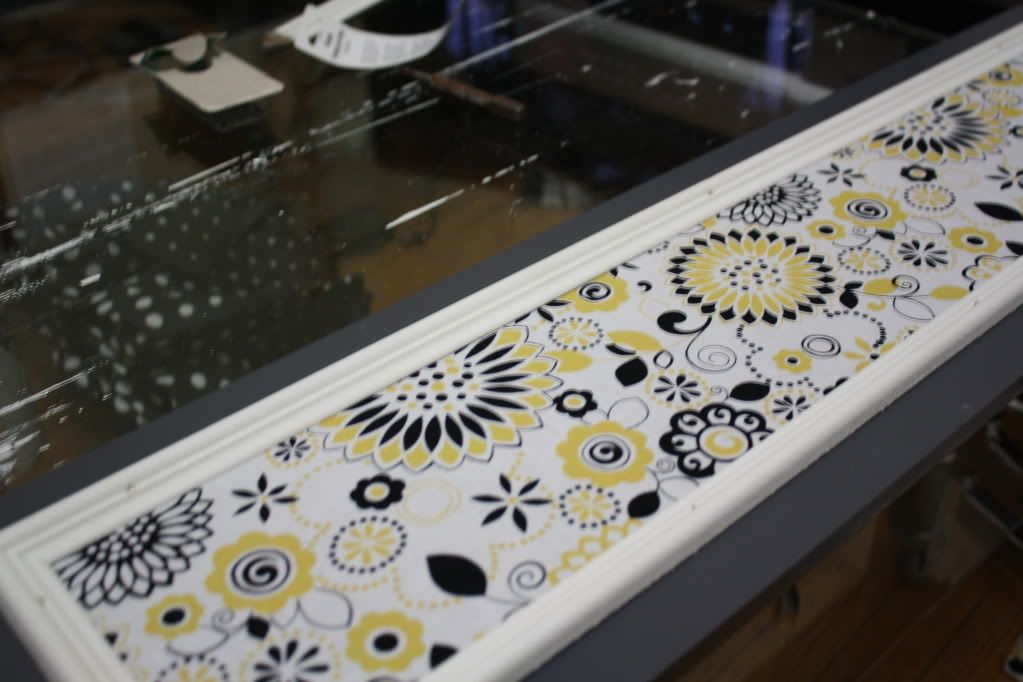 Repeat this process for all three doors.
Add a dab of wood filler to each nail hole and smooth it out with your finger or lightly sand it away. Do the same for the cracks you may be left with at the edge where the trim pieces meet. Touch up with your trim paint. Once it's dry, put the drawer fronts back on the drawer and return to the dresser body.
Done!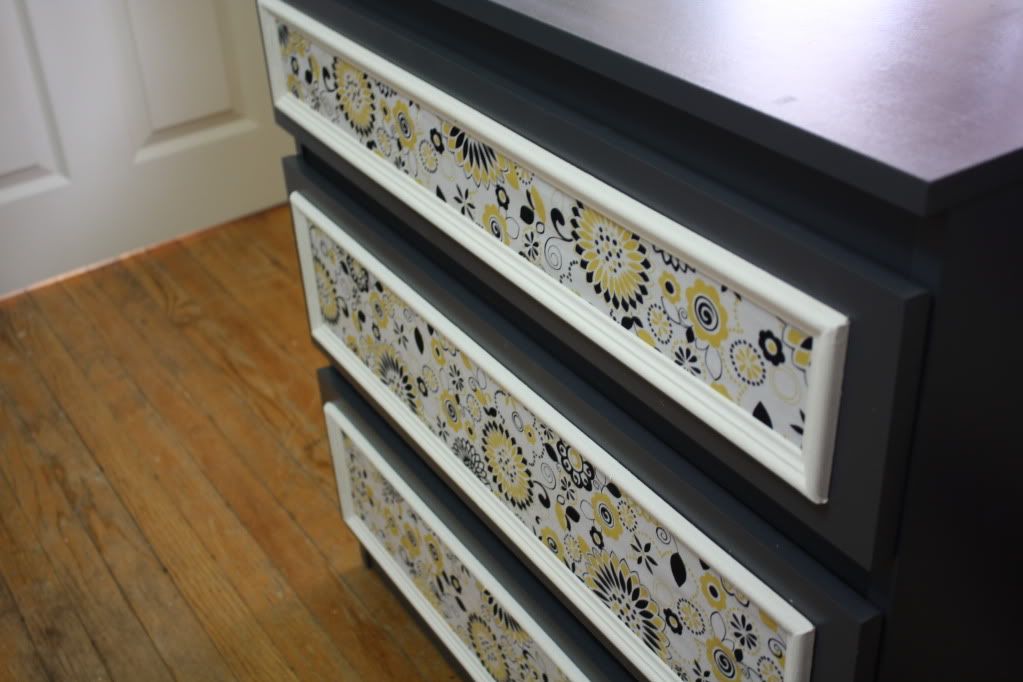 Of course, there's one more step you could do, if you'd like, and a step I plan to do once I figure out the best look: door pulls!
(One in the middle or two evenly spaced? Glass, metal, or wood, painted the same colour as the dresser body? A simple pull or an ornate handle?)
They are simply a matter of drilling a hole or two where you'd like the pulls to be and adding them in. It's probably best to cut a small hole in the fabric where the pull will go before you start drilling.
Did I miss anything in these instructions? Have you ever redone a dresser like this? I'd love to see your projects!