Window seat... not so much
I was unsuccessful in convincing the Husband that we should
build a window seat
beneath the front window. He was concerned it would take too much space and make our home feel smaller than it already is. Fair enough. It is absolutely important to me that our home is one we build together. You will never find me putting my foot down about design decisions. If he's not convinced, we move on to the next idea; no harm, no foul.
However, another idea did offshoot from our window bench discussion. Part of the point of a window seat is the additional storage beneath. Closed storage is crucial in our house. We have a puppy who has yet to grow out of the chewing stage. Shoes are her favourite treat, but she's also not opposed to purses, headphones, cords, afghans, pens, and duvets (especially pens
on
duvets. We can't have anything nice). Leaving the house can be a chore, involving double and triple checking closet doors and putting anything she might like to sink her teeth into well out of her reach. A window seat would offer the perfect place to store shoes, afghans, extra pillows, etc.
But so would doors on a bookcase. Like this:
So, the new plan?
Something like this:
(Promise you won't laugh.)
(Ok, I guess this probably deserves a little laughter...)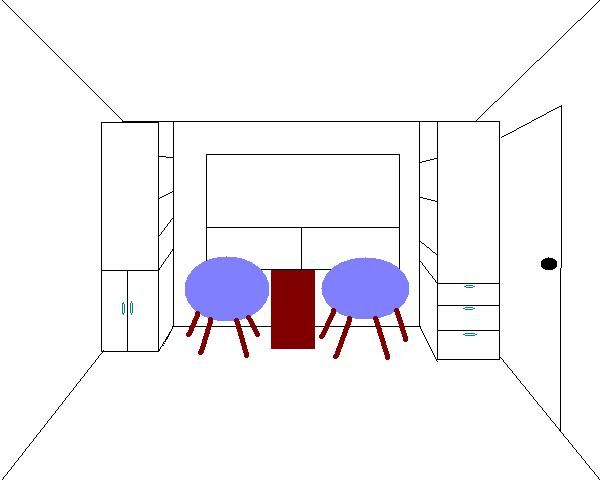 Yes. Yes. It's Paint. I'm not cool enough for Sketch-up, not yet.
So... does it need a bit of a legend? Those blue blobs, they're
my club chair
and another, complementing or matching chair. The brown thing in between is a side table. It would hold our favourite plant and such, as it
currently does
. On each side of the window, there are bookshelves, built in, or at least looking so, turned in to face each other.
But
, at the bottom, - and this is where the ever crucial closed storage comes in - I want cupboards that face out for easy access. Whether they're drawers or actual cupboards, I haven't yet decided.
Can you envision it? Or is my Paint sketch just a little too amateur? I think it would work and work well! And, who knows... this kind of a configuration would allow us to, one day, add in that bench should the Husband change his mind!