Last week, when I shared our dining room rug with you, many of you noticed – and liked! – my chair booties. Of course, my mom's comment was my favourite:
I had to laugh at the socks on your chair legs. Lesson from your grandmother?
Indeed. My grandmother has not a chair in her house that isn't adorned with a chair booty.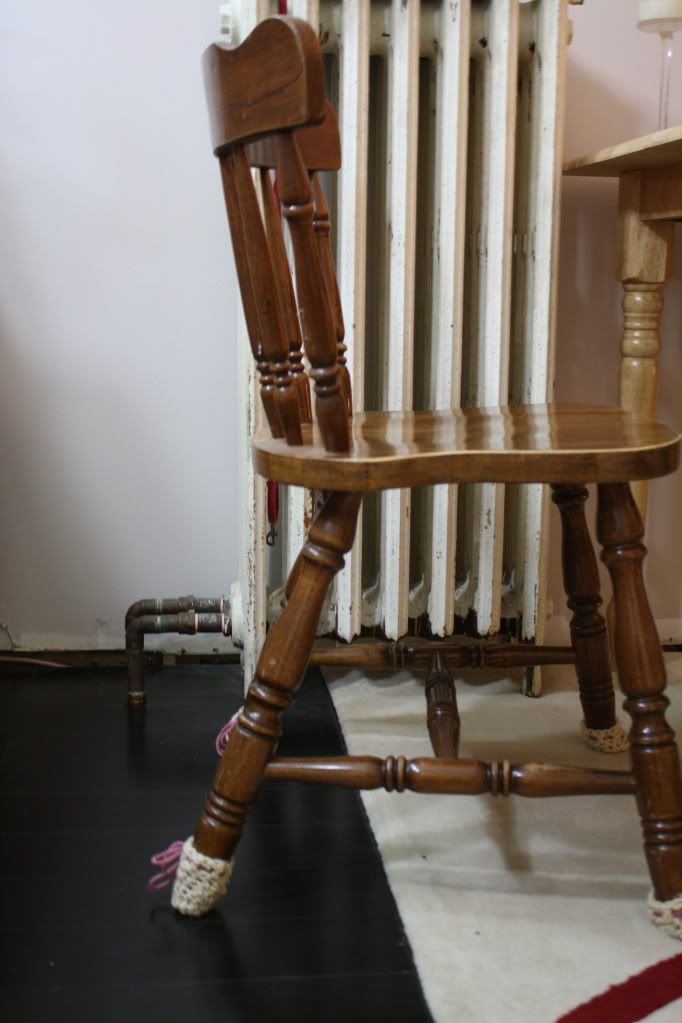 After watching in frustration as the felt pads we stuck to the bottom of our chairs slipped off after only a few times being slid back from the table, I gave in to the lesson my grandmother passed down, picked up my crochet hook and some stashed yarn, and went to work.
A couple TV shows for background noise and mental entertainment later, I had three sets of these. I need one more yet, but I'll get to it eventually.
These don't slip off. They provide complete coverage, so there's no way a little edge of something sharp will come into contact with our beautiful floors. They let our chairs slide smoothly across our beautiful bamboo. Perhaps I'm romanticizing them a little too much. But they are truly amazing. They will save floors.
Want to make your own? Know how to crochet?
(Want to learn? It's hard to without someone sitting beside you and showing you and correcting your mistakes, but try out
this tutorial.
Plenty of photos to go with it to show each minute step. Try it!)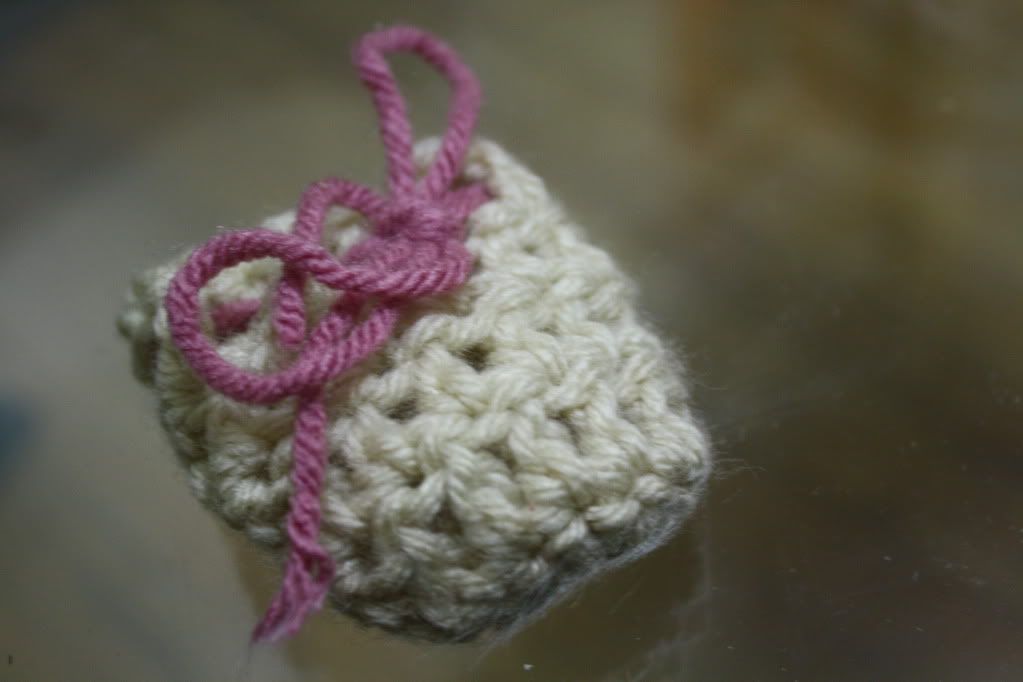 Chair Booties
What you need:
A hook – G, H, or I – It doesn't really matter if the booty ends up a little loose – that's what the tie at the top is for! However, make sure you don't use a hook that's too small! Choose your best guess, based on the size of the legs you're covering.
Yarn from your stash. You don't need a lot for each set and you could probably get 4 sets of booties (for 4 chairs) from a single (substantial) ball of yarn.
Chain 4 and join in the first chain with a slip stitch to form a ring.
Rnd 1: Chain 3. 12 double crochet in ring. Join with a slip stitch in the top of the beginning chain.
Rnd 2: Chain 3. Double crochet in each stitch around. Join with a slip stitch at the top of the beginning chain.
Rnd 3-5: Repeat Rnd 2 three more times or until the desired length is reached. Fasten off.
Work the ends in.
Cut a length of contrasting yarn or ribbon. I tripled up my pink yarn to give it some thickness. Use the finished booty to measure the needed length, ensuring the yarn or ribbon will be long enough that it can be woven through once and tied into a bow.
Weave the contrasting ribbon around the posts of the double crochets in the 5th rnd, ie, through the space between them.
Slip them onto the feet of your chair and tie the ribbon or yarn tight to keep them secure.
If you make them, let me know!