We love every person who came to our wedding to bits. They are, quite literally, our favourite 142 people in the world. They are family, friends, shoulders to cry on, hands to lift us up, legs and feet to dance all night with. They're the people we spend December with, ring in the New Year with, party through our birthdays with, enjoy picnics and camping trips with, build houses with. They are the most important people in the world to us.
But… the gifts they gave us for our wedding? Maybe not so much.
Let me explain.
We live small. We always have, as a married couple. Hopefully, we won't always have to, but as it is, everything that makes it into our home must fit into this paradigm of 'small'. Not all of our wedding guests a) knew this and b) understood this. On top of all that, not all of our wedding guests have quite the same tastes that we do. So, here comes the conundrum: how do we honour our wedding guests and the thought they put into the gifts they gave us while also honouring our own tastes, especially as we attempt to bring two people with two unique sets of tastes together?
I don't know.
To be honest, there's still a small pile of wedding gifts sitting the corner of my parents' basement waiting for the day when we'll figure out what to do with them, and how to incorporate them into our lives. But this is a story of one particular gift: a large mirror with a thick, ornate frame in a brushed brass colour.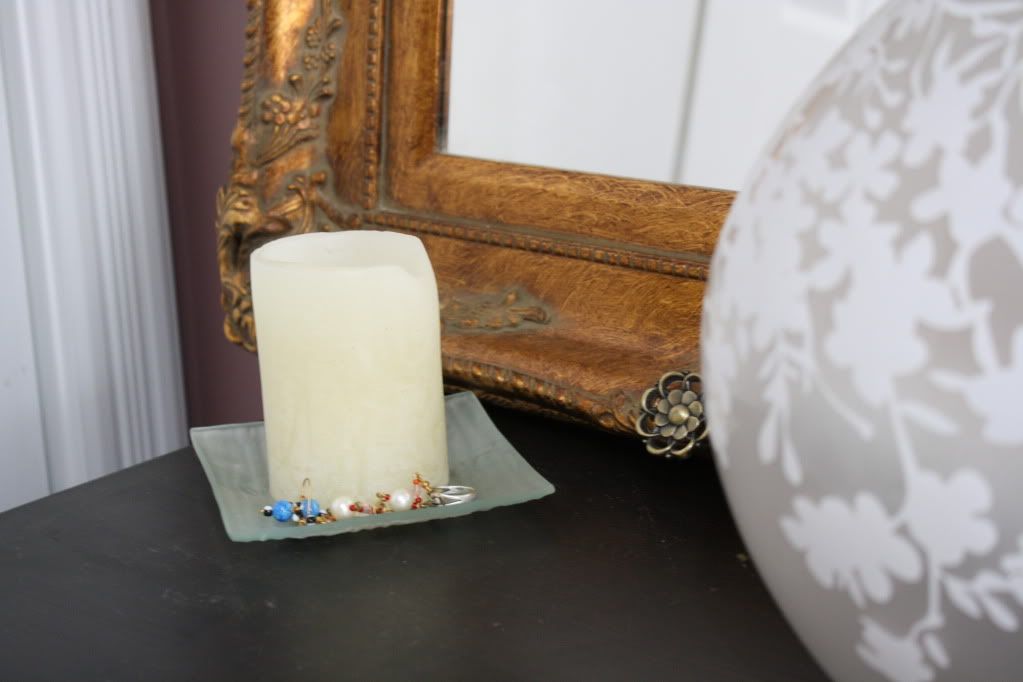 Not my style.
Not the Husband's style.
Definitely the style of the gift giver herself.
But, when we needed a mirror for our bathroom, I thought about it. It wasn't quite right, but perhaps a coat of spray paint could fix it right up? My parents brought it from the gift pile on one of their visits, and I knew, at first glance, that it wasn't right. It was too big, and even a coat of paint wouldn't make it right for our teeny tiny bathroom. We leaned it up against the wall in the bedroom and left it there. For months.
Until a couple weeks ago. I needed a mirror and the husband was in the bathroom. I picked it up, ripped off the protective cardboard corners and leaned it up on my bedside table. Stepped back. Hmm.
Really?
It works?
I think so!
The fancy-schmancy-ness of it seems to be toned down a bit by the plain bedside table and the country feel of our wood bed frame, and I actually love the way dust coats the design. I'm pleased enough with it to leave it there for now, though that coat of paint may still come.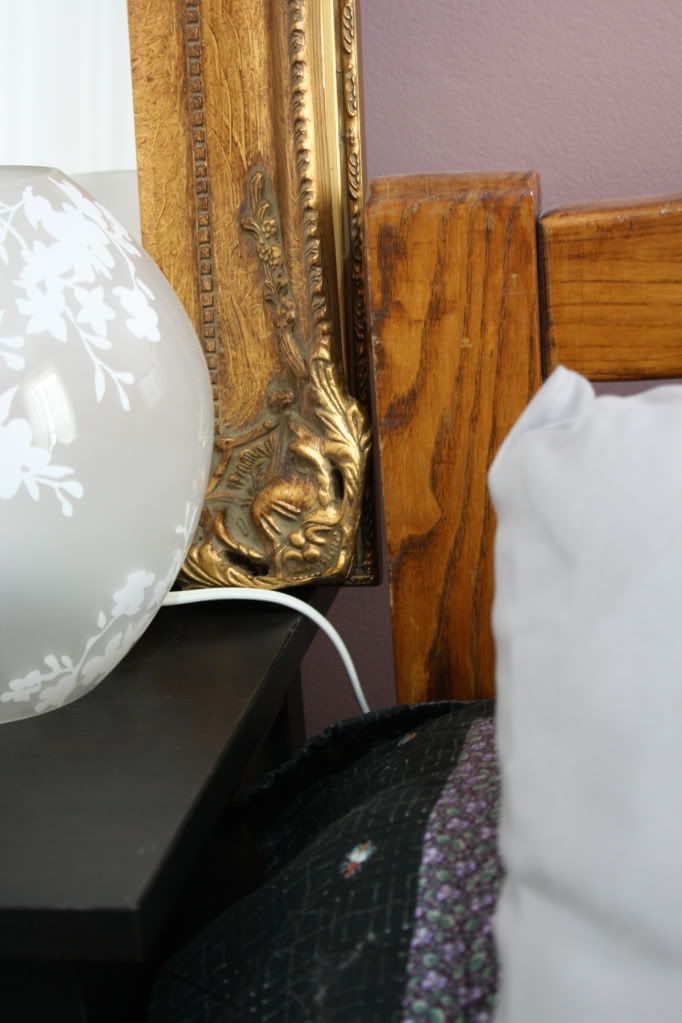 One of these days, I might hang it properly. Or I might find a new home for it, especially once we find something we like for above the bed. But it's good enough for now. And at least it's not still leaning, neglected, against the wall on the floor. In the end, I feel like this mirror has actually played a role in shaping my own sense of style. Maybe a thick, brass coloured, ornate mirror isn't so far outside of my tastes.
How do you deal with gifts for your house that don't fit? Do you find a place for them and end up surprised, allowing them, in the end, to change your own sense of style? Or are you one of those people that puts away the vase until the gift-giver comes to visit?
On the flip-side, how would you feel if a gift you bought for someone got a make-over – a can of spray paint, some reupholstery, a total deconstruction?