A few times, I've alluded to the work I do with my church's youth group here on the blog. I became the youth leader of the church we attend back in May, and since then, I've gotten to know a small, but great group of kids. I've become a friend and a mentor in a way I never would have expected and probably never would have stepped up to do if I hadn't felt that special type of tug and push. Every time I think about it too hard, I get a little nervous at the enormity of the work I do with them: I am here to pour into them, to give them spiritual guidance throughout their lives. I do believe – and hope – the relationships I am building now aren't just going to last until they graduate high school.
Anyway, enough of the sappy stuff. Since Monday nights are our regular youth night, but since I wanted to experience Halloween in our new neighbourhood for the first time, I invited the whole lot of them to come out to my place to help hand out candy, carve pumpkins, eat pizza, etc. etc. Four of 'my' kids showed up and had a properly rowdy time making a huge, wonderful mess of our house.
Their pumpkins adorned our front porch as they handed out candy with the most gusto I have ever seen on Halloween night. By the time I dropped them all off at their homes, they were exhausted. No surprise: we got about 300 kids, and each one got a rousing, energetic greeting that probably scared them more than anything properly Halloweeny.
And my pumpkin? Pekoe, sitting on the edge of the moon: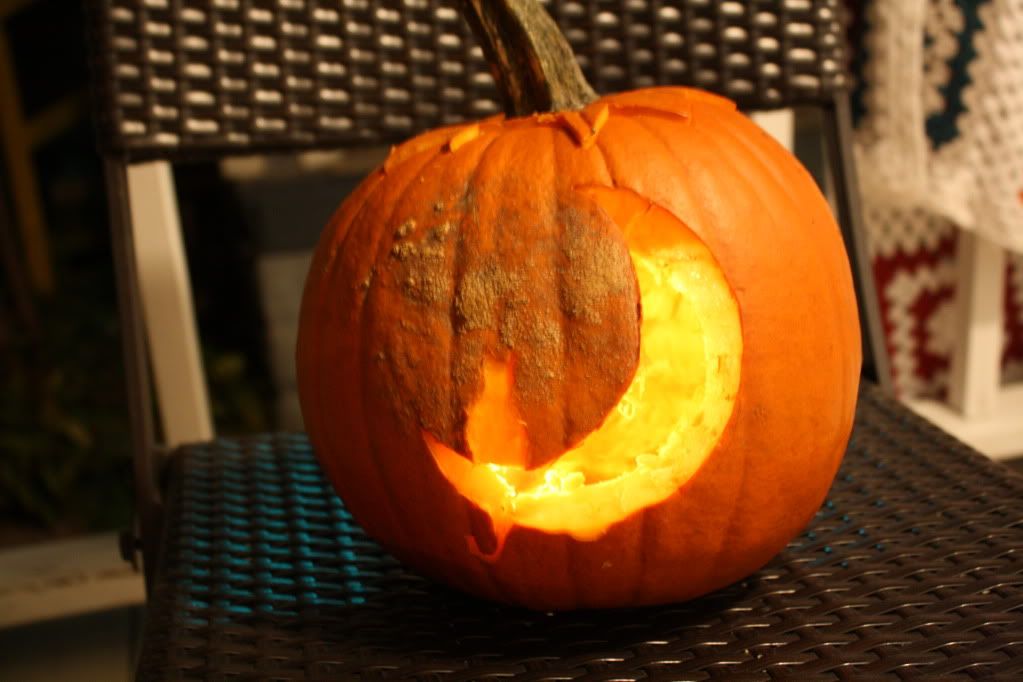 We are, by no means, professional pumpkin carvers here.
Did you have a successful Halloween night? Do you get a lot of kids knocking on your door or just a few?