If you follow me on Twitter, you may have been a little annoyed by the copious number of picture accompanying tweets I threw out there on Saturday. I was just really excited, ok? If you were excited for us and have been waiting for a conclusion to the adventure, the wait is finally over.
This weekend, my head was stuck on tables and we had a wide open Saturday. I suggested; the Husband agreed. At 8:30 on Saturday morning, we hopped in the car, drove 40 minutes north, popped into a Timmy's for breakfast and then walked across the parking lot to here:
(Yes. I got my finger in the way. In my defense… I have no defense.)
An hour or so later (ok, maybe two… we enjoy browsing!) we swung around to the parcel pick-up area, handed over our receipt and waited somewhat patiently. We unscrewed some legs and, with the help of one of the Sears guys, walked it out to the car. At this point, said Sears guy asked, nervously, so… where is this going?
Here, of course!
Our little car is mighty and can take a kitchen table and two chairs any day.
Yes. Just in time for Thanksgiving dinner the next day, we bought a table!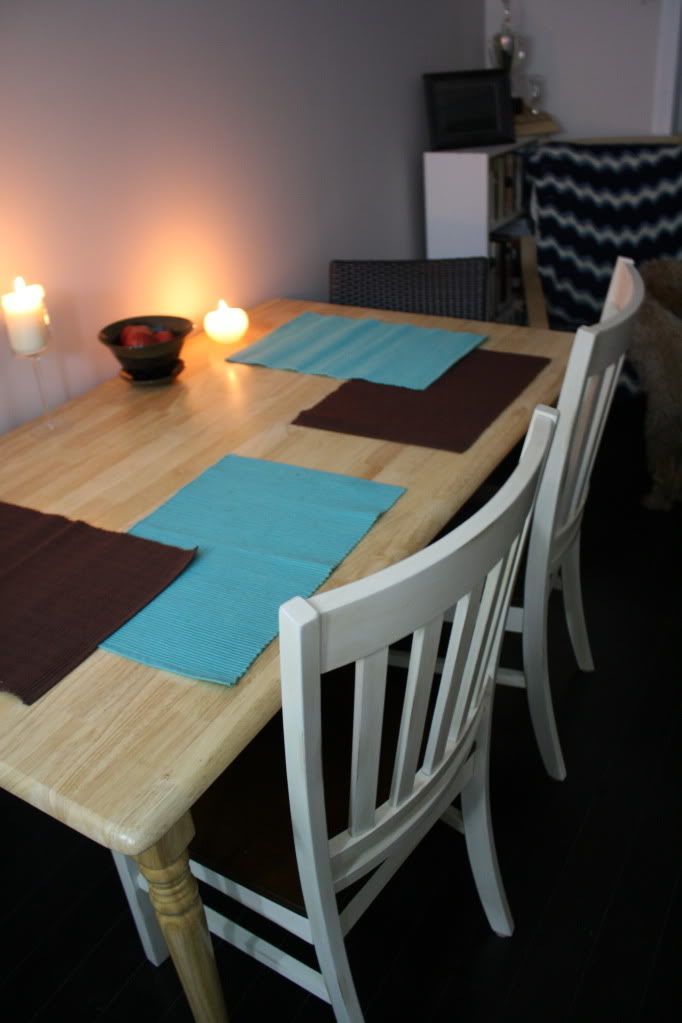 As I'm sure you'll recall, just a couple days before we bought this table, we were drooling over a beautiful, rustic, thick table made of reclaimed pine posts. This. Well. This is not rustic. It's not thick. In fact, it has a little more of a wobble to it than I appreciate (though I hoping that will mostly disappear once the Husband gets around to tightening the legs more than I can).
This table has an attribute that we appreciate even more than all that other stuff.
It was cheap. And it was available.
I know. I know. Just last week I was considering that maybe it was worth it to spend the money to have a piece we really liked, a solid piece of furniture that will last forever. I still believe that. I just have a really hard time putting those beliefs into action, especially when a visit to a Sears Outlet store allows us to consider a table and two (beautiful) chairs for a grand total of $200.
$204 to be exact.
And it's a good table. It appears to be solid wood. I saw it and immediately envisioned it with a dark, stained top and a light bottom, to match the chairs. At approximately $100 for the table, I could justify changing it, painting over the light pine and covering the whole thing with a table cloth if it turns out horribly.
I think, too, when we set off for the Sears Outlet, I may have been determined to come home with something. Thanksgiving was coming and we were having the Husband's parents over for lunch on Sunday. I couldn't imagine eating a big meal from our laps. It just didn't seem right.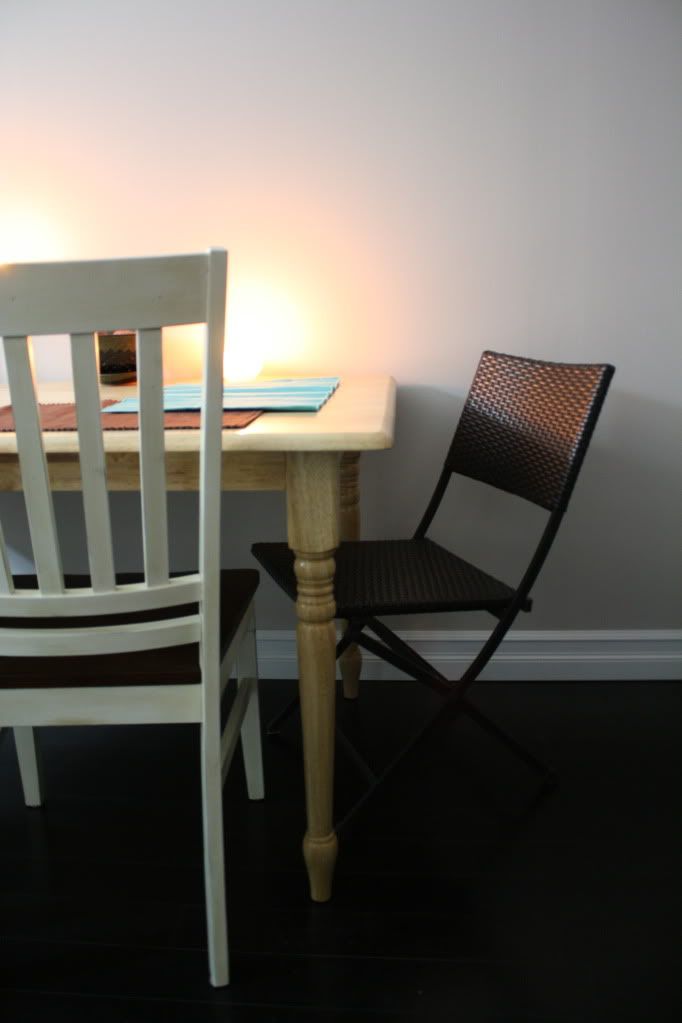 The bit sturdy table? I think that's for the next house. As it is, I am happy with this table. It's small and it doesn't extend, but have you noticed a lot of room for extending in our house? We only have two chairs for it at the moment — we supplement with patio chairs — but I've got my eye out at thrift stores for chairs that will complement.
I don't think I have ever been so house content.