Our living room has only changed a little since I last showed it to you, the day after we had moved out of our basement apartment and and into our above-ground half of the house.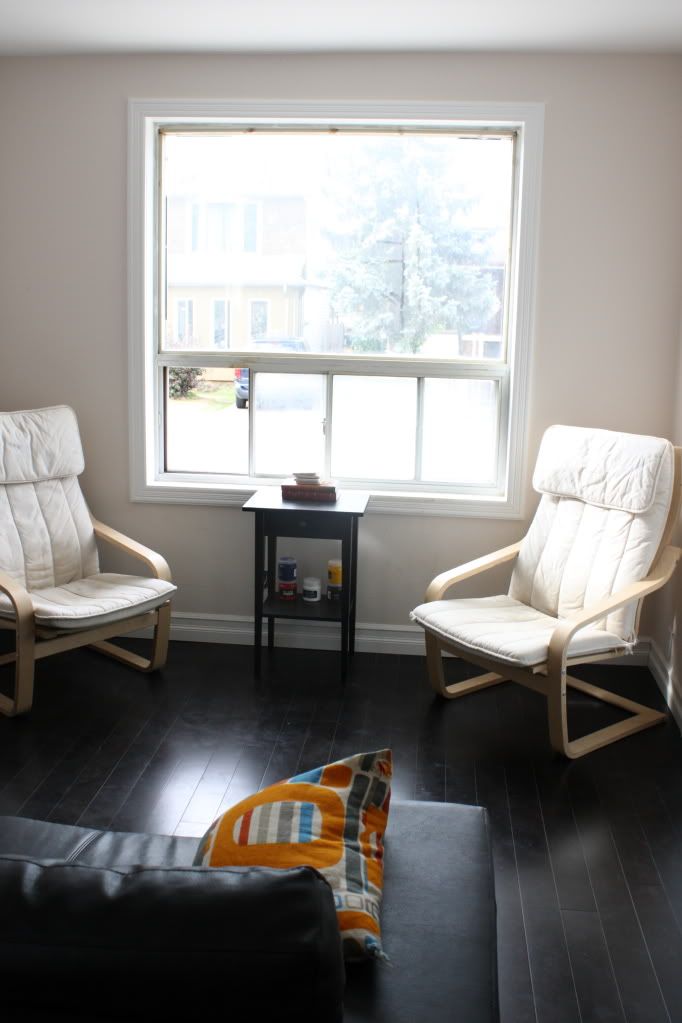 Since this picture, we've hung some mismatched curtains, squeezed in a too-large coffee table and wrapped the Poang chairs in afghans for a pop of colour.
And for other reasons.
Mocha loves to romp in our back yard. For the first 4 months of homeownership, our back yard was a mud pit. Parts of it still are a mud pit, specifically where we and our basement friends plan to put in a garden next year. Because Mocha has no qualms about getting her feet dirty and then hopping up on her favourite white Poang chairs, these chairs took quite a beating.
And then she hit puberty. Fellow female-dog owners who were a little slow in getting their dog spayed will know what I mean.
Gross.
I tried washing the covers. I think I threw them in the washing machine not just once but three times. I even bleached them. They're just too big to get properly cleaned. The ground in dirt is too far ground in and the other stains? I'm dreaming. We could replace the slip covers — after all, they're not that expensive. For a temporary solution, I wrapped the cushions up in little used afghans, mismatched, holey and colourful.
But frankly?
I'm over the Poang chairs.
They were perfect for our rented condo and the price at the time was great — we managed to pick them up in one of the 50% off sales, making them around $50 each. They're pretty comfy and often my go-to chair, even over the couch. But I've never loved them. I'm not a huge fan of the finish of the base and the more we use them, the more the cushions have started to become misshapen, lolling to the side, looking just a little drunk. Besides that, in this space, they seem a little off. Too tall perhaps? Too domineering, taking up too much wall space? I'm ready for a change.
And that's where this guy is going to come in: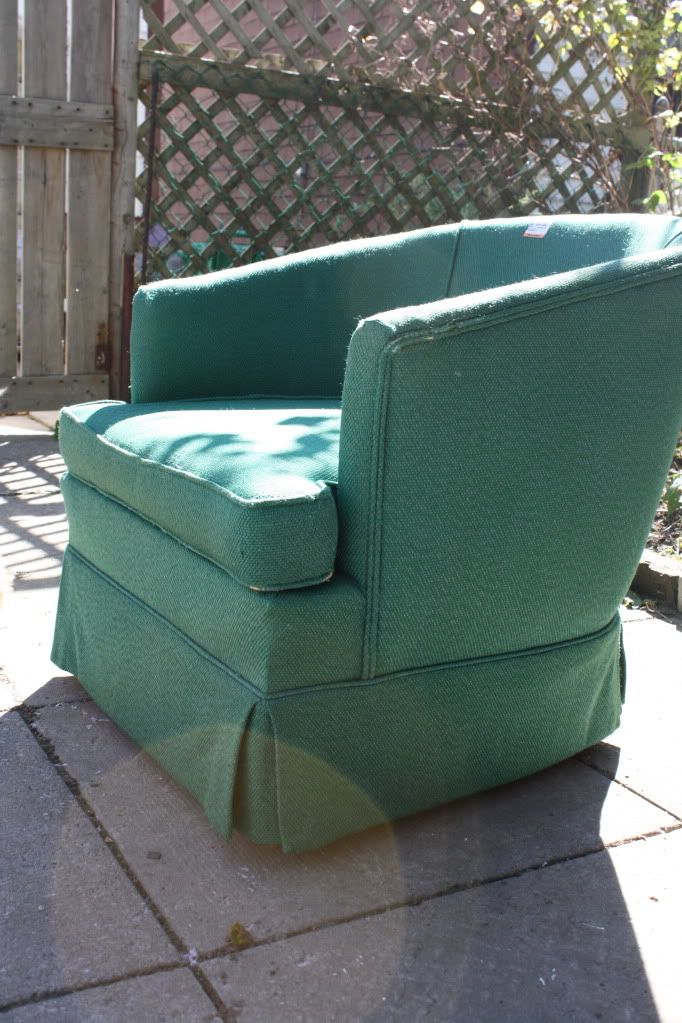 I can already picture it replacing the the Poang chair on the right of the room in a colourful upholstery fabric with the perfect pillow and a new crocheted afghan over its arm. With the smaller foot print, this little tub chair will make opening the front door a little less awkward and allow us some extra space to put some hooks on the wall behind it for our coats, umbrellas, keys, and bags. It will allow space to breath.
(When I was hemming and hawing over it in the store, a woman who was looking at a huge, beautiful, ornate chesterfield beside me said, "Oh, it's such a cute chair, isn't it? It would be perfect for a bedroom." I smiled, replied, "It would, but I have such a small space, it's going to go in my living room!" This particular Value Village was in Richmond Hill, a suburb of Toronto with houses that could fit our whole house into two rooms.
Sometimes I wonder if we should have looked harder for something we could afford in Richmond Hill…)
Am I getting ahead of myself here? I haven't even had a chance to finish taking off all the green fabric yet!