Have you ever taken any furniture apart? I'm sure some of you are pros at it, and probably even put it back together. Probably, if I hadn't 'met' a few of you through blogs and message boards, I would never have thought it actually possible to rip all the fabric off the outside of a piece of furniture and then recreate it more beautifully than it was before. I mean, theoretically, I've always known it possible. But that's something that's left to the pros, right?
Well.
On Saturday, I went thrifting. I wasn't looking for any living room furniture. Rather, I was looking for kitchen furniture. You know… a dining room set, stools for the counter bar, baskets to store things in, those kind of things. Instead, I found this: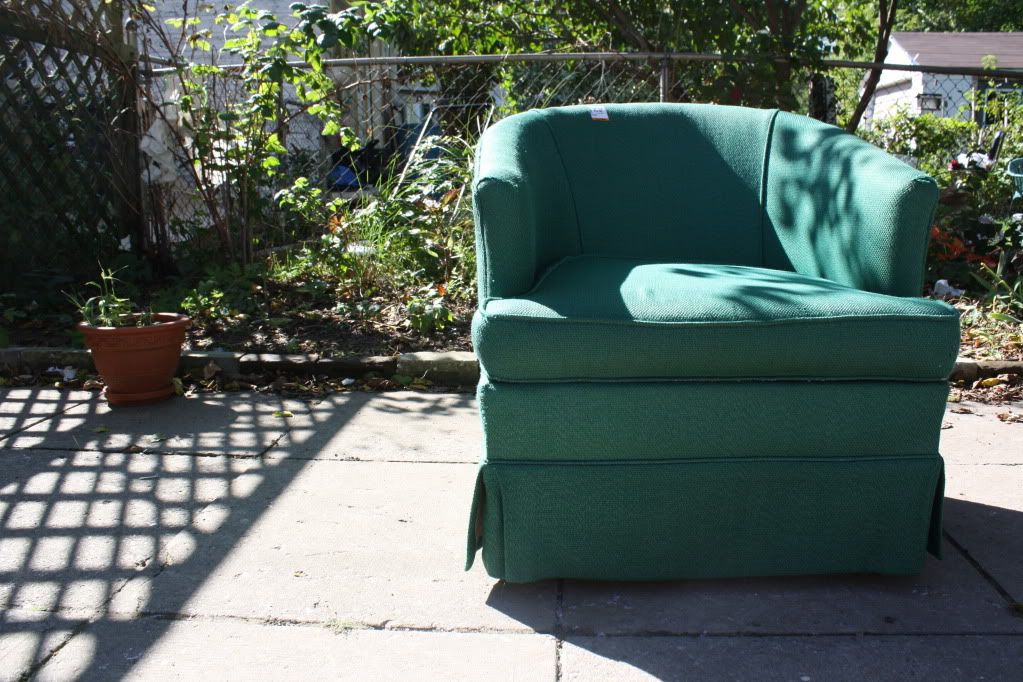 It was the perfect size and I loved the shape. I know it will be perfect if I can only find the right fabric in which to upholster it. And, of course, actually do a decent job of upholstering it…
This was a risky purchase. I took some really rough measurements with a shopping bag, trundled it up to the cash (got a lecture for bringing it to the cash and not finding the guy in the furniture department who did not exist to help me) and lugged it out to my car with the help of my thrifting partner. Attempting to wrangle it into the trunk is pointless. The back doors refuse to open the last three necessary inches. With bated breath, we open the passenger side door and slide the car seat all the way back. And, with hardly any effort, my tiny little chair slid right in.
I spent the rest of Saturday afternoon ripping out nails, layer by layer of material. First went the skirt, a change that improved the chair ten fold immediately. Definitely not planning on putting that back on.
Then, the back, staple after staple.
I probably could have gotten away with leaving the cardboard backing and the batting on, but it was stapled on over the front piece. Unfortunately, it was not about to come off neatly — there's no reusing it for anything but a template.
The front bit required some more removal of things that weren't fabric.
And finally, at the end of the day, I was left with just a little more to go: the green fabric on the back and the seat cushion. Hopefully, by this weekend, I can go shopping for the perfect fabric and all the other things I probably need: a staple gun, batting, cardboard backing, foam for the cushions, piping.
Feel free to point and laugh at the way I make my chin huge when I'm pulling on staples.
Have you ever reupholstered anything? Do you have any favourite tutorials or reupholstery blogs that might help me out?