We've talked a lot about our kitchen by now. (It was, after all, a huge chunk of our renovations up to this point.) And yet, I feel like we forgot to talk about one of the most important things about this room: the layout.
Did you notice? We don't have any uppers. Need a refresher?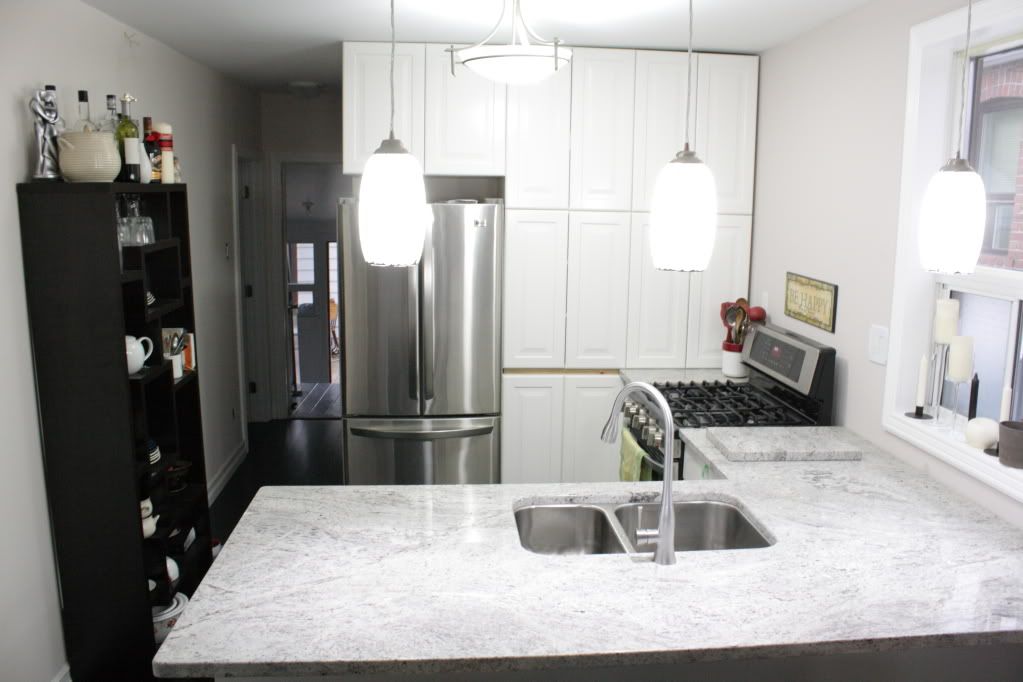 Oh, we tried to make a traditional combination of upper cabinets and lower cabinets work for us. Can you imagine the extra 4 feet of counter top we could have had? But also imagine this: one upper, a corner cabinet, and narrow 12 inch cabinets on each side of the stove with a range in between. It could have worked and it still would have been beautiful and functional. But we wanted more.
This is what we did: there was no way out-of-the-box pantry cupboards would work. Instead, we bought 4 extra 24 inch base cabinets. After we had put down the base cabinets and leveled them perfectly, we built up the cabinets along the wall with plywood to accommodate the counter top (no, we haven't gotten around to trimming this and painting it white. Is it really that noticeable?), then stacked the four base cabinets against the back wall.
This made the mounting track that Ikea gives you for uppers useless. We anchored the 'pantry' to the wall just like we did the base cabinets, and then anchored them to each other as well, from the bottom and the sides.
Of course, above the fridge, we put a proper fridge upper.
Some unfortunate disadvantages of this choice? You can really see the lack of squareness in our house. See the gap in the ceiling? Our cabinets are level, but the ceiling definitely isn't and, since the cabinets go right to the ceiling (it was a little nerve-wracking for a while, seeing if they would even fit at all), there isn't even space for a piece of quarter-round to help hide the gap. We haven't decided how we're going solve this one yet.
Also, I really need a stool for this design. I don't have one yet. As it is, the cabinet in the top right corner is almost completely inaccessible to me. And I have to keep the counter top in front of the bottom right cabinet pretty clear if I want to open the door.
But the advantages win, I think. These cabinets are huge, of course, so they hold a lot. I need to get organized, but that's not the fault of the cabinets, right? And, eventually, we'll buy a pretty hood for our range that would've be hidden in between a couple cabinets. It feels open and spacious and functional.
What do you think? Would you have gone for traditional uppers or do you like this idea? I hope in any future home we may have, we can properly make use of both styles.