Happy Monday my darling readers! I hope your weekends were all relaxing, energizing and productive! We spent the weekend with a great group of kids at a camp 3 hours north of here, climbing high ropes, shooting rifles, eating candy, and talking about prayer. This is a retreat that the youth group at my church organizes every year. I'm already looking forward to taking over full organizing responsibility next year.
Because of a somewhat hasty departure last Friday, we came home to a kitchen mess made all the more unpleasant by the 72 hours for which it sat. And yet, looking at my kitchen still makes me squeal with delight inside.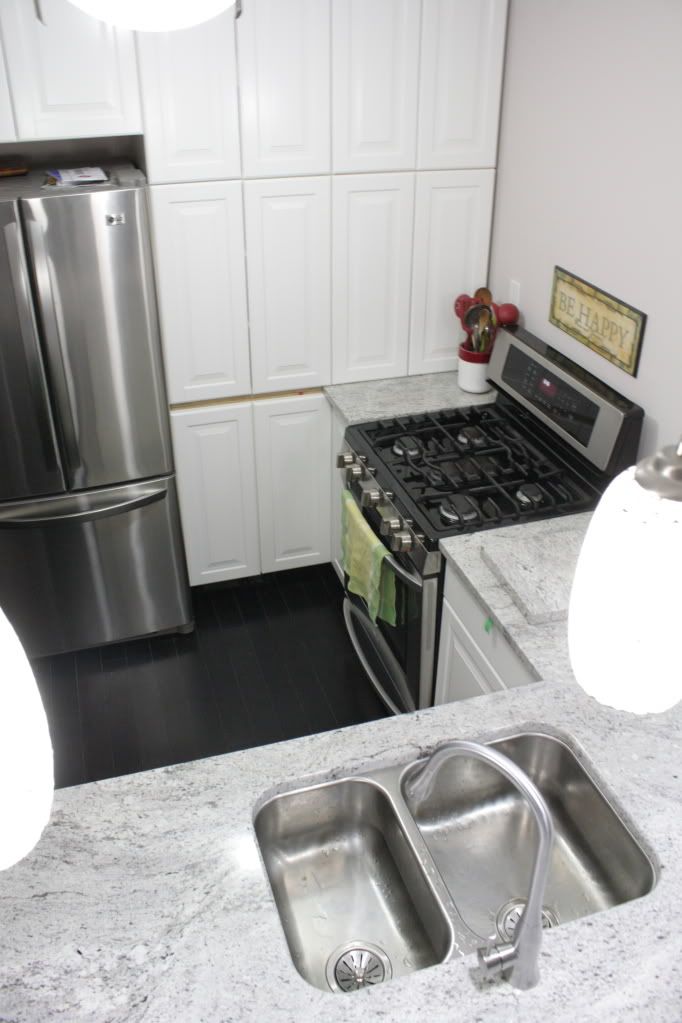 (True, I don't generally see it from this angle…)
Because one of our goals with this blog is to be as transparent as we can be about what a renovation like ours costs, I'm going to go step by step through our choices in this particular kitchen and some of the costs connected to it.
Don't forget what this place looked like when we started
: this was not a cheap renovation, not one of those admirable, under-$200, work-with-what-you-have renovations. This was more like a spend-until-the-money-runs-out-because-we-have-to-start-from-scratch kind of renovation.
Our Costs:
Gas line: $200

The location of the gas line was about 3 feet to the left of where the stove now is. This is the one bit of the reno we let someone else do. Seriously, if you're not familiar with the inner workings of gas systems, leave this one to the pros.

Plumbing and Electrical: $1000

We did a bunch. This stuff is part of the not-so-glamourous guts that adds up to a lot of money. We're not exactly sure how much. I'll admit, we have not been the best at keeping track of every single receipt.

Flooring: $1500

This one is hard to separate from the rest of the house renovation. We spent about $3000 on the bamboo and put it throughout the upstairs (except in the bathroom). It's gorgeous and a much more economical choice than hardwood. However, I still drool over the thought of the hardwood we had picked out, a beautiful wire brushed dark wood with a strong grain throughout.

Cabinets: $2000

Of course, they're Ikea! And I love them. I was a little hesitant about Ikea, considering the dressers, currently being stored in our garage, that started to fall apart after 6 months of owning them. These, on the other hand, see to be great quality and went together so easily. Everything you've heard about them is true.

Appliances: $2500
Counter top: $2700

Silver Silk by Sensa Granite. I think this might be my favourite feature of the kitchen. I have been known to stand in the kitchen and stroke my counter top. Yes, it might be a little embarrassing to admit that.

Sink and faucet: $1000

Would you believe how difficult it was to find a sink and a half? For some reason, the three Big Boxes didn't have any and even Ikea was lacking. Have they become so unpopular, such an unusual item? I refused to compromise on this one: I hate single sinks and full double sinks were much too large for our 30′ sink cabinet. So, we ended up splurging here, especially after our sink hunt forced us to visit Taps and we discovered the true extent of our options for a faucet.

Lighting: $250

We didn't go crazy here. I love our pendant lights. Each was about $60, and the big central one was probably $70. Or something like that. The pendants are beautiful crackled glass that is so hard to take a proper photo of.
And that is about it. Of course, there were a few more expenses, like building the wall between the kitchen and the bathroom, fixing the joists under the floor and all the 'guts' things. And the paint. But all of those expenses, like the bamboo flooring, are difficult to confine to just the kitchen. Were they kitchen fixes? Bathroom fixes? Living room fixes?
Ignoring the guts, this is our approximate total: $11150.
Ridiculous? I don't think so. Considering what we started with, I think we did pretty well.