Sometimes, as I write these posts, and as I receive all your wonderful comments, I realize that I leave out some pretty big holes in our situation. Perhaps it's time to clear everything up?
It might look like it, but we aren't really living in the midst of our renovation. Not really. Just… kinda. It's a whole messy, inconvenient situation that I am so excited to have end. See, when we confirmed that we were ready to jump into the housing market and started house hunting, we knew we wanted to become landlords at the same time. The extra income of a basement apartment was incredibly attractive, especially with the Toronto housing market as hot as it is.
Enter our bungalow with all it's challenges. The depth of renovations required upstairs meant that, when our lease on our condo expired at the end of April, we needed a place to move into. Without further ado, meet our basement apartment: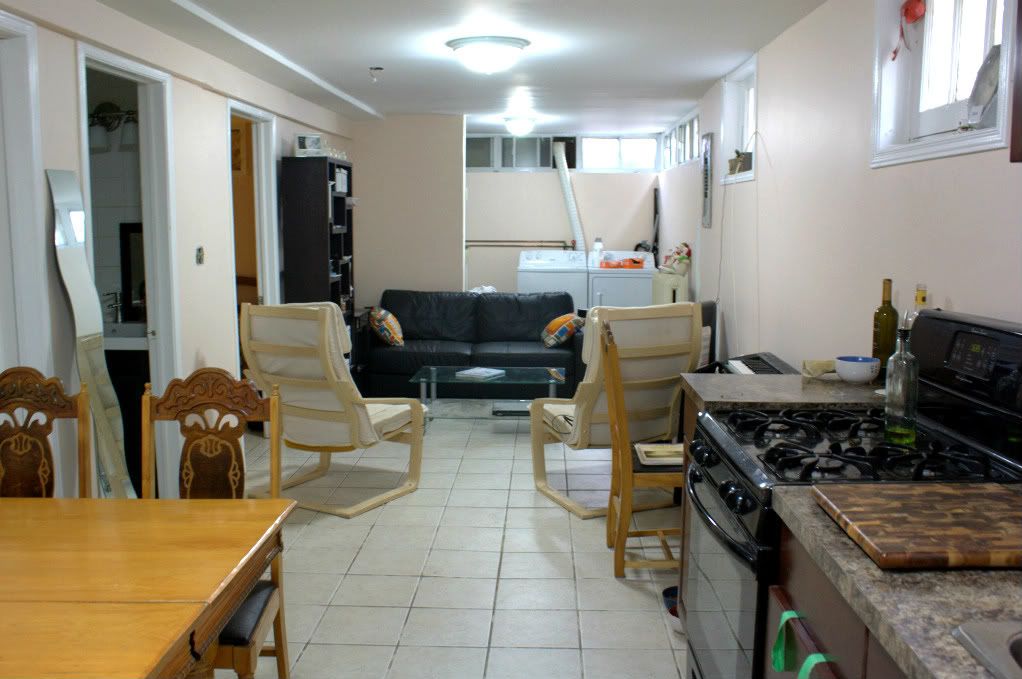 It's a comfortable unit, especially considering the heat we had last week. Or, at least, it would be if there were a fridge down here. There's a space for one, and we're on the lookout, but for now, and for the past 4 months, I've been running up and down the stairs every time I need something from the fridge. (And you wonder why we might eat a lot of frozen pizza and not too many gourmet dishes…?)
Unfortunately, there's a lot to do down here before our renters arrive in September. Some baseboard, a wall separating the washer/dryer and utility stuff from the rest of the unit, a fixed counter top (more on that later, I'm sure…) building a bulkhead around the ugly black drain pipes in the bedroom, holes to be patched, tile to be scrubbed, a bath to recaulk, cabinet hardware to properly attach… and of course, all our stuff, to move upstairs.
After walking through it with one of our faithful helpers last night, he shrugged. No problem. The list's not that long. The Husband says much the same thing. Me? I look around and worry just a bit.