If you will recall, when the snow melted this spring, a few unpleasant surprises emerged from our backyard.
(If you're willing to accept a few surprises, I would highly recommend buying in the winter. Buyer's market, anyone?)
A tangle of weeds, mud, and… garbage. Everywhere. Oh. Joy.
Thankfully, a great group of kids from the church — the youth group I now lead! — rolled up their sleeves and got the whole thing cleared out in a matter of a couple hours. By the end of it, instead of a garbage pit, we just had a mud pit.
As spring matured, we started to turn the soil, a necessary, if unpleasant task. In hindsight, we probably should have rented a rototiller and gotten it all done in one afternoon, but we're cheap and I think the Husband enjoyed the legitimate reason to play in the dirt. Besides that, a few inches under the mud we discovered a walkway down the middle, and before we realized we should just leave it there and throw seed over top of it, we had it all ripped up, lying topsy turvy down the middle of our yard.
It sat that way for longer than I would have liked. Fortunately, we got the garden in on time, though not in the ideal spot. Slowly, the Husband worked his way towards to back of the lawn, turning, leveling, throwing grass seed, watering. There was a time when we forgot that last step, so it's a bit of a weedy lawn where the grass died before it ever sprouted, but 2 months later, it's not looking that bad. In fact, I like it.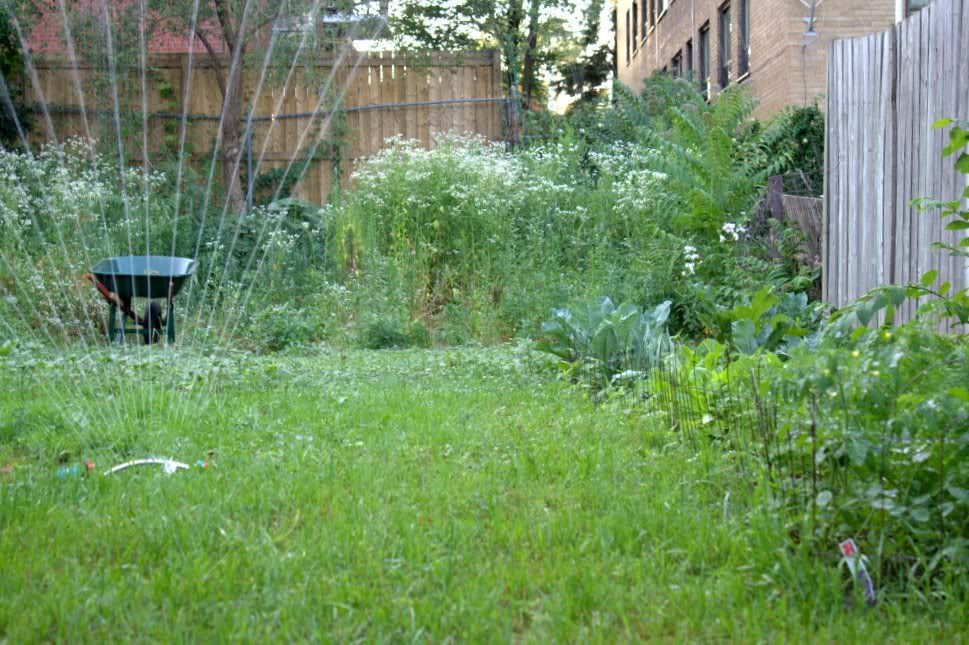 I even love the wall of bramble in the part we haven't gotten to yet. I love our wild flowers.
It's quite the progress. Not a true after, I know, but I've come to realize that we are unlikely to ever have 'true' afters. None of these projects will ever be totally complete. And I'm fine with that. But I am grateful for our grass, for our dark soil, for our sunny backyard. Some day, I'd like a tree (we suspect our elm is sick — surprise, surprise), and perhaps next year, we'll take advantage of one of those tree programs, but for now, it's perfect the way it is.