We're back!
I know; you didn't even know we were gone, did you? Well, some of you did. Most of you didn't.
We spent an extended weekend in San Francisco with my brother and his girlfriend. Wandering around a new city was exciting, fascinating, and saddening all at once.
(Wait… why saddening?)
(Because they have bus transfers that give you 90 minutes of travel on any city bus, forwards, backwards, 10 minutes after leaving the system, whatever.)
(Saddening=city envy.)
We fell in love with the colourful nature of the city. Unlike Torontonians, homeowners in San Francisco seem to embrace colour. Their homes are bright, three or more colours that highlight the intricacies of the architecture. Wherever there's a flat wall, they cover it in murals that tell complicated stories and histories.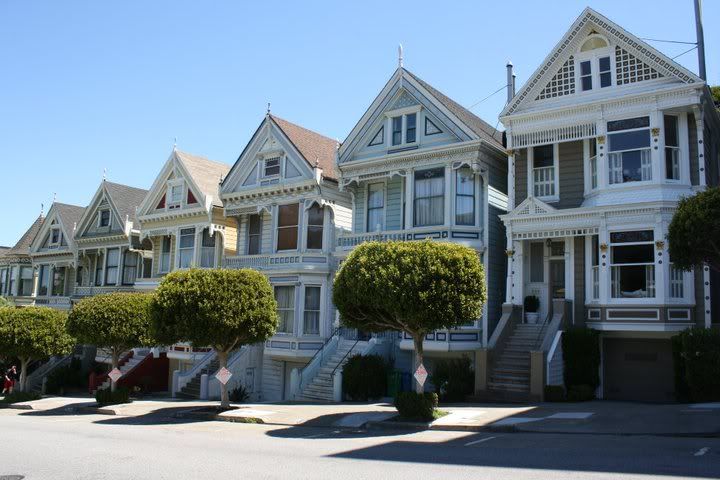 The famous Painted Ladies. These seven are the well-known ones, but we actually found them a touch boring in comparison to the many many brightly painted houses in the city.
We did, however, notice the lack of one specific colour, the kind of colour I don't know I could live without: green. If it's not brown, it's manicured, and it probably isn't in your backyard, and certainly not in your front yard. Now that we have a lawn, our own little patch of grass, I can't imagine living without it. SF was bright, colourful, but so, so urban.
We flew in on a red eye Tuesday morning and now, Wednesday afternoon, I'm still tired, still full, and I miss hipster brunch, but I'm happy to be home, despite the two bottles of salad dressing I discovered on the kitchen counter when I walked in the front door, left out in an un-a/c-ed kitchen for five days.
If only we could get our kitchen finished.