I'm excited about this post. I've been excited about this post since my best friend agreed to my cockamamie idea in the first place. Actually, I've been excited about this post since I came up with the cockamamie idea to begin with.
Last week, I asked my best friend if she'd be willing to let me take half an hour and get some shots of her cute little apartment specifically for the purpose of sharing it with all of you. She is such a wonderful friend and happily agreed, even though she expressed a whole lot of a surprise and a little bit of doubt. Her, a decorator? Really?
Yes. Yes, J, you might not realize it, and you might not do it on purpose, but you have this amazing, enviable, innate decorating ability. After checking out her place through the perspective of my camera's view finder, I've come to a couple realizations about exactly what it is she does really well. Her ability to keep her home comfortably clutter-free is one I just don't get and am, thus, incredibly jealous about. But, on top of that, she doesn't shy away from things that are completely and absolutely her, absolutely them (because we can't forget that her awesome husband J2 shares this space). From J's original artwork, to salvaged vintage play posters, to the soft touch of a handmade quilt, each item in their home reflects their personality and values in quiet, welcoming comfort.
So, without further ado, meet J and their cozy home!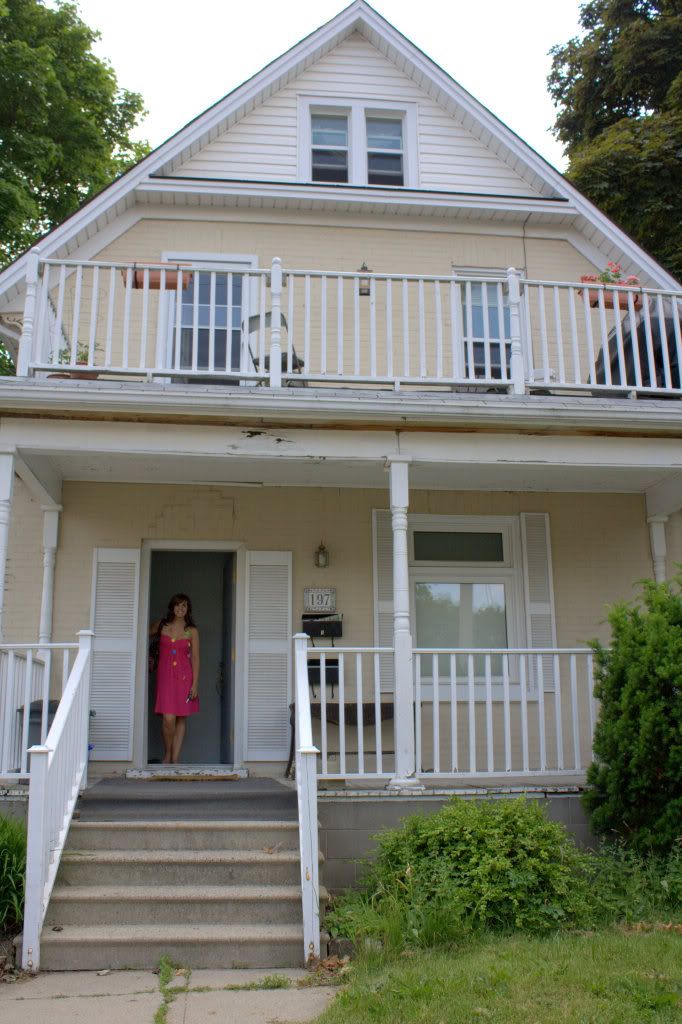 J and J2 live on the upper floor of this house. A narrow stairway leads you up to their kitchen, dining room, and living room, no room particularly large, but each efficient and doing it's job perfectly well.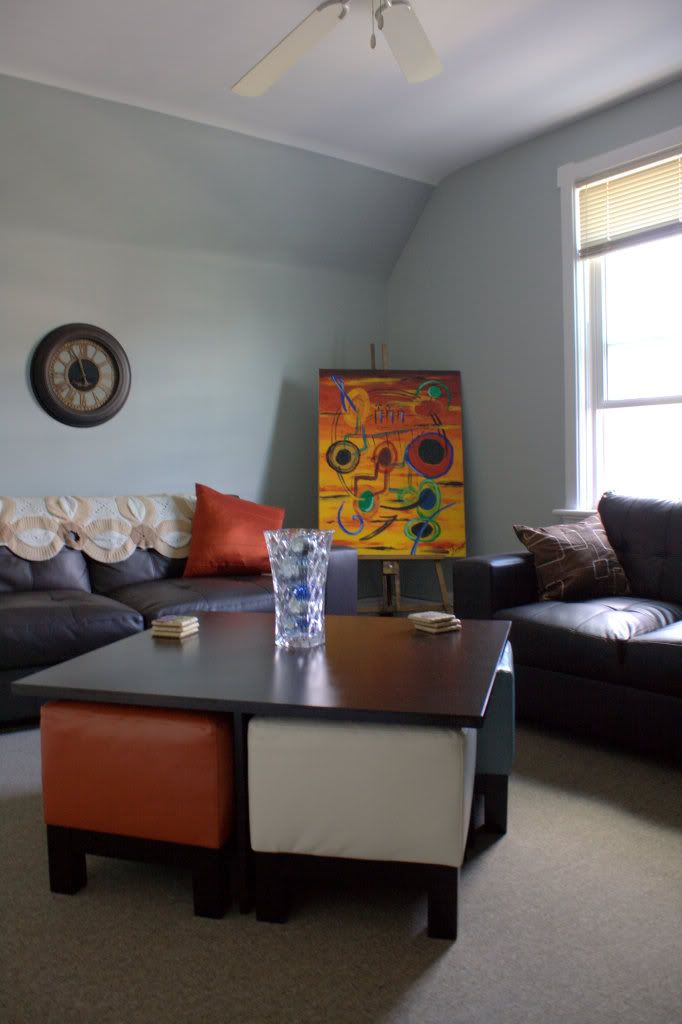 Their coffee table plays double duty, a thing of design genius for small-home dwellers. Each colourful square pulls out, a comfy foot rest, extra chair for guests, an additional place to put your coffee.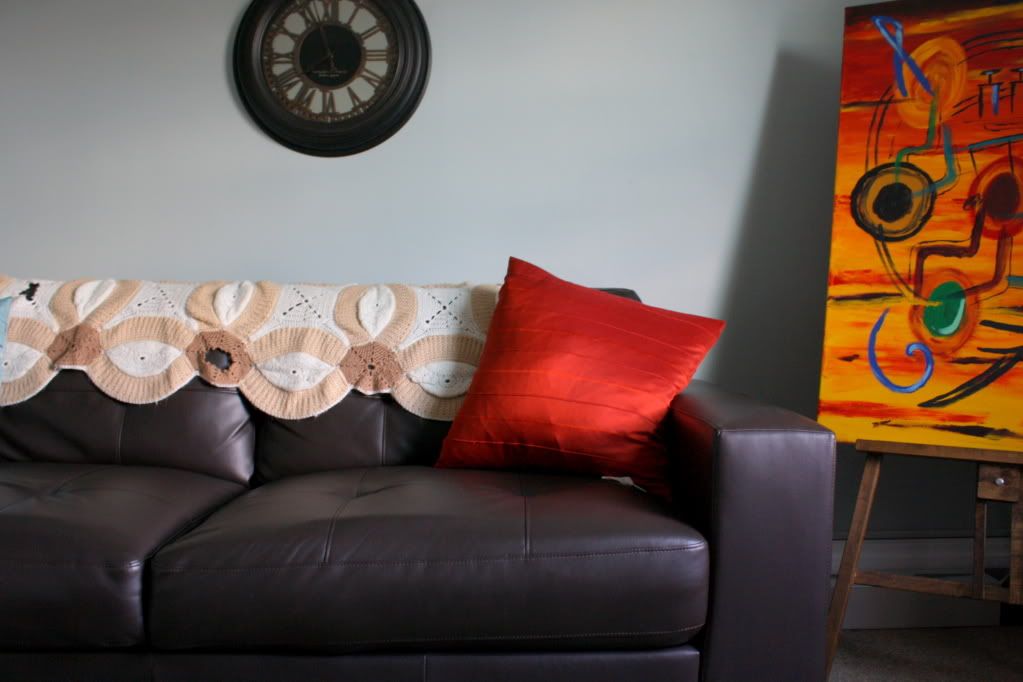 There are bright splashes of colour everywhere, a reminder of the shopping trip we went on in which she pushed me to buy something other than black, brown, grey. I went home with $250 worth of clothes, none of which I could wear together, due to clashing colours and bold patterns. She is far better at putting colour together than I am.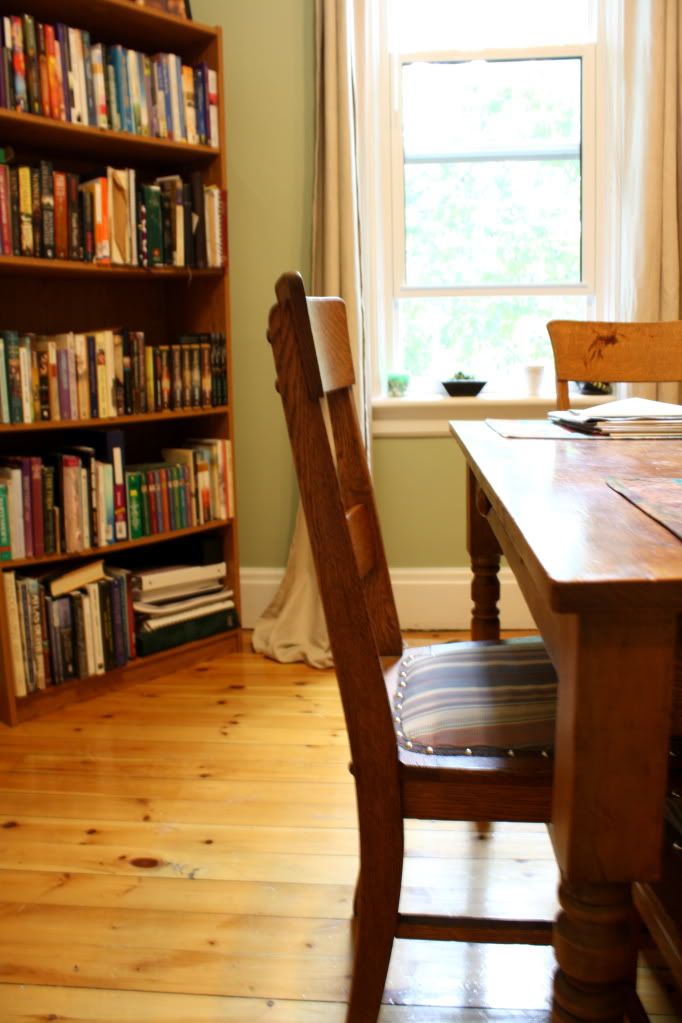 "This is my favourite room," she said when we stepped into the dining room. I can't blame her. The light is strong on the original hard wood floors and she's filled it with books and a few delicate decorative touches.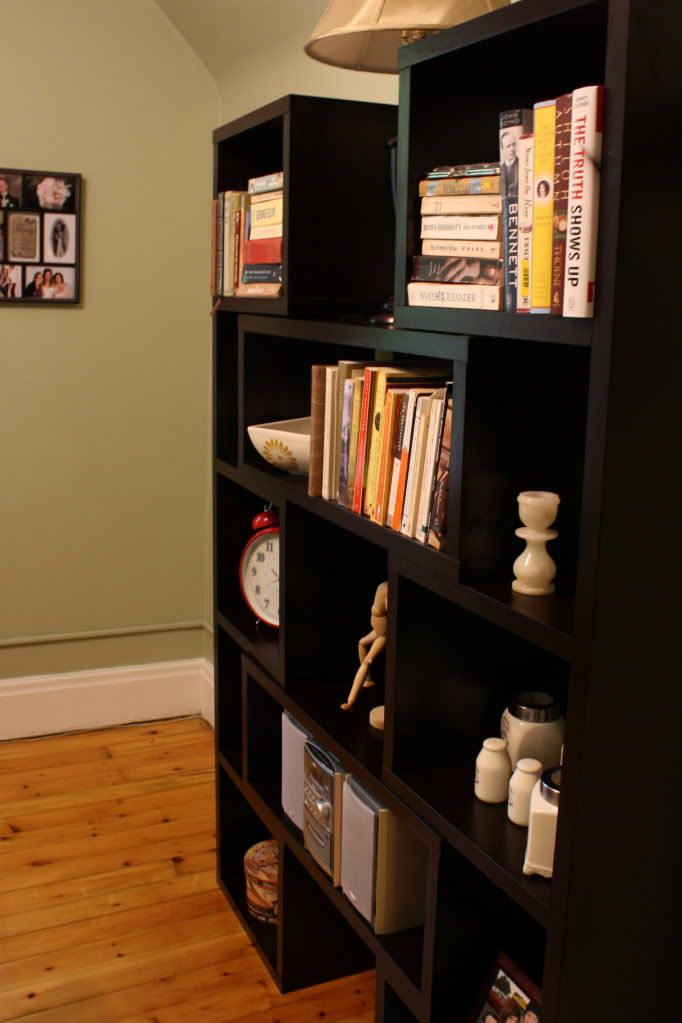 "I love displaying books," she told me once, right after I had expressed my own dislike for my messy bookshelf. Hers takes on order and balance.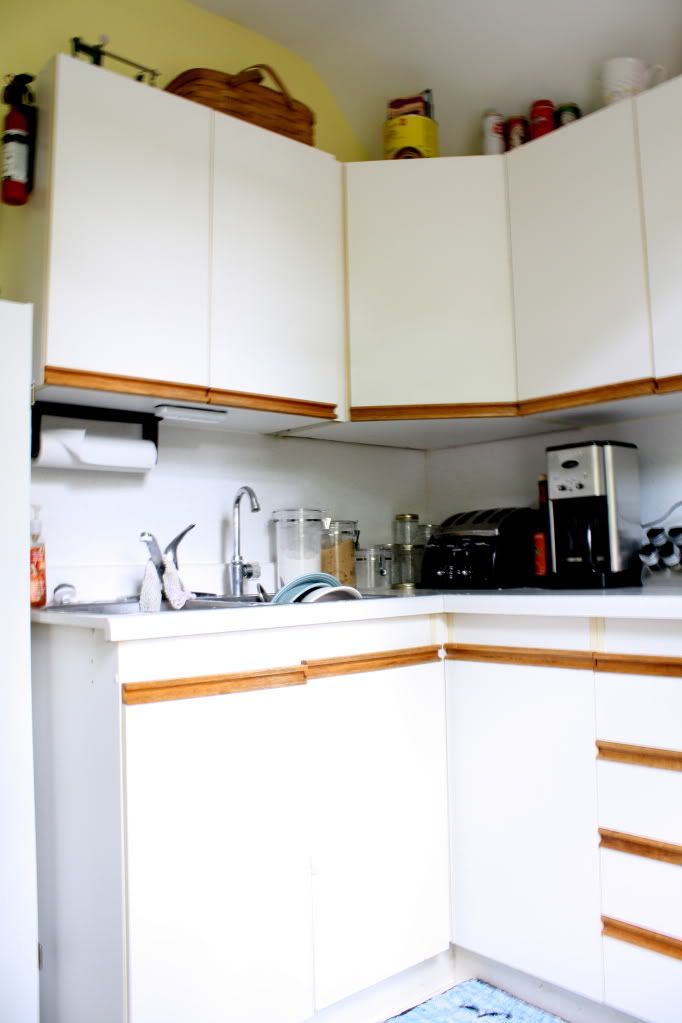 Her kitchen is small and brighter than the dining room somehow, despite being on the same side of the house with no additional windows. It's a rental, and J has worked beautifully with what she has, making it as comfortable and functional as it could be.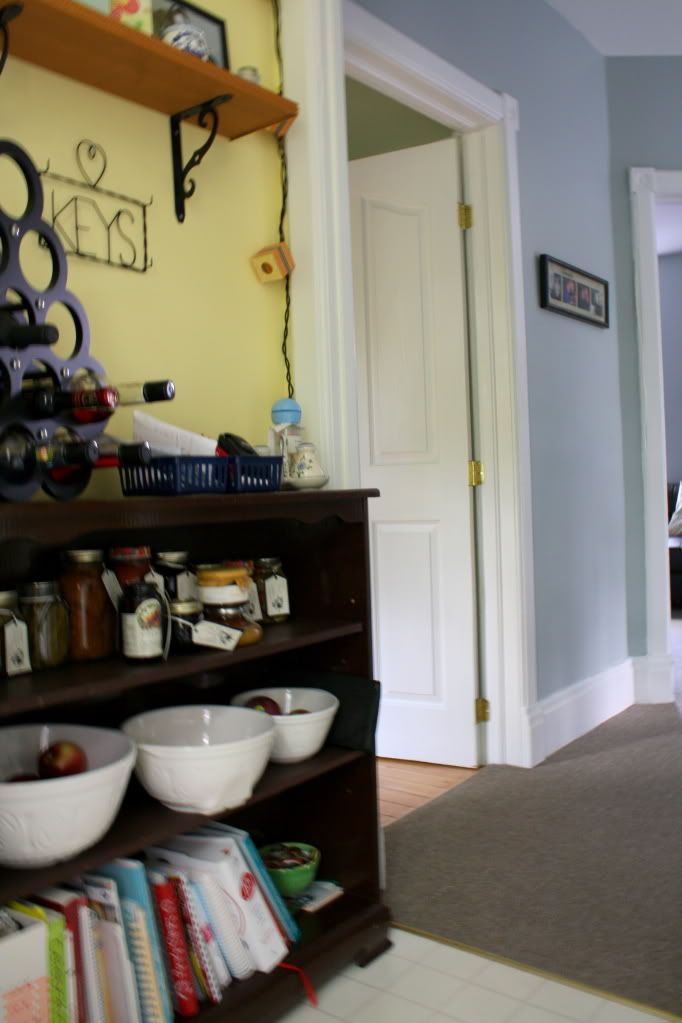 Even here, where functionality comes first, their personalities shine strong. This bookshelf is full of cookbooks (bottom shelf), decoratively displayed mixing bowls (ooh, I think that's a must copy!), and jars of jam and other preserves, gifts from J's family members last fall at one of her wedding showers.
And finally, last, but not least, the bedroom.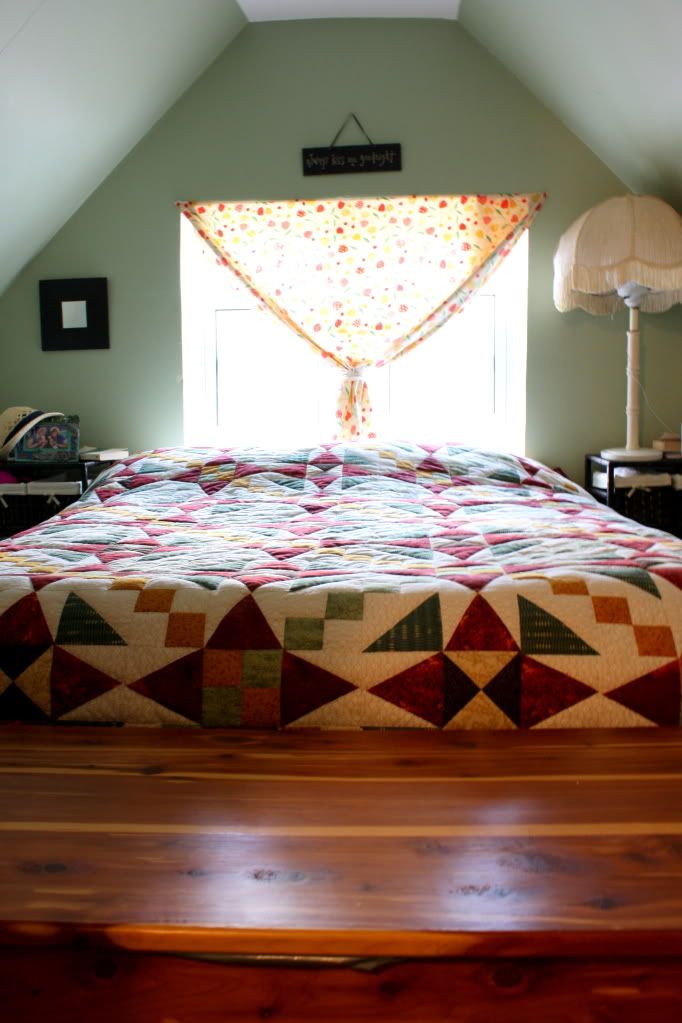 They might be finding it a little inconvenient these days, judging by the fans that ring the bottom of the bed, but their bedroom is one of the adorable details that makes me fall in love with this apartment. If I remember correctly, it was a huge selling point for them when they were apartment hunting last year. This room is tucked into the attic, a bed, dresser, and small office suite tucked beneath the peak at the top of a narrow, steep set of stairs.
The quilt that covers the bed is a perfect example of how closely knit they are to the world around them: half the items in their home were thoughtful gifts from friends and family, still proudly displayed 7 months after the wedding. Items like this quilt are a huge part of who they are simply because of the way they connect them to the people who care about them. That is what I love about their apartment: stepping into it is like being enfolded in the huge hug that is their lives.