When I get frustrated, the signs of progress keep me going. Like this one!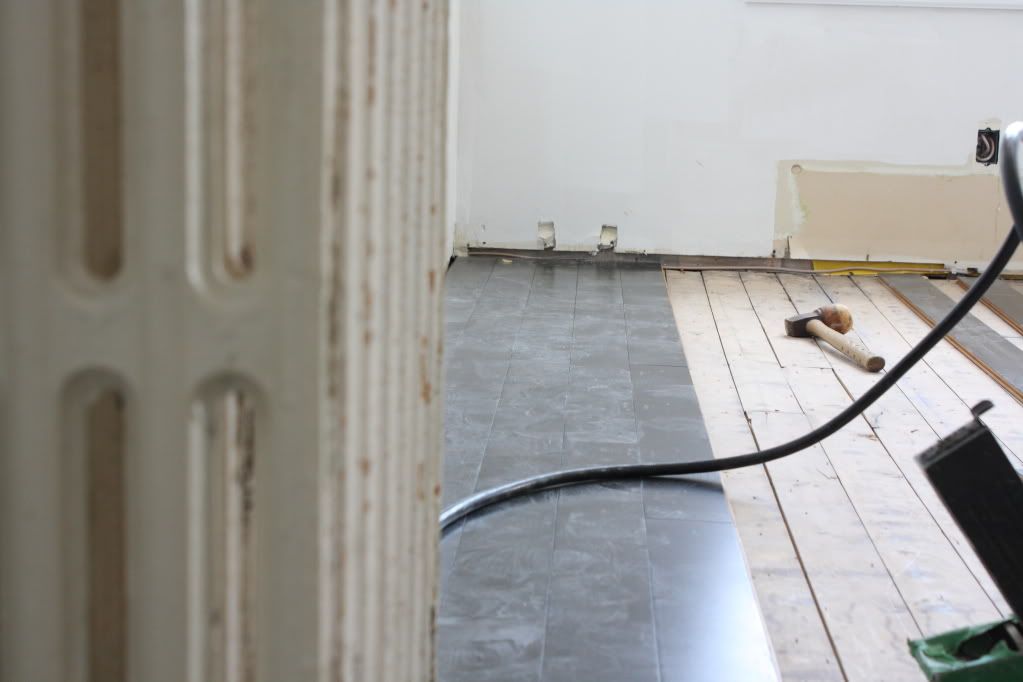 Yes, friends, that is hardwood on top of that subfloor!
Actually, it's not hardwood. Originally, we had planned on hardwood. And sometimes, I still wish we had gone for hardwood. Last Monday, we stood in Alexanian's show room and sorted through all our options. It wasn't hard to fall in love with a beautiful wire-brushed red oak hardwood, the perfect balance between rustic wood and contemporary gloss. On top of that, we quickly realized that all our other options were not going to stand up well to Mocha's running around, especially when she decides to go on tear.
But then, we ran the numbers and I saw my hopes for a beautiful hardwood floor slump just a little. We hemmed, hawwed, and scampered off to Home Depot to see what our comparables were. Of course, the mega box store had some slightly better prices on some almost comparable options — no wire brushing, unfortunately, but rustic, dark woods none-the-less — but there was a problem: we needed the wood by Friday. Home Depot has an 8-10 business day order time for things like hardwood and tile. Alexanians promised they could get theirs in on time.
Feeling good about our comparison shopping and our decision, we returned to Alexanians with half an hour until closing time to place our order. It was expensive, but it would be worth it, right? Right? While we waited for the salesman to be finished helping some other customers, we poked around the store a bit. We wandered into the laminate section, just to get a bit of an idea of our options there, sure we wouldn't find a thing. We chortled a bit at the prices of laminate in comparison to what we had our hearts set on. And then, as we turned, our eyes fell on something else.
Looks exactly like hardwood, right? Smooth, with a beautiful wood grain. Feels like hardwood. Must be hardwood? The price was telling us otherwise.
Bamboo!
Of course!
Why had I forgotten this option? It's almost exactly like hardwood except half the price. Also, green, since it grows so fast. And there, amid the meager options the store had on display, there was a gorgeous dark bamboo. Upon closer inspection, I realized it was actually black, broken up by thin grains of brown. Dark, luxurious.
Unfortunately not scratch resistant. Surprisingly, this issue seemed to fade quickly as we added up the numbers and realized it was exactly half the price of the hardwood we had picked out earlier. It was still an expensive swipe of the Visa, and I was still left reeling a little at the price of flooring.
But, it's going down! Beautiful progress.